Trump Polling Worse Among African-Americans Than Any Republican Since Barry Goldwater
Donald Trump's support among African-Americans is at historic lows, and seems unlikely to recover.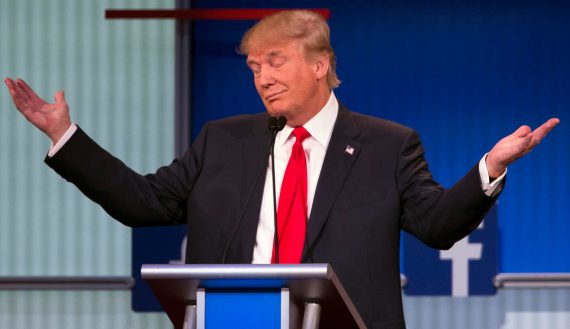 Donald Trump isn't just having problems with women, he's also on a path to do worse among African-Americans than virtually any Republican nominee since Thomas Dewey in 1948:
It wasn't that long ago that Donald Trump liked to boast about his support from black voters. And although Trump had a history of controversy on issues of race, it wasn't that crazy to think he could at least outperform the GOP's last two presidential nominees, John McCain and Mitt Romney, with black voters. After all, McCain and Romney were polling at less than 5 percent among black voters after their conventions, and Trump isn't facing off against the first black presidential nominee of a major party.

But Trump is polling worse among black voters than almost every single Republican presidential nominee since 1948 in polls taken between the party conventions and Election Day.

Trump is currently in fourth place among black voters. You read that correctly: He's trailing Hillary Clinton, Libertarian Gary Johnson and Green Party nominee Jill Stein.
This assessment comes from FiveThirtyEight's Harry Enten, who notes that in an average of the four most recent national polls that include Trump, Hillary Clinton, Libertarian Party nominee Gary Johnson, and Green Party nominee Jill Stein Trump is averaging 2%, which puts him behind both Johnson, who is averaging four percent of the African-American vote, and Stein, who is averaging five percent, and of course Hillary Clinton who averages 86% of the African-American vote, a number that puts her very close to the high levels of support that President Obama received from this demographic group and which will no doubt help her in holding on to states that the President won in the last two elections such as Florida, Virginia, and Ohio and which, along with Republican defections and independent voters, could help her do better than expected in states such as North Carolina and Georgia that Mitt Romney won in 2012. It will also likely help the Clinton campaign blunt any effort by the Trump campaign to create an alternative path to victory through the Midwest thanks to large urban populations of African-Americans in states such as Michigan, Ohio, and Pennsylvania.
By way of comparison, here"s a chart showing the average pre-election polling of African-American support for Republican Presidential candidates going back to 1948: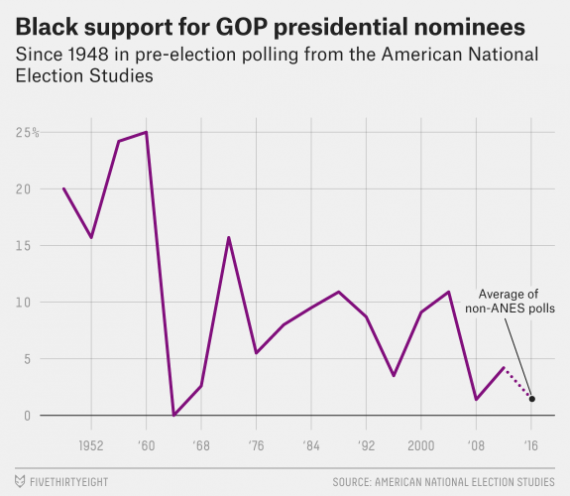 Leaving aside 2008, which is arguably an anomaly given the fact that the first African-American major party nominee was on the ballot, Trump is polling worse than any Republican candidate since Barry Goldwater, who had been one of the chief opponents of the Civil Rights Act of 1964.
Enten goes on:
Since 1948, the average Republican nominee earned about 10 percent of the black vote. Even since the passage of the 1964 Civil Rights Act, when black voters began moving into the Democratic Party, the average Republican nominee got an average of about 7 percent. Trump is pulling in about one-fifth of that.2

Black voters will probably account for 10 percent to 15 percent of all voters this year, so Trump will really have to overperform with other voters to have a chance of winning the White House.

(…)

Trump isn't widely known for opposing major civil rights legislation, and he isn't facing Obama. But perhaps because he's made so many racially charged comments, including as a leading voice of the birther movement, he is so disliked by black voters that he's the first Republican nominee since 1948 to be polling below second place among them before the election. (He's the first to be polling in fourth.) Johnson and Stein, whom most voters have never even heard of, are ahead of Trump. For a Republican Party that wanted to reach out to minority voters after the 2012 election, that's not good.
To say it's 'not good' is an understatement. With Barack Obama on the ballot, it was never realistic that a Republican candidate would ever get anything more than a nominal amount of the African-American vote, and that's precisely what happened. Exit polling in 2008 showed that JohnMcCain received four percent of the African-American vote in 2008 and that Mitt Romney received roughly seven percent of the vote from that group four years ago. This is substantially lower than in past elections when Republicans have garnered larger percentages of the black vote, although obviously not a majority and nowhere near the 20-25%  that the party was getting in the years immediately after World War II, but it was expected by many Republicans that the party would have an opportunity to return to something approaching historical norms with President Obama no longer on the ballot. That was before Donald Trump, of course
While Enten is correct that Trump isn't particularly known for advocating things that directly impact the African-American community, there are a number of reasons why he is likely to be viewed negatively by black voters. First on the list, as Enten himself notes, is Trump's role in spreading the birther myth four years ago. From the start, it was clear that that movement was motivated in no small part by the President's race and many African-Americans and others considered it, with merit, an effort to delegitimize the first black President. Additionally, Trump's constant drumbeat of attacks on Muslims, Latinos,  immigrants, and other minority groups is likely viewed negatively by a community already sensitive to the code words of racism and bigotry. Finally, regardless of what Trump himself may personally believe it has been widely noted that his campaign has attracted significant support from so-called "alt-right" and openly racist groups, including repeated positive comments from people such as former Ku Klux Klan Grand Wizard David Duke, support which Trump was not very quick to repudiate. With all of this to consider, it's no surprise that African-American voters are running away from Trump as fast as possible.