Trump's Free Fall Over?
The President has hit rock bottom.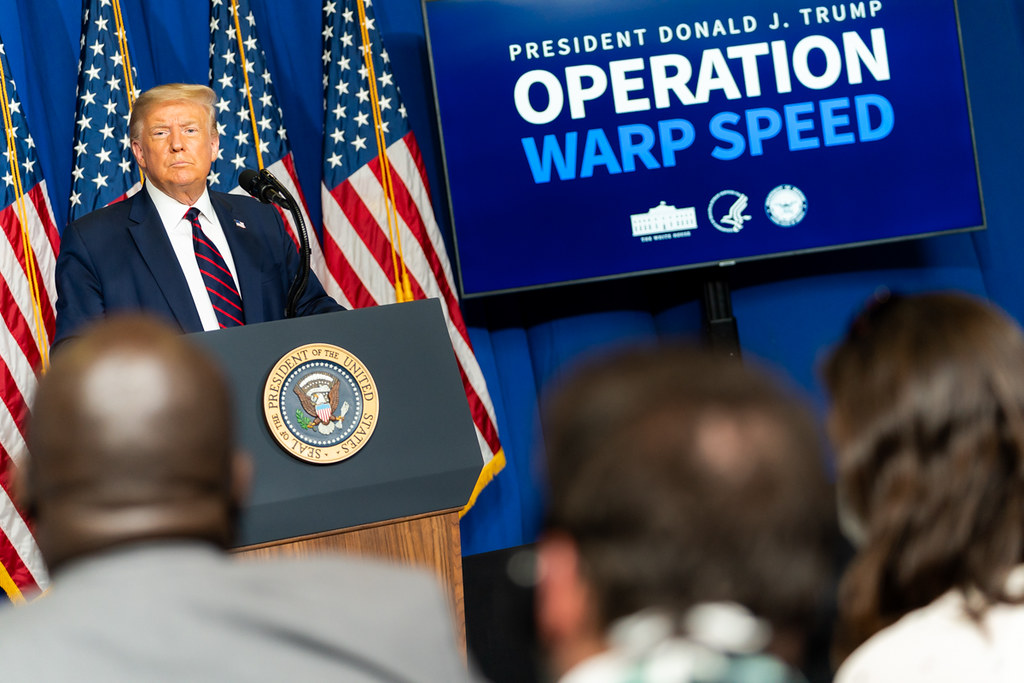 CNN's Harry Enten reports that "New polls suggest Trump's position has stabilized." But that's what happens when a falling object hits the ground.
There's little doubt that former Vice President Joe Biden has the upperhand against President Donald Trump at this point. Biden has led in poll after poll nationally and in almost every poll in the core six battleground states (Arizona, Florida, Michigan, North Carolina, Pennsylvania and Wisconsin).

Yet, while Biden has maintained advantage, Trump has one thing going for him: His position is no longer deteriorating. A look at the polls shows that even as coronavirus cases and deaths rise, Trump remains within striking distancing of Biden.
Here, Enten is doing what he's repeatedly cautioned his readers not to do: overreact to the weirdness of 2016. There's simply no evidence that Trump is "within striking distance" of Biden.
Essentially, Biden widened his advantage from May to June following the beginning of the protests after George Floyd's killing in late May, and it's not gotten worse for Trump since.

The national polling paints a similar picture. Biden's margin widened at the end of May and beginning of June. Since then, Trump has held his ground.
That the challenger started with a lead and widened it considerably is surely more newsworthy than the lack of momentum change since?
Overall, pretty much every method agrees that Trump has, if nothing else, stopped the bleeding.

The fact that Trump's standing hasn't gotten any worse may come as a bit of a surprise given the rise of coronavirus cases and deaths nationally. Biden leads Trump by double-digits on who is more trusted to handle the virus, and the issue is a top one for voters.

The answer to this slight mystery may lie in the fact that issues surrounding race relations have faded from the news.

Coverage of protests isn't anywhere close to where it once was. And although voters don't like Trump on coronavirus, they like him even less on race relations. So it isn't shocking that Trump is holding or may have even gained a point.

That said, it's tough to see how Trump could win if coronavirus is the big issue come voting time. As I've noted before, the candidate who leads on the big non-economic issue of the day pretty much always wins in elections not determined by the economy.

Still, the current difference between the polls at this point and the result isn't wide enough to suggest Biden has this locked away given how much polls have moved from this point to the election historically. Yes, Biden has held a relatively steady lead, which makes him a clear favorite.

But in a year in which we are facing unprecedented circumstances, Trump is staying in the hunt.
He'll be "in the hunt" until the election results are known. But the key takeaway is that he's way behind less than three months out—and, really, way less given that early voting will start in a matter of weeks.
Similarly, an NBC News report with the clickbait headline "Biden dominates the electoral map, but here's how the race could tighten" begins with evidence that it almost surely won't.
Solid D: California, Delaware, D.C., Hawaii, Maryland, Massachusetts, New York, Vermont and Washington (130 electoral votes).

Likely D: Colorado, Connecticut, Illinois, Maine, New Jersey, New Mexico, Oregon, Rhode Island, Virginia (82).

Lean D: Arizona, Florida, Maine-02, Michigan, Minnesota, Nevada, New Hampshire, North Carolina, Pennsylvania, Wisconsin (122).

Toss Up: Georgia, Iowa, Nebraska-02, Ohio, Texas (79).

Lean R: N/A (0).

Likely R: Alaska, Indiana, Kansas, Louisiana, Missouri, Montana, South Carolina, Utah (56).

Solid R: Alabama, Arkansas, Idaho, Kentucky, Mississippi, Nebraska, North Dakota, Oklahoma, South Dakota, Tennessee, West Virginia, Wyoming (69).
To recap: Several states that Trump won in 2016 are leaning toward Biden. Four other states that Trump won in 2016—and, indeed, have long been rock solid Republican states—are tossups.
Biden needs 270 Electors to win the White House. He already has 212 of them locked up. If he wins all of the states leaning in his direction, he'll have 334. A landslide. If the toss-ups all went his way, he'd have the biggest landslide since Reagan's re-election.
Conversely, Trump also needs 270 Electors to win. He has 125 in the bag. None lean in his direction. If every single toss-up went his way, he'd be up to 204. So, he'd still need another 66 out of those 122 currently leaning Biden.
I'd prefer my odds of drawing an inside straight.