Trump's Press Conference Performance Confirmed Everything Bad We Thought About Him
For seventy-seven minutes yesterday, President Trump held forth in a press conference that confirmed the most dire predictions about what he'd be like as President.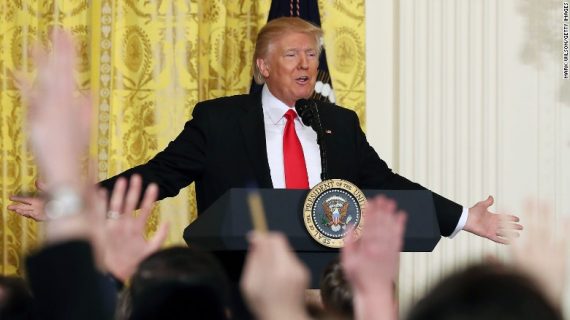 For most of last night and all of this morning, and likely continuing into the weekend and the Sunday shows, nearly the sole topic of discussion has been the news conference that President Trump held yesterday afternoon in the East Room of the White House. It was a hastily arranged affair, seemingly announced only two hours prior to when it actually occurred. It started out normal enough with Trump announcing that he had selected Alexander Acosta, who served as both a United States Attorney in Florida and in the Justice Department in Washington under President George W. Bush before becoming Dean of Florida International University School of Law, for Labor Secretary to replace Anthony Pudzer, who had withdrawn his name the day before. Oddly enough, though, Acosta was not present for the announcement and his appointment was only part of a long, rambling monologue that Trump gave before taking a single question from the assembled reporters, a monologue in which he continued his bashing of the media, his complaints about leaks regarding the contact that Michael Flynn and other members of his Administration had with Russian officials, and his parallel insistence that while the leaks were deplorable the reporting about them was, somehow, fake news. And that was just beginning of a nearly ninety-minute affair that left most viewers wondering what in the world they had just watched:
WASHINGTON — President Trump, smarting from a series of crises, moved his surrogates aside on Thursday and assigned the rescue of his month-old presidency to the only spokesman he's ever really trusted — himself.

For days, a frustrated and simmering president fumed inside the West Wing residence about what aides said he saw as his staff's inadequate defense and the ineffectiveness of his own tweets. Over the objections of some top advisers who wanted to steer him away from confrontation, Mr. Trump demanded to face the media, determined to reject the narrative that his administration is sinking into chaos, scandal and incompetence.

In a rowdy, free-for-all news conference hastily staged in the East Room, Mr. Trump attempted to deflect attention from news coverage about Russian intelligence, the resignation of his national security adviser, the defeat of his labor secretary nominee, and deepening questions about his ability to govern.

"I turn on the T.V., open the newspapers and I see stories of chaos," Mr. Trump said as he attempted — with little discipline — to read from prepared remarks listing his accomplishments since being inaugurated one month ago. "Chaos. Yet it is the exact opposite. This administration is running like a fine-tuned machine."

From there he offered a disjointed and emotional performance in which he appeared to release pent-up anger and suspicion about the "dishonest media," Democrats, intelligence officials, "criminal" leakers, Hillary Clinton, environmentalists and judges.

Taking a room of reporters and the television audience on a journey through the Trump psyche, the president was at times angry (at the news media), playful ("I love this,") bewildered (by "bias and hatred"), occasionally respectful ("It's a great honor to be with you") and needy ("I'm really not a bad person, by the way").

Ever the salesman, Mr. Trump painted his presidency as he wishes it to be: an Electoral College victory so massive it was historic — a falsehood pointed out by a reporter in the room — plus accomplishments in the first four weeks that have outpaced, he said, every other president.

For his supporters, the performance was certain to be energizing. Mr. Trump turned sober questions from journalists into, at times, mesmerizing television. He attempted to reassert his command of "dishonest" journalists at a time when the news media is questioning his capacity to lead. It all made the brooding boss feel better, people close to Mr. Trump said.

The news conference, they said, was Mr. Trump's best effort at spitting the bit out of his mouth and escaping the bridle of the West Wing, where he views his only way to communicate his side of any argument is his 140-character limited Twitter feed.

Still, it is unlikely that Mr. Trump's 77-minute performance will divert much long-term attention from questions about his campaign's relationship with Russia, or reassure wavering Republicans on Capitol Hill that their agenda is on track. Yet Mr. Trump's close allies said he had met his more immediate goal of soothing himself with a sense of control over his own administration.

Mr. Trump, who has long required employees to sign nondisclosure agreements, has been unnerved, aides said, by leaks big and small, ranging from disclosures about his evenings spent alone in the White House residence to the details of his calls with global leaders. Now, Mr. Trump finds himself at the mercy of a vast, leaky bureaucracy.

"The first thing I thought of when I heard about it is: How does the press get this information that's classified? How do they do it?" Mr. Trump said of the leaks. "The press should be ashamed of themselves."

The news conference was not without its high points for the embattled president. His initial statement about a surge of optimism in the business world and more jobs was, however fleetingly, a focused message on the issue that helped elect him. And he lured a few reporters into a trap of debating the quality of their reporting as opposed to the merits of their original questions.

And after complaining to aides about the dour delivery of his press secretary, Sean Spicer, at the daily televised briefing, Mr. Trump laced his own banter with humor.

But he also revealed how crushing he is finding the onslaught of criticism that a president receives, saying that he has long preferred the business media to the political press corps he must now deal with.

With the same lack of discipline that his supporters on the campaign trail found refreshing, Mr. Trump lashed out at the news media, which he called "out of control." He accused The New York Times of publishing what he termed a "discredited" story — evidently a reference to an article this week about current and former American officials who say that phone records and intercepted calls show that members of his campaign had repeated contact with senior Russian intelligence officials in the year before the election.

He said The Wall Street Journal had published an article that was "almost as disgraceful." He mocked Jim Acosta, a CNN correspondent, saying at one point, "Yeah, go ahead, Jimmy."

His exchange with Mr. Acosta — a frequent foil for Mr. Trump in his news conferences on the campaign trail — made it clear that the president believes that the American people are with him, and against the news media. "That's why the public sees it," Mr. Trump said. "They see it. They see it's not fair. The public is smart, they understand it."

Mr. Trump also blamed former President Barack Obama — whom he had often described in glowing terms since his inauguration — for handing him a failing government.

"I inherited a mess," Mr. Trump asserted. "It's a mess. At home and abroad, a mess. Low pay, low wages, mass instability overseas, no matter where you look."

At one point, Mr. Trump searched for a new face among the veteran White House reporters who were challenging him and settled on a journalist wearing a skullcap whom he clearly did not recognize, hoping for the best.

"Are you a friendly reporter?" Mr. Trump said. The response of the reporter, Jake Turx of Ami magazine, a Jewish publication, could not be heard in the room.

The president's anger then flared when Mr. Turx asked about a rise in anti-Semitic incidents around the country.

Telling Mr. Turx to sit down and accusing him of lying about asking a "very straight, simple question," Mr. Trump rejected the charge that he is personally anti-Semitic — something the reporter had explicitly said he was not asserting.
Perhaps the lowest point of the entire affair came when April Ryan, the Washington correspondent for American Urban Radio Network, asked Trump why he had not scheduled a meeting with the Congressional Black Caucus yet despite the fact that they had requested such a meeting in a letter sent just days prior to his Inauguration. Trump responded by claiming that he had a meeting set up with committee member Congressman Elijah Cummings but that it was canceled after Cummings was told not to meet with the incoming President, a claim that seemed absurd on its face given that Cummings is a senior member of the CBC and not known as being someone who easily takes orders from others. Cummings later confirmed that Trump had not told the truth and that there had never been a meeting scheduled between the two men. As the exchange with Ryan continued, Trump asked the reporter is she knew the members of the CBC and if she could schedule a meeting for him, a statement that made one wonder if Trump thought Ryan was his secretary or whether he figured that she would know the members of the CBC since she too is African-American.
At other points in the press conference, Trump continued his long-standing practice of insulting the media as useless, treating individual reporters such as CNN's Jim Acosta (no relation to the Labor Department nominee noted above) in an especially condescending manner, and making the same false claims that he has in the past. For example, he claimed that his Electoral College win was the largest since Ronald Reagan, a claim which is, as I have noted before, a demonstrable lie. When NBC's Peter Alexander gave him a live fact check on the claim by pointing out that both President Obama and President Clinton had larger Electoral College victory, Trump responded by claiming that he meant the largest by a Republican. When Alexander responded by noting that President George H.W. Bush had gotten more than 400 Electoral Votes in 1988, Trump responded by claiming that this is what he was "told," without specifying exactly who told him what was obviously a falsehood. In reality, the only President who Trump beats out in terms of Electoral College wins is George W. Bush who, of course, won rather narrow victories in both 2000 and 2004.
All of this led to an amusing fact-check video on this morning's Morning Joe:
Fact-checking President Trump's press conference https://t.co/pXynsSlvQK

— Morning Joe (@Morning_Joe) February 17, 2017
The entire affair left one wondering a simple question that I asked on Twitter shortly after it ended:
If Trump can lie so easily about something unimportant like the size of his Electoral College victory, why should we trust him on anything?

— Doug Mataconis (@dmataconis) February 16, 2017
It's safe to say that there has never been a press conference like the one much of the nation watched unfold yesterday afternoon, not under President Nixon during the height of Watergate when reporters like Dan Rather were grilling him while the walls of scandal, not under President Reagan during Iran-Contra or under Clinton during the Lewinsky affair and impeachment, and not under President Bush 43 during the lowest points of the Iraq War. It's as if Donald Trump lives in a completely different reality from the rest of us and that he has no awareness of what's happening around him. While ever President is likely on somewhat of an unsteady footing during the first months in office, Trump now seems completely out of his element and lashing out irrationally in much the same way that he did during the Presidential campaign, which perhaps explains why he's scheduled a campaign rally for Fort Lauderdale this weekend while he has down at Mar-a-Lago for the third weekend in a row since becoming President. Based on reporting, it seems clear that his Administration is internally dysfunctional, with Steve Bannon and Reince Priebus apparently engaged in a battle for influence and control that will likely only end with the departure of one or the other in the near future. They've bungled everything from the immigration executive order rollout to their cabinet appointments, and they can't seem to stay on message. Perhaps it will improve in the future, but that's only going to happen if an adult takes charge inside the West Wing and if they somehow manage to get the President himself to stay on message. Neither of those things seem to be very likely.
None of this should come as a surprise, of course. This is the Donald Trump we saw running for President, and the Donald Trump that has been a 'celebrity' since the 1980s. Anyone who thought that actually becoming President would change him in any respect was being incredibly naive, and the odds that he's going to change at all at any time over the course of the next four years, or longer, are pretty much non-existent. The problem that this leaves the nation, of course, is that this is a man we're stuck with as President until at least January 2021. As bad as these first four weeks have been, they've all unfolded over the course of what has been a relatively calm period of time in domestic and world affairs. What happens when, inevitably, Trump is faced with his first real international or domestic crisis? How will he react when he faces his first Congressional defeat, or a rebuke from the Judiciary even more substantial than the one dealt last week by the Ninth Circuit Court of Appeals? Or when his poll numbers dip even lower than they already are, which they inevitably will at some point in the future? If his behavior so far is any indication, it won't be pretty and, in the wrong circumstances, it could end up being disastrous. Of course, the American people knew this long before Election Day. Many of us spent more than a year warning about this man. Now he's President, though, and we all have cause to be concerned about where he'll taking this country while he's in power.