Vatican Set For First Ever Canonization Of Two Popes, With Two Popes Attending
On Sunday, it's the Day Of Four Popes.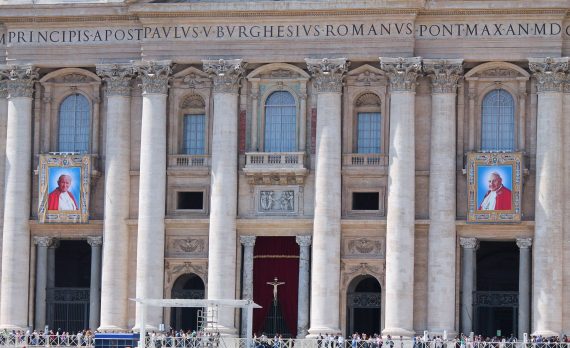 Tomorrow morning in Rome, Pope Francis will preside over the canonization of Pope John XXIII and Pope John Paul II, an historic first in and of itself, while his predecessor, Pope Emeritus Benedict XVI, is in attendance:
VATICAN CITY — Pope John XXIII was the rotund Italian pontiff with a common touch, who told jokes, embraced the poor and became beloved as "the Good Pope." To many liberal Catholics, he is still revered for the Second Vatican Council, the landmark event of the 1960s that sought to move the Roman Catholic Church into the modern age.

Pope John Paul II was the charismatic Polish pontiff who liked to sneak away from the Vatican to ski and who retooled the papacy in a new era of globalized media. His vision of a more rigid Catholicism made him a revered figure among many conservative Catholics suspicious of the liberalizing spirit introduced by John XXIII.

"The man who took the lid off and the man who tried to put it back on," said Eamon Duffy, a professor of the history of Christianity at the University of Cambridge.

Now a new pope, Francis, is making his most public attempt to sew together the two men's different legacies as he pushes his own vision of a church under a big tent. Francis will preside on Sunday over a first-of-its-kind joint canonization of the former popes, both iconic figures in the 20th-century church who will be elevated to sainthood during a Mass at St. Peter's Square.

For Francis, who has spent the first year of his papacy straddling the divisions within the church, this twinning allows him to deftly avoid elevating one man over the other and serves his broader agenda of de-emphasizing ideological battles as he tries to renew excitement among the faithful and reverse a steady decline in church attendance.

"The Catholic Church is big enough to encompass the devotees of John XXIII and John Paul II," said Kathleen Sprows Cummings, director of the Cushwa Center for the Study of American Catholicism at the University of Notre Dame. "That is the message he is sending."

Unquestionably, the pairing has transformed the Mass into a global media event. Huge crowds are pouring into Rome, with estimates that hundreds of thousands of people — possibly more than two million — will fill St. Peter's Square or watch the ceremony on more than a dozen large screens erected in piazzas across Rome. Portraits of both former popes have been draped on St. Peter's Basilica, and souvenir shops are selling canonization trinkets.

"We love both popes," said Antonio Rossi, 31, a teacher from Naples who walked with his girlfriend around the square on Friday. "They are two figures who left a great mark on the Catholic Church. What is important is that they both become saints because that is how I perceive them in my life."

Vatican officials have played down the political subtext of the ceremony, arguing that reducing the two former popes to a left-right political shorthand is inaccurate and cheapens what for many Catholics is a joyous and deeply spiritual moment. The Rev. Thomas Rosica, who is working with the Vatican press office for the ceremony, disagreed with those who see the ceremony as a calculated gesture of reconciliation.

"Some would say that, but I wouldn't go that far," Father Rosica said. "We don't use something like this to do that."

Without question, though, the event has stirred considerable debate among many Catholics, about the process of canonizing saints and about the legacies of the two former popes
On some level, the way that the media is trying to turn the canonizations of John XXIII and John Paul II into some kind of an ideological thing is yet another example of how the American media doesn't really do a good job of covering religion in general, and the Catholic Church in particular. While he may have been raised, and become a Priest and Bishop, in the pre-Vatican II Church, when Karol Wojtyła was Archbishop of Krakow he attended the Second Vatican Council and participated in its proceedings, as a Cardinal and then Pope he helped implement its teachings. Indeed, as Pope John Paul II he was instrumental in the expulsion of schismatic priests in France who asserted that John XXIII was somehow an illegitimate Pope because of Vatican II. So, the idea that there is some kind of conflict between the legacies of these two Popes, or that the Church is trying to strike some kind of "ideological balance" in this dual canonization is kind of silly.
That being said, it is true that many conservatives, or to use the more appropriate term, "traditionalists," in the church saw the Papacy of John Paul II as, perhaps, an opportunity to push back on what they saw the the excessive liberalization of the Second Vatican Council. On the other hand, critics of John Paul II saw him as overly conservative when it came to issues such as contraceptives, abortion, the ordination of women as priests and other issues, Of course, it's not as if his positions on these issues were any different from those of his predecessors John XXIII and Paul VI. Indeed, as John Paul noted in repeated Papal Encyclicals on these issues, the line of teaching in the Catholic Church on these issues was entirely consistent with previous teaching. Anyone expecting that things would change is either an outsider with no understanding of Catholic teaching, or an activist with their own agenda
In any event, the dual canonization is interesting in what it says about the future legacy of the current Pope. The ordinary procedure for Sainthood in the Catholic Church requires the confirmation of two miracles. However, shortly after he was elected to the Seat of St. Peter, Pope Francis decided to waive the requirement of a second miracle for John XXIII. Many saw that as a sign that Francis wished to finalize, once and for all, the legacy of Vatican II, and it's hard to interpret it otherwise. What that means for the future of Francis's Papacy is an open question. However, I'm sure it will be interesting to watch it unfold.