Washington Post: Tea Party Not Racist After All
The Washington Post looks around and discovers that the Tea Party isn't racist after all. Their bad, I guess.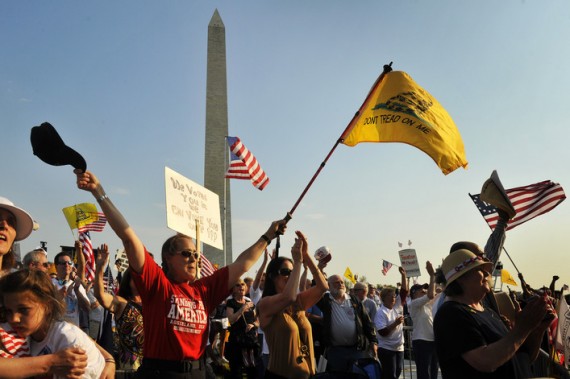 Only two weeks before the 2010 elections, The Washington Post is out with a report saying that all those previous reports about concerns that the Tea Party movement was a hot bed of racial resentment weren't really based in fact after all:
A new analysis of political signs displayed at a tea party rally in Washington last month reveals that the vast majority of activists expressed narrow concerns about the government's economic and spending policies and steered clear of the racially charged anti-Obama messages that have helped define some media coverage of such events.

Emily Ekins, a graduate student at UCLA, conducted the survey at the 9/12 Taxpayer March on Washington last month by scouring the crowd, row by row and hour by hour, and taking a picture of every sign she passed.

Ekins photographed about 250 signs, and more than half of those she saw reflected a "limited government ethos," she found – touching on such topics as the role of government, liberty, taxes, spending, deficit and concern about socialism. Examples ranged from the simple message "$top the $pending" scrawled in black-marker block letters to more elaborate drawings of bar charts, stop signs and one poster with the slogan "Socialism is Legal Theft" and a stick-figure socialist pointing a gun at the head of a taxpayer.

There were uglier messages, too – including "Obama Bin Lyin' – Impeach Now" and "Somewhere in Kenya a Village is Missing its Idiot." But Ekins's analysis showed that only about a quarter of all signs reflected direct anger with Obama. Only 5 percent of the total mentioned the president's race or religion, and slightly more than 1 percent questioned his American citizenship.

Ekins's conclusion is not that the racially charged messages are unimportant but that media coverage of tea party rallies over the past year have focused so heavily on the more controversial signs that it has contributed to the perception that such content dominates the tea party movement more than it actually does.

"Really this is an issue of salience," Ekins said. "Just because a couple of percentage points of signs have those messages doesn't mean the other people don't share those views, but it doesn't mean they do, either. But when 25 percent of the coverage is devoted to those signs, it suggests that this is the issue that 25 percent of people think is so important that they're going to put it on a sign, when it's actually only a couple of people."
Of course, this does lead to the question of why it took a graduate student from UCLA to uncover these facts rather than a media that has been covering the Tea Party protests for over a year and, inevitably, concentrating on the one or two examples of extremists in the audience, or perpetuating stories of racial animus when there is no evidence to support them.
Are there racists who've shown up at Tea Party rallies and said offensive things ? Yea, probably there are, but it's fairly clear that they do not represent the vast majority of people who have spent the last year showing up at rallies, participating in campaigns, and voting. Many of them are people who've never participated in politics much beyond voting. They've been motivated to get involved by things they thing have gotten out of control, like government spending. Would it have been nice if they'd complained a little louder when George Bush was doubling the National Debt in eight years ? Yes, but they're active now, and that's a good thing. If they succeed in keeping the Republican Party honest, then they'll have actually accomplished something.
It's nice to see The Washington Post finally actually acknowledging that these American citizens aren't racists. Too bad they didn't do so sooner.