Where Do the Republicans Go From Here?
This man is the face of the post-Trump party.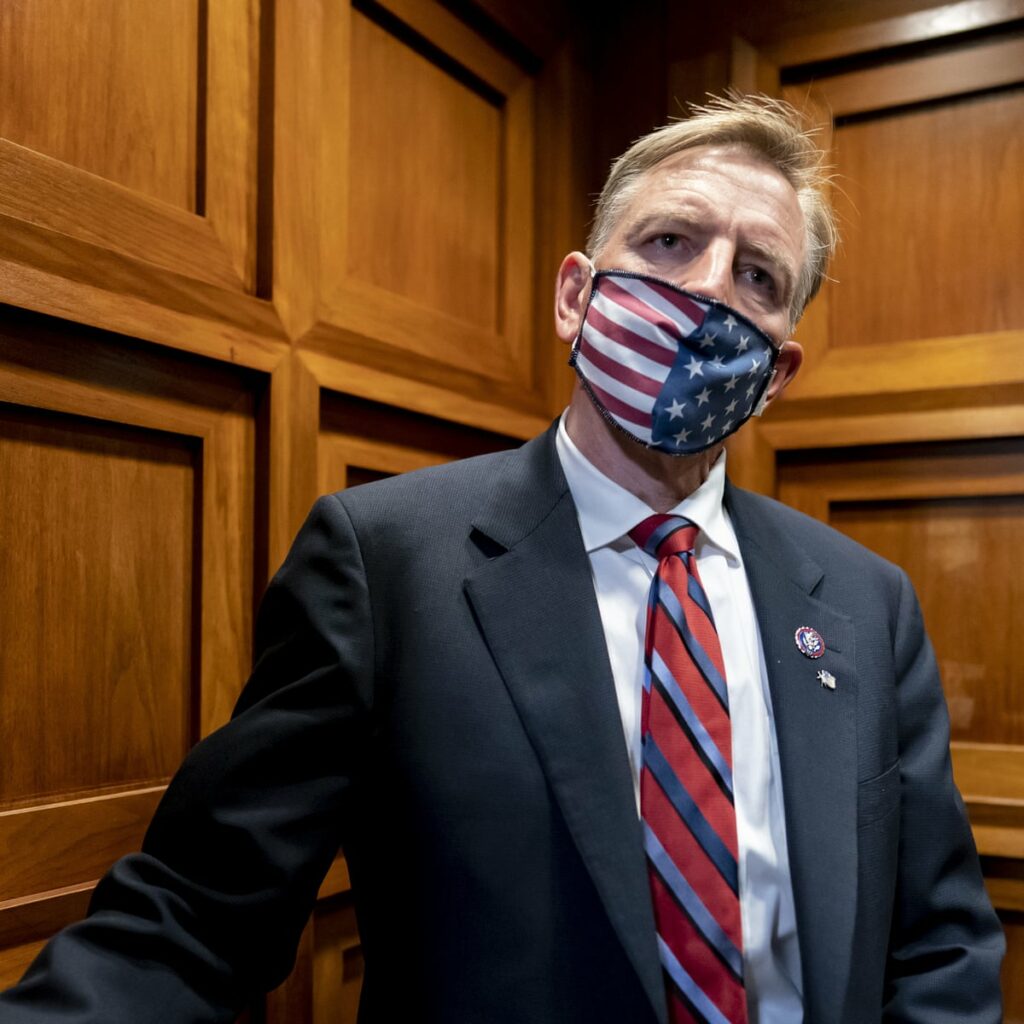 The continuing dumpster fire that is what remains of the Grand Old Party is evident in a trio of somewhat-related stories out overnight.
POLITICO ("GOP can't escape 'self-inflicted injuries' as they fight to reclaim House"):
House Republicans should be riding high: The majority is in their grasp and President Joe Biden's poll numbers are tanking.

Instead, they're getting in their own way, again.

Ahead of a vote on Democrats' biggest agenda item, the GOP conference is embroiled in messy internal spats that have spilled into public view, including the censure Wednesday of a far-right House member, the first such vote in more than a decade. At the same time, some rank-and-file Republicans are still pushing to punish their own colleagues for backing a bipartisan bill reviled by former President Donald Trump.

That turmoil is no longer an anomaly for the GOP. The party's emboldened conservative agitators have repeatedly stoked controversies that threaten to become all-consuming distractions, leaving House Minority Leader Kevin McCarthy to seek out a fire extinguisher. The recurring problem could hurt the party as it works to claw back the majority next year.

"I find it unfortunate," said Rep. Daniel Meuser (R-Pa.), who recalled thinking earlier on Wednesday: "It's a shame these self-inflicted injuries occur. But that's all it is and we're gonna get past that because there's far more important things to be concerned with."

While few Republicans voted to rebuke Rep. Paul Gosar (R-Ariz.) on Wednesday, several GOP lawmakers privately say his antics brought Republicans an unneeded diversion in an otherwise upbeat month. It forced them on defense just hours before Democrats are expected to take a high-stakes vote on Biden's signature bill to expand the social safety net. And Republicans would much rather talk about that bill — since they widely believe it's their ticket to flipping the handful of seats needed to reclaim the speaker's gavel.

Instead, GOP drama is dominating headlines. Inflation and Democratic infighting have taken a backseat to Gosar's violent social media posts — he published an animated video that depicts him killing Rep. Alexandria Ocasio-Cortez (D-N.Y.) — and the intraparty backlash against the 13 Republicans who backed this month's infrastructure vote.

Their predicament was captured Wednesday afternoon, when McCarthy and dozens of Republicans held a press conference to speak out against Democrats' social spending plan. When the top Republican opened up the event to take questions from journalists, the first question was about Gosar.

"Did you listen to anything we said?" McCarthy responded to the reporter, before dismissing the question and ultimately ending the press conference. The GOP leader later delivered a fiery floor speech condemning the vote: "The speaker is burning down the House on the way out the door."

But while tensions have certainly escalated, Republicans say the Gosar vote hasn't split the party, particularly compared to other moments this year. All but two Republicans voted against the censure, arguing that Democrats went too far in stripping him from committees. That move — once unheard of — has now happened twice this Congress.

If anything, Republicans say Democrats' efforts to pointedly bash Gosar, as he sat three rows from the back of the chamber, has further poisoned relations across the aisle.

McCarthy privately told a group of Republican Study Committee members on Wednesday Gosar's office was wrong to post the video, but that he opposes the majority-led efforts to censure the Arizona Republican. The GOP leader said if they recapture the majority, he doesn't think Rep. Eric Swalwell (D-Calif.) should be serving on the House Intelligence Committee, according to sources in the room. Republicans have also named Rep. Ilhan Omar (D-Minn.) and House Financial Services Chair Maxine Waters (D-Calif.) as lawmakers who should be worried if Republicans retake the House.

Still, some moderate Republicans grumbled that McCarthy and his team could have done more to address the situation. Rep. Fred Upton (R-Mich.) pointed out "this was not the first thing" with Gosar, recalling previous comments in support of Nazis, white supremacists and baseless conspiracy theories.
To be honest, the idiotic video that got Gosar in trouble (and for which he retweeted after being censured!) is the least of my concerns with him. One could at least make the argument that it's a weird joke, apparently a photoshopped . And strange fantasies where politicians are action heroes saving the Republic from certain doom seem to be all the rage these days. But we simply can't have Members of Congress openly supporting Nazis and white supremacists. There was no choice but to strip of his power; indeed, he should have been expelled. That essentially no Republican Member saw fit to support the censure of him or the lunatic Marjorie Taylor Greene does not bode well for the state of the party.
WaPo's Dana Milbank isn't wrong when he declares "Paul Gosar killed his colleague in a cartoon. Kevin McCarthy is killing democracy in real life."
McCarthy was outraged — not by the unrepentant Gosar's homicidal cinematography but by Democrats' move to reprimand him. Instead of condemning the video, McCarthy said Democrats would "break another precedent" of the House.

So Gosar depicts himself murdering a Democratic colleague, but Democrats are the ones breaking precedent for reprimanding him?

McCarthy, on the House floor, mentioned the matter only in passing ("I do not condone violence, and Rep. Gosar had echoed that sentiment"), instead reciting a meandering list of grievances: Proxy voting! The Steele dossier! Afghanistan! He threatened that when speaker he would retaliate by stripping committee assignments from five Democrats over various perceived offenses.

The victim of Gosar's anime sword, speaking immediately after McCarthy, noted McCarthy's strained search for equivalent wrongs. "When the Republican leader rose to talk about how there are all of these double standards … not once did he list an example of a member of Congress threatening the life of another," Ocasio-Cortez pointed out.

"It is a sad day," she said, "in which a member who leads a political party in the United States of America cannot bring themselves to say that issuing a depiction of murdering a member of Congress is wrong."

Sad, but to be expected from McCarthy.

Gosar claimed that Ashli Babbitt, the insurrectionist shot dead by Capitol Police on Jan. 6 as she breached the final barrier protecting lawmakers, was "executed in cold blood" by a police officer "lying in wait" for her. Gosar attended a conference run by a White nationalist banned from YouTube because of hate speech and was listed as the beneficiary of a fundraiser by the same White nationalist. Gosar alleged that the FBI planned and carried out the Jan. 6 insurrection, and he was named by an organizer of Jan. 6 as one of the lawmakers who "schemed up" the atrocity. Gosar joined 20 Republican colleagues in voting against awarding the Congressional Gold Medal to the officers who defended the Capitol on Jan. 6.

And McCarthy pretty much let it all slide.

Rep. Marjorie Taylor Greene (R-Ga.) earlier this year posted an image of herself with an AR-15 next to photos of Democratic Reps. Ocasio-Cortez, Rashida Tlaib (Mich.) and Ilhan Omar (Minn.) with the caption "Squad's Worst Nightmare."

Rep. Madison Cawthorn (R-N.C.) warned that "if our election systems continue to be rigged and continued to be stolen then it's going to lead to one place and that's bloodshed."

Former president Donald Trump said Babbitt "was murdered at the hands of someone who should never have pulled the trigger …. The Radical Left haters cannot be allowed to get away with this."

Several House Republican lawmakers have been tied (or tied themselves to) violent or anti-government groups such as the Proud Boys, the Oath Keepers and the Three Percenters.

And McCarthy pretty much let it all slide.

Instead, he threatened to strip Republican lawmakers of their committee assignments — if they joined the committee investigating the Jan. 6 insurrection. McCarthy also had a laugh when noting that, if he wins the speakership, "it will be hard not to hit" Pelosi with an oversized gavel.

There was once a case to be made that McCarthy was simply a weak leader. But now it's clear he is blessing the provocations to violence.
Whether he's "blessing" them or simply so enamored of power and too afraid of the Trumpist base to speak out is unclear but, ultimately, irrelevant. There are some genuinely dangerous kooks who have managed to get elected to the United States Congress and McCarthy is enabling them.
And, alas, there seems to be no turning back any time soon.
CNN's Gloria Borger ("For the GOP now, all roads lead to Donald Trump"):
Sometimes, during a busy week in Washington, a recap is in order. So let's take stock of the Trump GOP for a moment:GOP Rep. Liz Cheney, a diehard conservative, daughter of a diehard conservative vice president, has been excommunicated from the Wyoming Republican Party.GOP Rep. Paul Gosar, who tweeted a bizarre anime video showing him appearing to kill progressive Rep. Alexandria Ocasio-Cortez, is forgiven at a House GOP caucus meeting. (And when Democrats decided to censure him and remove him from his committee assignments Wednesday, only two Republicans agreed his behavior warranted such punishment. The final vote was 223-207.)

And what about those 13 House GOPers who dared to vote for the Biden infrastructure bill, which two-thirds of the American public actually wants? There's talk of stripping them of their committee assignments.

Huh?

As only Alice in Wonderland might ask of the Republicans, "Who in the world am I? Ah, that's the great puzzle."Well, maybe not such a puzzle.

Meet the Trump 2022 caucus, in which all that matters is whether a) you are willing to say the 2020 election was rigged, b) you voted against impeachment, and c) anything Trump is against (like the infrastructure bill), you are against, too. There is room in your heart only for Donald Trump.

If you're Kevin McCarthy, add one more priority: becoming House speaker, for which you believe you need Trump. (Even though the ever-loyal Trump has told people he doesn't really like you and could go on a jihad against your bid for the speakership even if you win back the House majority. The august Rep. Marjorie Taylor Greene seems to be in favor of that program.)

Some might be able to summon some pity for McCarthy, who, after all, is trying to navigate between his moderates and his Gosar goons, but nah. After all, how much is a speakership worth? Enough, apparently to justify a defense of Gosar on the grounds that Democrats are simply a bunch of hypocrites, abusing their power by taking action against a member who threatened another member's life. (Just reminding: Republicans also shrugged or fled for the hills when asked about Trump's offensive, even dangerous, tweets. So at least they're consistent.)

But I digress. Back to the unfolding GOP scenario. The worry, says former Republican National Committee communications director Doug Heye, is that the party is heading to a place in which "we don't have to accept elections and policy doesn't matter, like penalizing people voting for an infrastructure bill." (Not to mention the fact that Trump himself was gung ho in 2019 for a $2 trillion measure until he walked out because Democrats wouldn't halt their investigations of him.) And the question, Heye adds, is "How do we get past this?"

[…]

As a result, by my last count, there are two Trump-endorsed Senate candidates who have been accused of domestic abuse: In Pennsylvania, the party's front-runner, Sean Parnell, has been accused by his estranged wife of choking her and hitting one of their children — charges he denies. And in Georgia, Trump's buddy Herschel Walker had to answer questions about his ex-wife's accusation that he had held a gun to her head. He said in a 2008 CNN interview that he didn't remember being violent toward his wife, but he didn't deny it. A Walker candidacy is not exactly what Senate Minority Leader Mitch McConnell had in mind, but now Walker has his blessing. Go figure.

But wait. There's one wannabe senator with sexual misconduct allegations against him who is still vying for the Trump thumbs-up: former Missouri Gov. Eric Greitens. Never mind that he resigned the governorship in 2018 after revelations of an affair with a woman who accused him of sexual misconduct and threats of blackmail. Greitens admitted to the affair, but denied the rest. He's a Trumpist now, as are many in the Missouri GOP US Senate primary race. So the primary is getting ugly, which isn't a happy place for Republicans as they struggle to see whom Trump loves the most.

The list of potential problems goes on: Trump wants former Georgia Sen. David Perdue to run against Gov. Brian Kemp, who actually had the temerity to challenge Trump's rigged election conspiracy theories. GOP candidates in Arizona are still talking rigged election to make Trump happy, as are Republicans in Ohio. It is as if they have nothing else to run on. The irony, of course, is that they do.

All of which pleases Democrats. "He's elevated problematic and flawed candidates," says David Bergstein, a spokesman for the Democratic Senatorial Campaign Committee. "It's intensified vicious and expensive infighting. And he's deterred some candidates from entering some races."

Consider GOP New Hampshire Gov. Chris Sununu — seen as a great Senate recruit — who recently declined to run for the seat. While he has declared himself a Trump supporter in the past, he also was reelected in 2020 with 65% of the vote — 20 points better than Trump. Considered a moderate, he complained about gridlock in Washington as a reason for deciding against a run. But he's not exactly a candidate who would have been excited to worship at the shrine of Trump.
This isn't completely new, of course. The Republicans did far less well than they otherwise should have in the 2010 midterms because they put up so many crazies. Then, the crazies lost. I'm not so sure now.
Indeed, it's quite likely that Republicans will take back the House and the Senate a year from now, absent something on the scale of Pearl Harbor or 9/11 changing the landscape. The President's party almost always loses seats in the midterms and the Democratic majority is razor-thin in the House and nonexistent in the Senate. All of the usual indicators point in a positive direction for 2022.
Regardless, the concern isn't so much how the party will fare in the midterms or even in 2024 but the moral and intellectual state of the entity that has been half of our two-party system for 140 years. The Republican Party first fielded a presidential candidate in 1856 and permanently displaced the Whigs with Abraham Lincoln's victory in 1860. There is no viable replacement in sight and no obvious path to build one.
To be sure, it's theoretically possible that sane conservatives could take back the party. After all, parties evolve and the two current parties have flip-flopped as to who is the "liberal" party, the "populist" party, and the "civil rights" party more than once over the course of their existence. But I don't know that we've ever had this degree of institutional rot in either party during the 140-year run.