Where's The Outrage Over The Outrage?
When everything's an outrage, is anything outrageous?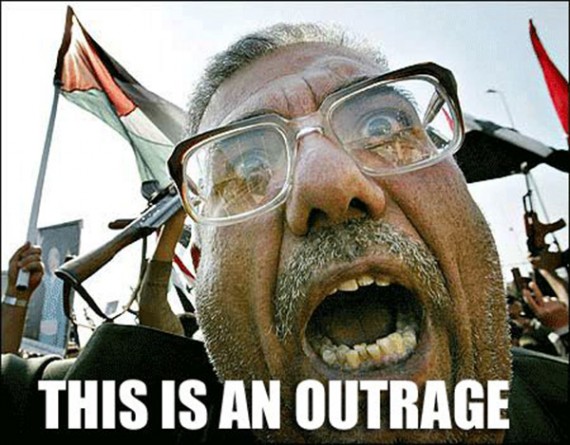 The White House, says the LA Times for the third straight day, is facing "growing fury" over L'Affaire Bergdahl. How many times have I read a headline like this over the past few years. Dozens? Hundreds?

Hard to say. But it sure seems to be the defining quality of American politics these days. We just bounce from one outrage to the next, mostly ginned up by the right, but sometimes by the left too. It's a wonder that America hasn't dropped dead of a collective heart attack yet.

Has it always been this way? Maybe. It's not as if we lacked for partisan outrages in the 50s and 60s. But I'd sure like to hear from folks who have a good memory for those years. Was the procession of outrages really as nonstop as it is today? Did we at least take a break between outrages back then? Or has nothing changed except our exposure to this stuff thanks to Twitter and 24-hour cable news?
Kevin's a few years older than me, so I can't answer his question from personal experience. Certainly, from my reading of history, we've had periods of much greater polarity. But at least then, the issues in contention were more serious. As I noted back in 2007, building off a conversation with Duncan "Atrios" Black and Ezra Klein,
Several times a week, there is the Outrage of the Day that every major blog is expected to weigh in on and denounce the other side for its awful hypocrisy while defending essentially the same conduct from our own.

It's a sure-fire way to garner traffic but it generally bores me to tears.
Subsequently, I created a tongue-in-cheek "Outrage of the Day" tag for these stories. Eventually, even chronicling and debunking these stories started boring me to tears and I've largely quit.
As to Kevin's second question, it's long been my contention that the modern communications environment—24 hour cable news, talk radio, blogs, Twitter, etc.—is a major contributing factor to the phenomenon rather than spreading it. In the old days, we had election cycles and accompanying "silly seasons" in which politicians and the talking heads would say stupid things to emphasize the differences between parties and candidates who were, in the global scheme of things, remarkably similar. But, once the elections were over, there was a respite. Presidents got "honeymoons" in which to exercise their alleged governing mandate and talking heads, and especially the ideological intellectuals, got back to trying to solve real problems.
With the rise of Rush Limbaugh and Fox News, things began to change. The confluence of an outrage machine and the presidency of Bill Clinton, a man who frequently did outrageous things by the standards of a bygone era, give rise to an atmosphere in which those in the fever swamps not only helped drive the news but had their views validated. Blogs and later Twitter—and Politico, and Buzzfeed, and all manner of news-like sites that depended on controversy and clickbait to stay in business—got us to the point where the "silly season" of campaigning never ended.
Indeed, from an ordinary consumer of information's standpoint, it's much worse now. In the halcyon days of yore (say, 1988)  even those of us who were voracious consumers of political coverage watched 30 minutes of national/international news a night, consumed a single daily newspaper, watched two or three weekly talking heads shows (mostly on Sundays), and read a weekly news magazine, and maybe a biweekly political  magazine such as The New Republic or National Review.  That meant a lot of time in between exposure to politics at all and tended to concentrate that exposure to the most salient stories of the day or week.
There's not much to be done about this, other than perhaps unplugging more frequently. I'm happy to have the Internet and the ability to read as much as I want from all of the national newspapers, magazines, and the essentially limitless mass of good content out there. I'm glad that the likes of Kevin Drum, Dave Schuler, Jim Henley and countless others who would never have had a platform in the old days can engage in a national conversation.
But the incentives are to crank out as much controversial content as possible and do so continuously. I did it myself for years. Granted, my inclination has generally been to try to put things into perspective, noting that the Outrage of the Day isn't really all that outrageous in a historical context. But that approach is both harder work and less conducive to driving traffic.
As for myself, I've simply become tired of it. The faux daily outrages are so obviously manufactured as to be uninteresting. And the real outrages—notably a Congress that stopped doing its job years ago and presidents routinely flouting the law—have become so routine that they're either unremarkable or get lumped in with the faux outrages when someone notices.