Why Do We Never Learn?
A comment on the commentariat.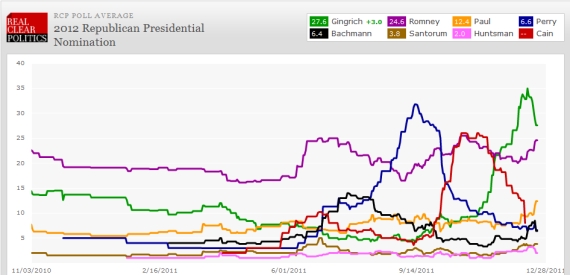 No doubt some (and we know who they are) will take the following post as a critique of Ron Paul.  This is not the case, although Paul's rise in the polls in the proximate cause of the post.  This post is about the tendency of reporters and commentators to overreact to the moment.  Increasing coverage of a candidate because of a rise in the polls makes sense and very much drives, as it should, level of coverage for a given candidate.  Reading the future into a given slice of time, however, is problematic.
A couple of stories form the background and are, in not particular order, as follows:
1. Third Party Possibilities?   WaPo's Behind the Numbers:  Poll: Paul as third party candidate could doom GOP in 2012
Rather than excerpting the piece, all we really need is the following:
Note the Paul numbers and file away the fact that these would be historically high levels for a third party candidate.
2.  The Most Electable? Andrew Sullivan writes:
The man who is the target of a massive smear-job in the current National Review, and whose possible victory in Iowa has already been deemed irrelevant by the national media … is now second only to Romney in match-ups with Obama next fall. Gingrich would lose to Obama by 9 points, Perry by 12.5 points, Bachmann by 14.7 but Paul would only lose by 7.7.

CNN's poll yesterday is even more striking. It finds Romney and Paul tied behind Obama at 7 points behind. Compare that with Gingrich's 16 point deficit. So, in one national poll, Ron Paul does the best against Obama in the fall.
3.  Behold Paul, Destroyer of Caucuses.  From a Politico story that Doug Mataconis noted yesterday:
Paul poses an existential threat to the state's cherished kick-off status, say these Republicans, because he has little chance to win the GOP nomination and would offer the best evidence yet that the caucuses reward candidates who are unrepresentative of the broader party.
All of this leads to the following question :  What, are we emus? 
For those unfamiliar, emus are large, flightless birds whose brains are so small and have such pathetic memories that every time they meet you they are meeting a new friend.  Setting aside the zoology, everyone needs to take a deep breath and meditate on a few names such as, oh I don't know, Bachmann, Perry, Cain, and perhaps Gingrich.  Remember those folks and all the analysis and commentary over whether they could win the nomination and how they would do against Obama? Now, granted, I have been distracted by stacks of exams, but I think I read somewhere that all them have flamed out (or Gingrich's case may, or may not, be in the process thereof).
There were polls in August, for example, showing Perry as competitive with Obama. Indeed, he was up a point amongst registered voters in an ABC/WaPo poll.   That during the build-up to his Peak Not Romney Status (which was in mid-September).  To paraphrase a certain TV shrink:  how'd that work out for us?  In general, commentators should understand the danger of snap judgments about a given candidates.  But in this nomination cycle in particular, one would think that caution would be especially warranted.
The basic lesson is this:  the strength of a given candidate cannot be assessed until that candidate has been subject to the media and opposition scrutiny that comes with a certain level of popularity.  The public, at the moment, does not have enough information about Paul for us to be in a position to trust poll numbers.  As such, it is far too premature to make assertions about Paul's electability or his potential strength as a third party candidates.  I think it is often difficult for political junkies and reporters/commentators to remember, but to most people the elections are still a long way away and therefore the answers they give to pollsters are poor predictors of actual outcomes.  Voters who will entertain the notion of voting for a third party candidate in December of 2011 are far less likely to be so inclined in November of 2012.
Likewise, the degree to which even the Republican selectorate, let alone the general electorate, is aware of things like Paul's stances on foreign policy (especially Israel), the gold standard, entitlements, etc. is likely quite low.  As such, I am not prepared to take electability numbers seriously at this stage.
In short:  it is possible that Paul will be sufficiently popular so as to be either 1) a serious third party threat or 2) the most electable of the GOPers.  However, my point is that we have nowhere near enough data to make such claims or to trust polling on these matter.  Paul is currently the ascending flavor of the month.  He needs to be widely sampled before we can conclude that the flavor in question is, indeed, palatable to the voters.
In regards to number 3 above:  that is just a case of the media falling in love with their own self-created mythos concerning Iowa.  It is not as important as they think it is (and it is hardly the case that it has never favored odd candidates as Pat Robertson won a quarter of the votes there, for a second place finish in 1988.  The eventual nominee, GHW Bush won 18.6% for a third place finish).
And a note to Paul supporters:  the scrutiny that Paul is now getting is not because of some special fear that The Establishment has over Paul in particular.  Rather, it is the scrutiny that candidates receive when they emerge from the polling cellar.  Should Santorum or Huntsman ever manage to crawl out of the deep, dark numerical hole wherein they currently dwell then they too will be scrutinized.  Indeed, rather than treat all the attention that Paul is getting at the moment as some sort of special attack, his supporters ought to ought to treat it all as a kind of politician's merit badge.  It is a sign of having hit a certain level of success.
Having said that, people need to dial back discussion of electability, third party numbers, and the like until a sufficient period of scrutiny has been focused on the candidate.  Paul appear to be in the upward slope of his polling numbers
I will conclude with this:  if Paul is, as it seems, poised to be the next Not Romney, his timing could not be better:  his numbers are rising (inspiring stories like those above) and thus inspiring scrutiny just in time for the Christmas season to hit so as to diminish the attention being paid to discussion of Paul.  Indeed, I expect many people are going to be more likely to hear positive Paul stories over the next week or so than negative ones.   With the Iowa caucuses just weeks away, he is in a grand position to take advantage of increased expectations without having the kind of coverage that would exist in a non-holiday period.  Herman Cain would have loved such a scenario.  Paul appears poised to have a successful Iowa (defined here as a first or second place finish) but with the real test coming later.