Will the GOP Fracture?
Will there be in-fighting? Yes. A break-up? No.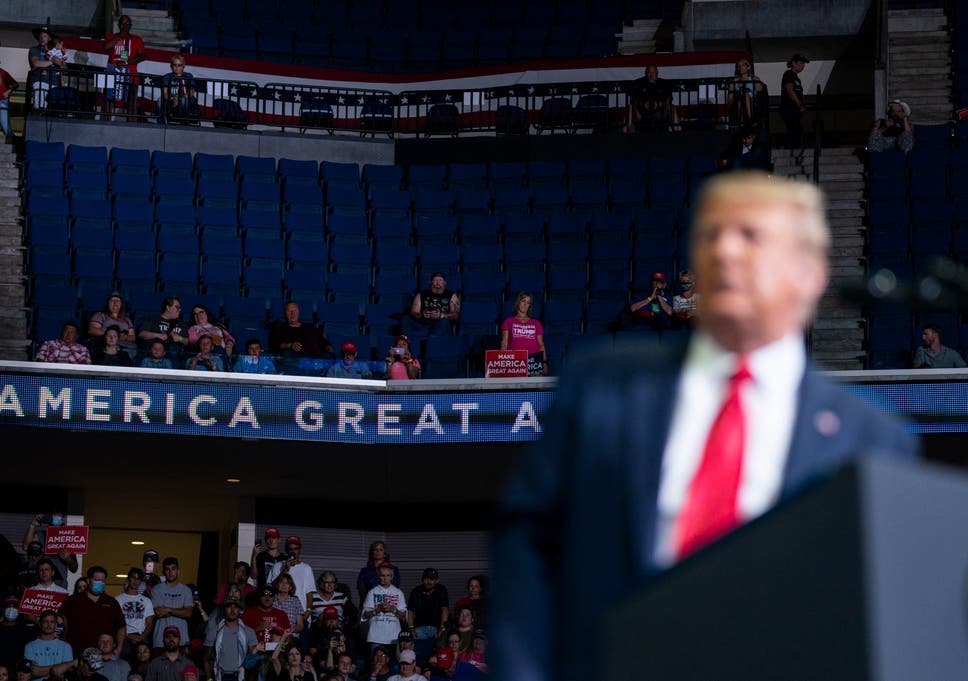 There is going to be, without a doubt, some internal struggles within the Republican Party in the coming months. Losing a presidential election always has that effect on a party, especially a re-election bid. This present moment is made all the more fraught by the legacy of Trump and the clear tension in the party between those who have embraced his white-supremacist-mobilizing populism and those who, like I think Leader McConnell, want to discard him now that his usefulness is over.
But, I think it is important to understand that it is highly, highly unlikely that the party will fracture in the sense that a third party would form or that currently elected officials would change their affiliations.
See, for example, the Thomas Friedman column that James Joyner noted in his post Fantasies of a Post-Trump Republican Party.
The closest thing to that kind of break-up would be something like Lisa Murkowski of Alaska changing her party affiliation to independent and caucusing with the Democrats. But that won't stop the Republican Party from rolling on.
Keep in mind, too, Murkowski is unique among current Senators, having managed to win her seat as a write-in candidate in 2010 after having lost the GOP primary. Alaska has also adopted new electoral rules, including a top-four primary and ranked-choice voting for the general. These could likely embolden Murkowski's independence from the party.
Do I think an appreciable number of electable Republican politicians will change their party affiliation? No, I do not. Maybe Murkowski is a real possibility, but beyond that, it ranges from long-shots (Romney?) to not-gonna-happens (pretty much the rest of them). Susan Collins could find herself very concerned over the possibility, but we all know how that goes.
In simple terms the only party-switching we will see will be either from members of Congress who plan to retire and want in on that sweet, sweet majority party committee leadership action or those who think that their best route forward post-Trump is to run in the Democratic primary (which tends not to work out–see, e.g., Arlen Specter).
Let's not forget: when the dust settles the Republicans will have 50 seats in the Senate and at least 211 in the House (48.5%). (At least because there are currently 3 vacancies, at least one of which is probably going to go R). The party did well in state-level elections and due to its Electoral College advantages at the moment was not that far away from winning the presidency (in terms of EVs, not the popular vote).
Too many people are forgetting all of that and are focused on the current turmoil brought on by the capitol insurrection and impeachment.
I would note that the GOP's first test after the storming of the capitol was a vote on the Arizona electors. They failed the test (in my view, as I like democracy and they voted against accepting the results of a free and fair election) as a majority of Republicans in the House voted to reject. They did the same, and in larger numbers, over the Pennsylvania electors:

Those votes point to a House GOP, at least, who is far more in the trumpist camp, than not.
---
At any rate, I expect to see a lot of stories like this one from the NYT: Post Trump, Republicans Are Headed for a Bitter Internal Showdown.
Mr. Trump has vowed a campaign of political retribution against lawmakers who have crossed him — a number that has grown with the impeachment vote. The president remains hugely popular with the party's grass roots and is most likely capable of raising enough money to be a disruptive force in 2022.

Scott Reed, the former chief political strategist for the Chamber of Commerce, a powerful business lobby, said that Republicans should prepare for a ferocious internecine battle. Mr. Reed, who as an ally of Mr. McConnell's helped crush right-wing populists in past elections, said the party establishment would have to exploit divisions within Mr. Trump's faction to guide its favored candidates into power.

It seems likely that the party will have internal fights, but that the party itself will not actually fracture.
This is going to mean primary fights in 2022 and leadership struggles within the GOP caucus in the coming weeks:
An early test for the party is expected in the coming days, with Trump loyalists attempting to strip Ms. Cheney of her House leadership role. Should that effort prove successful, it could further indicate to voters and donors that the party's militant wing is in control — a potentially alarming signal to more traditional Republicans in the business community.

Kevin McCarthy, the House minority leader, has acknowledged to political donors in recent days that the departing president and some members of his faction have seriously damaged the party's relationship with big business, people familiar with his conversations said.

If Ms. Cheney is deposed, it could encourage primary challenges against other Republicans who supported impeachment or censure, including more moderate lawmakers like Representatives Peter Meijer and Fred Upton of Michigan and John Katko of New York, whose districts could slip away from Republicans if they nominated hard-line Trump loyalists. But in a sign that Mr. Trump can't expect to fully dictate party affairs, Mr. McCarthy has indicated that he opposes calls to remove her from leadership.
So, yes, there will be fights and other internal nonsense (see, e.g., this Politico piece: Trump blows up the Arizona GOP on his way out), but what will that mean for the party electorally? This is the key issue.
It may mean that some races, such as the Georgia governor's race in 2020, will have primary fights that lead to trumpist wins in the GOP primary but that actually increases, potentially, Democratic chances to win the office. One could foresee a situation in which the Republicans, in a bid to stick it to Kemp, manage to oust him as the nominee, but in doing so throws out the incumbency advantage Kemp has and, thereby, helping Stacey Abrams (perhaps) win the governorship.
---
Let's start with the cardinal rule of understanding the behavior of legislators: they want to be re-elected. Period.
This then leads to the way in which the pathway to re-election affects their behavior, and that leads to how they get nominated. That is: what gets them on the ballot?
In the United States this mean, almost always, winning a partisan primary.
Yes, forming a third party, or running as an independent can also get a candidate on the ballot. But that route is almost certainly more complicated than being the nominee of one of the major parties.
More important than ballot access is that the single most significant variable in determining voter behavior is partisan identification. Having an "R" or "D" by a candidate's name will largely guarantee X% of votes in a given jurisdiction.
We just saw this on display during both the presidential election and the Georgia run-off. The whole stand-in-front-of-a-map-of-counties routine that people like John King at CNN or Steve Kornacki at NBC do is all about knowing the basic partisan breakdowns of counties down to the precinct level. Electoral outcomes at that level while not predestined are pretty darn predictable within a reasonable margin of error.
As I have stated in repeated discussions of this over the years: I am quite confident that the Republican candidate will win Alabama's electoral votes in 2024 because, simply put, there are more Republican voters in the state than there are Democratic ones.
All of this is to say that members of Congress know what the partisan breakdown is of their district, which dictates their basic chances of re-election if they make it to the general election. The issue becomes: getting to the general and the route is the primary. If I am in a safe R district and I face no significant primary challenger, I am a shoo-in for re-election. But if I am challenged in the primary, it might all go away. So, if to be re-nominated I have to be a trumpy (or vote against slates of electors) I'll do it and worry about how my co-partisans in the Congress feel about my behavior later.
One thing is for sure: the overall tenor of the party in Congress is dictated by those primary voters far, far more than by party leadership.
We get, for example, QAnon types in the House not because whole districts buy into such things, but because a slice of partisans in that district are willing to nominate a Marjorie Greene who is then carried to victory by the overwhelming partisan lean of the district.
---
A second cardinal rule of legislative politics is that being in the majority rules and being in the minority drools. The majority party controls the legislative agenda and leadership of committees.
There is a nontrivial chance that the GOP could win control of one, if not both, chambers in the 2022 mid-terms. As such, if I am Republican, why would I want to run the risk of being in the minority by switching to a third party label, especially given the inherent electoral risk of doing so as noted above?
Again: the GOP is one seat away from controlling the Senate and has 48.5% of House seats. This will help keep Republicans in the fold because more power is potentially just under two years away.
The basic point is that to have influence on committees one has to caucus with one of the major parties and the majority party controls the committees. Being a lonely independent without any affiliation is just a way to isolate oneself. The same would be true of forming a small third party.
Put another way: why go third party if I am going to have to publicly affiliate with one of the two major parties anyway? Sure, it works for Bernie Sanders (who nonetheless twice sought the D nomination for president). but Bernie is more the exception than the rule, yes?
---
By the way, all of this is why shifts in public opinion about Trump and trumpism can matter as they can influence primaries. But, national movements in public views may not reflect regional changes and, more importantly for this conversation, may not influence district-level opinion. And, even more than that, it may not reflect shifts in the sub-set of partisans at the local level who participate in primary elections.
Of course, a major reason I argue for electoral system change to move away from single-seat plurality elections to more proportional representation is because democratic government ought to be driven by a reasonable representation of the overall population, not be driven by small slices of voters who live in an arbitrary shape on a map that is predetermined either by demographics and/or purposeful design to be represented by a specific party.
The bottom line of all of this is that the GOP isn't going away and it isn't going to break up. The electoral and legislative incentives towards remaining in the group are too powerful.
Moreover, while there will be internal fights, the incentive to leave is probably lessened at the moment by the fact that Trump is gone. For example, if Romney was going to bail on the party, his logical exit point was probably over the first impeachment–to leave the party over its broken support of a president soliciting foreign intervention in our elections. But now it seems more likely that he will tell himself he should stay in the party to try and fix it.
All of this is to demonstrate the way structural incentives influence political behavior as well as to say that any speculation of all this leading to the GOP actually rupturing strikes me as more wishful thinking/looking for angles for stories than it does anything else.
The issue is not that the party will fracture, but rather which faction will be dominant?