With A Reaganesque Tone, Barack Obama Passes The Torch To Hillary Clinton
Eight years after beating her for the Democratic Nomination, Barack Obama passed the torch to Hillary Clinton with a speech that sounded more like Ronald Reagan than anything we've heard from the Republican nominee.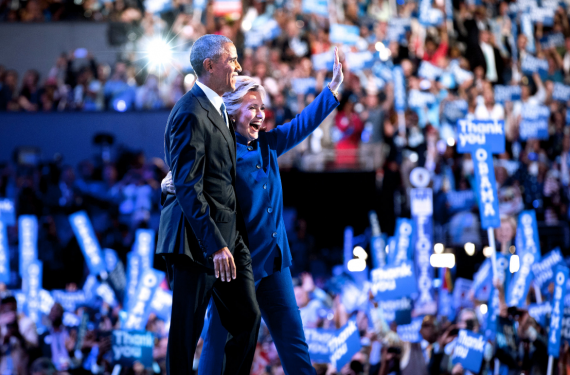 Eight years after beating her in a hard-fought, often bitter, fight for the Democratic Presidential Nomination, President Barack  Obama spoke before a Democratic National Convention for only the fourth time in his political career and anointed his former rival as the person to carry on his legacy:
PHILADELPHIA — President Obama delivered a stirring valedictory address at the Democratic convention Wednesday night, hailing Hillary Clinton as his rightful political heir and the party's best hope to protect democracy from "homegrown demagogues" like the Republican Donald J. Trump.

Taking the stage to rapturous roars of "We love you" and "Yes we can," Mr. Obama acknowledged that Democrats were still divided after a bruising nomination fight and that Mrs. Clinton had made "mistakes."

But he vouched passionately for Mrs. Clinton as a trusted and reliable ally not just for him but for all Americans who need a fighter to improve their lives and keep them safe.

"She's been there for us — even if we haven't always noticed — and if you're serious about our democracy, you can't afford to stay home just because she might not align with you on every issue," Mr. Obama said, an explicit appeal to supporters of Senator Bernie Sanders who continue to resist Mrs. Clinton.

"She's been there for us — even if we haven't always noticed — and if you're serious about our democracy, you can't afford to stay home just because she might not align with you on every issue," Mr. Obama said, an explicit appeal to supporters of Senator Bernie Sanders who continue to resist Mrs. Clinton.

Mr. Obama also used his own remarks to try to drive a wedge between Mr. Trump's campaign and Republican voters. "It wasn't particularly Republican and it sure wasn't conservative," he said of last week's Republican convention. "There were no serious solutions to pressing problems. Just the fanning of resentments and blame and hate and anger."

The president's contempt for Mr. Trump took on a personal dimension as well when he recalled his grandparents from Kansas and said, "I don't know if they had their birth certificates" — a reference to Mr. Trump's leadership of the so-called birther movement that raised questions about Mr. Obama's citizenship.

(…)

Mr. Obama's resounding endorsement of his one-time rival was the final consummation of a political alliance over a decade in the making, since Mrs. Clinton flew to Chicago in 2004 to raise money for a 42-year-old state senator and discovered a phenom.

Back then he was the one who benefited from the imprimatur of a well-established political star, and her support continued to prove critical over the years. After he won the presidential nomination that she expected to be hers in 2008, Mrs. Clinton put aside her resentment and helped him unify a dividedDemocratic Party. And later that year, she again came to his aid by agreeing to become his first secretary of state.

Mr. Obama is the one riding high now, his approval rating over 50 percent. And his image is only enhanced as voters view him, in his final months as president, through the prism of a race to replace him that features two deeply unpopular candidates.

While acknowledging that Mrs. Clinton has "her share of critics" on the right and the left, the president sought to transfer his prestige and political appeal to his long ago rival.

"Tonight, I ask you to do for Hillary Clinton what you did for me," he said. "I ask you to carry her the same way you carried me."

"And if you're serious about our democracy, you can't afford to stay home just because she might not align with you on every issue. You've got to get in the arena with her, because democracy isn't a spectator sport. America isn't about 'Yes he will.' It's about 'Yes we can.'"
The President's speech last night, along with his appearance alongside Clinton in North Carolina earlier this month, stand as a preview of what we're likely to see from him in the coming months between now and the election, and it's something we haven't seen in quite some time. Specifically, I'm referring to the political and electoral spectacle of an incumbent President actively and aggressively campaigning for their successor. Before the end of World War II, there were few opportunities for incumbent Presidents to campaign for their party's nominee, often because of matters outside of the incumbents control. President Eisenhower did not aggressively campaign for his Vice-President in 1960, in part due to the fact that Eisenhower's health at that time likely ruled out an extensive travel schedule and in part due to the fact that Ike was not exactly an enthusiastic Nixon fan to begin with. After Eisenhower, it wasn't until Ronald Reagan in 1988 that we had a President at the end of his second term in office in a position to campaign for his successor and, while he did do so it wasn't exactly an aggressive schedule of campaigning, in part due to the President's age at that point and in part because the Bush campaign decided they wanted to establish Bush as his own man apart out of the shadow of a popular incumbent. Twelve years later, Al Gore's campaign barely made use of Bill Clinton despite his high approval ratings for reasons that seem inexplicable in retrospect given how close that election ended up being. And, of course, in 2008 there was no question of President Bush campaigning alongside John McCain given that his job approval numbers were at lows unseen since the depths that Harry Truman reached during the worst of his time in office. This time around, though, the stage seems set for an what should be an interesting case study. We've got a relatively popular incumbent President, a candidate who is seeking to position themselves as the incumbent's successor, and an incumbent who is obviously quite eager to get out on the campaign trail, most especially so he can take on the Republican nominee. If last night's speech is any indication, then it's going to be a very interesting thing to watch between now and Election Day.
The other notable thing about President Obama's speech last night is the extent to which it was far more optimistic than anything we saw last week at the Republican National Convention. To a large degree, much of what we heard last week was dark and foreboding, emphasizing what is allegedly wrong with not just Trump's Democratic opponent, but also America in general, and it was capped off by Trump's acceptance speech, in which he returned to many of the dark, dystopian themes that had marked his campaign for the Republican nomination. By contrast, President Obama's presented the kind of optimistic vision for America that we used to hear from Republicans all the time. As John Podhorotz put it, you could take about five paragraphs of policy out of Obama's speech and it would read like a speech that Ronald Reagan would deliver. Matt K. Lewis makes much the same point in his column this morning in which he argues, correctly I think, that Obama was more Reaganesque than Trump, and I'd add that he was more Reaganesque than any of the other featured speakers at the Republican Convention. As a general rule, positive messages succeed more in politics than negative ones, so one can assume that we'll see this continue through tonight into Clinton's acceptance speech, and then during the campaign itself. Republicans, meanwhile, led by a man who began his campaign by telling us that 'The American dream is dead,' will try to win an election on a platform of gloom, doom, and resentment, It's certainly possible that this could prove to be a winning strategy, of course, but once you do win an election that's been framed this way it's hard to see how you can effectively govern.