Would Obama's Re-Election End Polarization And Gridlock In Washington?
The President and his supporters say that Congressional Republicans will temper their rhetoric in a second Obama term. Don't count on it.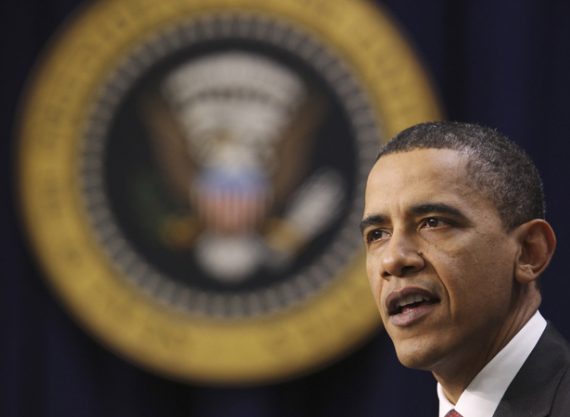 Last week, after the Republican National Convention had wrapped up, President Obama told Time's Michael Scherer that he believes that, regardless of what happens with control of the House and the Senate, his re-election would cause Republicans to come to the table and bring an end to the cycle of gridlock and polarization that has exemplified most of his first four years in office: 
[E]ven in a pretty sour political circumstance, we've been able to get some things accomplished. And I believe that in a second term, where Mitch McConnell's imperative of making me a one-term President is no longer relevant, they recognize that what the American people are looking for is for us to get things done.

And I will continue to insist to my Democratic colleagues that not all good ideas just come from Democrats and that if we're going to reduce our deficit in a serious way, we are going to have to cut some spending even on some programs that I like. If we're going to be serious about energy independence, then we can't just have a knee-jerk opposition to the incredible resources that we have in our country. We've got to have an all-of-the-above strategy that develops oil and gas and clean coal along with wind and solar.

So my expectation is that there will be some popping of the blister after this election, because it will have been such a stark choice. Where Republicans refuse to cooperate on things that I know are good for the American people, I will continue to look for ways to do it administratively and work around Congress. And a good example of that is, for example, making sure that homeowners around the country can take advantage of these historically low rates and refinance.
Rahm Emanuel expressed similar confidence that an Obama victory would change the tone of things in Washington:
 "In 1995 the Republicans shut down the government," he said, recalling the budget standoff that helped ensure Clinton's reelection. "Newt Gingrich said let Medicare wither on the vine. Medicare is coming back" as an issue with the Romney-Ryan ticket, he said.

The year after Clinton won a second term, Emanuel boasted, he and the GOP balanced the budget, reached agreement on health care coverage for children, and cut other deals.

So what's that got to do with what Obama might do in a second term, given the prevailing gridlock in Washington.

"Elections…have consequences," the mayor said. "If the president wins reelection, I think the Republicans will finally, after four years of trying to beat him, will try to work with him. The American people will have delivered their verdict
The events after the 1996 election are the obvious analogy that Democrats are looking for here, and it's understandable why. Notwithstanding the impeachment mess, the years after Bill Clinton defeated Bob Dole to earn another term in office are generally seen as successful economically and politically. Indeed, as Emanuel mentioned, the two centers of power in Washington were able to cut deals on several key issues even after the Monica Lewinsky story broke. After impeachment, of course, things became more difficult and Clinton began looking for foreign policy as a means of establishing a legacy, but for the most part a Democratic President  and Republican Congress were able to work together on at least the day-to-day operations of the government such as a the budget. That's likely an idea that appeals to most voters given the fact that poll after poll has shown that Americans are fed up with the polarization and partisanship in Washington and tend to blame both parties for not being able to get even the simplest task done. Since it appears rather clear that the GOP will at lease continue to control the House in the 113th Congress, and likely gain at least a seat or two in the Senate, the Obama campaign clearly wants to give them some reassurance that they wouldn't just be guaranteeing more of business as usual by re-electing a Democratic President.
The question is how realistic this vision that Obama, Emanuel, and other Democrats are projecting of a new era of cooperation in Washington actually is given political reality. The first thing to note, of course, is that we hear these promises of a "new era" in Washington quite frequently, usually every four years, and as a general rule very little ever changes. Indeed, in recent election cycles, it seems as though these promises of a "new tone" have actually just resulted in the partisans on both sides digging in their heels and becoming more partisan. Don't forget, Barack Obama entered office four years ago making similar promises only to find that not only weren't Republicans going to bend over backwards to help him, but even that forces within his own party on Capitol Hill weren't necessarily committed to advancing his agenda rather than their own pet projects and political careers. Why should anyone think he'd be any more successful in this task a second time around?
You don't really need to look any further than what conservatives have said in the wake of Obama's comments to realize that it wouldn't be any easier for him to accomplish his agenda in a second term than it was in his first. Mitch McConnell said that it would be necessary for the President to have an "epiphany" in order for him to make any progress in his second term. And just in case there's any doubt about McConnell's meaning in that regard:
I think it depends on whether Obama has an epiphany," McConnell said in an interview.

"You know, he's not going to control the House," McConnell told The Huffington Post, rejecting the idea that Democrats could reclaim the lower chamber. "He's either going to be confronted with a narrow Republican majority in the Senate or a very robust Republican minority in the Senate. In other words, divided government."

"You could argue that the four most significant legislative accomplishments of the last 25 years were actually done during divided government," McConnell said. "[President Ronald] Reagan and [Democratic House Speaker] Tip O'Neill raised the age of social security, did comprehensive tax reform. [President] Bill Clinton and the Republicans did welfare reform and actually balanced the budget in the late 90s."

"So my point is, he will not be able to do any more of [what he did in] the first two years," McConnell said, referring to when the president's Democratic allies controlled both the House and Senate in 2009 and 2010.

"That's over," he said, making a slashing motion with his left hand.
National Review's Ramesh Ponnuru expresses similar sentiments:
Republicans, especially at the grassroots level, would react to Obama's re-election by assuming that Romney failed because he was too moderate. That's a very widespread view among Republicans about why Senator John McCain lost in 2008. During the primaries, many of Romney's opponents argued that he would lose because he would fail to energize conservatives. This interpretation of 2008 is probably wrong, and it will probably be the wrong explanation for a Romney defeat, if it happens. It will nonetheless be an appealing theory for conservatives.

(…)

The Republicans aren't going to change. Judging from the interview, neither will the president. He said that after the election he would tell Republicans "you no longer need to be focused on trying to beat me; what you need to be focused on and what you should have been focused on from the start is how do we advance the American economy." He would reiterate that he has always been open to compromise. And he would "look at how we can work around Congress," if needed.

In other words, after winning he will lecture Republicans about how their positions are insincere and adopted purely for political reasons; he will insist that his existing positions are already a compromise with them; and he will try to govern unilaterally. These tactics seem unlikely to produce the desired results. Obama has, after all, adopted all of them, and they haven't worked.
Andrew Sullivan disagrees with Ponnuru's assessment of how the GOP would react to a Romney defeat, and asserts that the selection of Paul Ryan as his running mate along with Romney's seeming adoption of many of Ryan's ideas will make it impossible for conservatives to blame a November loss on "Romney the RINO." This is a tempting hypothesis, and it's one that I initially adopted myself in the wake of the Ryan announcement last month. It's even likely the most logical response to a Republican defeat given that the Democrats are attempting to set up this election as a choice between competing visions rather than a referendum on Obama's Presidency. Logical or not, though, I'm not at all sure that this is how Republicans would react if Romney lost. For one thing, the GOP contingent that is likely to be making this argument isn't nearly as powerful in the party as the conservative faction is, and thus not as able to advance its cause. For another, the grassroots response to a Romney loss will be set in motion not by party leaders, but by the Rush Limbaugh's and Sean Hannity's of the world, and there's no way they are ever going to admit that they were wrong. If anything else, the GOP  is likely to drift further to the right after a defeat, especially if, as appears likely, the power of Tea Party influenced candidates is increased in the 113th Congress.
Finally, Dave Schuler makes an important point that the President, Emanuel, and other Democrats conveniently forget when they assert that the President's re-election should "send a message" to Republicans, even if it is accompanied by the likely strengthening of GOP power on Capitol Hill:
[T]here is not just one election. Each of the 535 members of Congress won their own elections. Their constituents have delivered their verdicts, too. If President Obama wins re-election it will be because the voters believed he was a better choice than Mitt Romney not because they thought he was the best of all possible choices. They will have made other choices, too, in electing their Congressional representatives, senators, governors, and so on. The branches of government are co-equal. Congress is not subordinate to the presidency. If anything it's the other way around.
Dave suggests that the real reason for comments were hearing from the President and others on this topic has nothing to do with appeals to bipartisanship and everything to do with getting ready for the resumption of those battles in 2013 and beyond. That clearly seems to be what's going on here. There isn't going to be any end to the battles in Washington, there never has been before despite the lofty ambitions and soaring rhetoric of previous Presidents. The President and Emanuel are too smart to know that this is the case.