2012 Race Down to Seven Battleground States?
While the news media is focused on sixteen battleground states, the professionals running the Obama and Romney campaigns are focused on a much narrower list.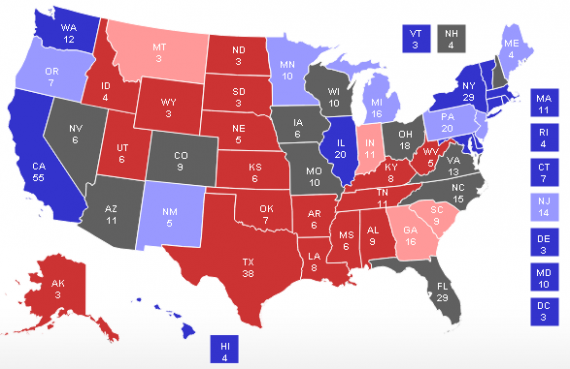 While the news media is focused on sixteen battleground states, the professionals running the Obama and Romney campaigns are focused on a much narrower list.
Politico's Morning Score has published and Burns & Haberman draw attention to a PowerPoint presentation from Romney's pollster which identifies seven battlegrounds:
Neil Newhouse of Public Opinion Strategies* prepared a PowerPoint for bundlers on polling. His points: The political environment is ripe for a Mitt win because Americans are dissatisfied with opportunities for the next generation. The president's job approval remains below 50%. His approval in May of his reelection year puts him on the bubble – the 47 percent May approval matches George Bush in 2004 and Gerald Ford in 1976. The most recent polling shows a tight contest. Mitt has tied down the GOP base. The pollster says the route to 270 for Romney goes through these states (and identifies polling from each): Arizona, Colorado, Florida, Iowa, Nevada, Ohio and Virginia.
The Atlantic's Molly Ball thinks it's a big deal that adding those seven states to McCain's 2008 haul only brings Romney to 260 Electors, 10 short of the magic 270. But it's not; as she notes, nobody thinks Obama is going to win Indiana again–and North Carolina looks incredibly unlikely, too.  Newhouse's brief is aimed at big money donors, not schoolchildren.
A National Journal report ("How Obama Views the Electoral Map") from Tuesday shows that the incumbent sees a similar landscape.
Included in Obama Campaign Manager Jim Messina's short video Monday to supporters, a plea to not panic despite tightening polls and worsening economic reports, was a quick glimpse (as The Hill's Christian Heinze captured in a screen grab) at how the White House sizes up the electoral map. It didn't deviate much from the map most pundits assemble, and, of course, whether this deliberately publicized map actually represents the Obama campaign's thinking is uncertain.

But it nonetheless was an interesting data point as analysts try to assess which states will be presidential battlegrounds in the fall. Here are three reasons why: Pundits have debated which traditionally blue state –  18 of them and the District of Columbia have been Democratic every presidential election since 1992 -  might be poised to turn red. Well, the map likely tips the White House's hand: It's Wisconsin. The Badger State is the only one the Obama campaign classifies as undecided, not other potentially Romney-friendly places like Michigan or Pennsylvania .

[…]

The Obama campaign views two oft-discussed battlegrounds, Arizona and Nevada, as leaning in opposite directions: Arizona toward Romney, Nevada toward Obama.

Arizona was always a longshot for the president, but in-state Democrats and the Obama campaign hyped it earlier this year as a possible showdown state because of its soaring Latino population. But if Chicago puts Arizona in the same lean-right category as Indiana and Missouri, two states nobody predicts will be competitive, then the Obama operation might be content to drop any pretense the campaign will seriously compete there.

Nevada, meanwhile, is a dead-heat, according to the latest NBC News/Marist poll. The state's Hispanic population no doubt tilts it to the left – part of the reason Majority Leader Harry Reid won re-election – but it's still generally seen as a top 2012 swing state. Most pundits group it with Colorado, a state Obama calls a toss-up.

Obama can't let go of North Carolina. Maybe the president doesn't want to admit defeat where his party will hold its convention, or perhaps his unexpected 2008 victory remains fresh on his mind. Whatever the reason for Obama's optimism in the Tar Heel State, he'll still face an unsparing bottom-line: He won the state by only 14,000 votes four years ago, the high-point of his popularity.

Even as the state's college-educated and minority populations – two groups favorable toward Obama – continue to grow, the extra cushion they provide seems unlikely to give the president enough of a list. It's why The New York Times, for instance, says the state leans Republican.

Updated 2:00 p.m.: 

Romney pollster Neil Newhouse e-mails to say that in addition to Wisconsin, the Obama campaign acknowledged for the first time that New Hampshire was a toss-up."It's what Messina didn't say about that map behind him that I found most interesting – Wisconsin and New Hampshire toss-ups," Newhouse said. "That's new. Correct, but new."
The current RealClearPolitics map, which tops this post, has states with 237 Electoral votes strongly in the Obama column and only 170 strongly in the Romney column. That means Romney has to pick up 100 of the 131 toss-ups or somehow snatch one of the states already in the Obama column.
The RCP tossups, arranged in order of potential votes: Florida (29), Ohio (18) North Carolina (15), Virginia (12), Arizona (11), Missouri (10), Wisconsin (10), Colorado (9), Nevada (6), Iowa (6), and New Hampshire (4).
RCP's ratings are based on their average of the national polls. Presumably, Team Romney is confident that North Carolina or Missouri will fall their way, taking them over the top if they win the seven states highlighted in the presentation. That strikes me as a given. That is, while my sense remains that this race is still Obama's to lose, I simply can't imagine a scenario in which Romney wins Florida, Ohio, and Virginia yet loses North Carolina and Missouri. For that matter, I can't imagine a scenario in which Romney loses Florida or Virginia and yet wins enough other states to reach 270.
________________
*Full disclosure (again): My late wife was Chief Operating Officer at POS until her death last November and Newhouse was her boss for some seventeen years. He's also a family friend. For rather obvious reasons, he doesn't share campaign insights with me and we have not discussed this briefing or, indeed, very much about this race.