America Still Not a Center-Right Nation
Tuesday's Republican wave didn't change the fundamentals.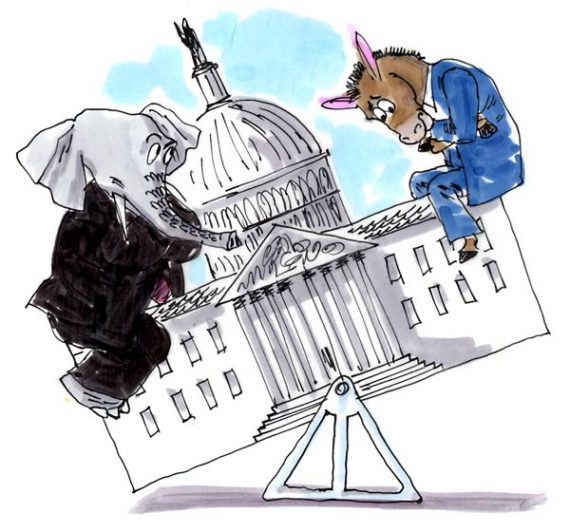 A column at Investors Business Daily making fun of those who wrote off the Republican party after the 2012 election references a post of mine titled "America Not a Center-Right Nation Anymore." I stand by both the general theme and particulars of that essay.
It would have been foolish to predict that Republicans would never win back the Senate; but I made no such prediction. Rather, I argued that, after having lost the popular vote in five of the last six presidential elections, it was time for the GOP to realize that it needed to quit running on the themes that got Ronald Reagan elected in 1980. I argued that, while small government, low taxes, and a strong defense remained popular with the electorate, the Democrats had long since moved to the center on those issues, undermining much of the traditional Republican advantage. And that the country had moved much closer to the Democratic position on a whole range of social issues while the Republicans were actually moving further to the right. Those facts remain true.
Even the quote columnist John Merline singles out, "the only question is how many more elections [Republicans will] lose clinging to a 'traditional America' that's a distant memory" remains accurate. Yes, Republicans won a wave of statewide races in a low-turnout, midterm election. But, as I explained in yesterday's post "What to Make of the 2014 Wave Election," there's no reason to think this will have any bearing on the 2016 election.
[T]he dynamics two years from now will be quite different even irrespective to whatever changes happen between now and then on the economic and foreign policy fronts.

First, turnout will be much higher; that's always the case in presidential year elections and almost always benefits Democrats.
Second, there will be less low-hanging fruit in two years. One of the reasons for these back-and-forth wave elections is that waves swing blue states to red and vice versa. Yesterday was something of a return to the natural order, tossing out Red State Democrats who came to power in the Obama landslide of 2008.
Third, while Obama will inevitably be a central figure in the 2016 campaign, we'll have two presidential nominees at the top of the ticket. It'll ultimately be about them.
Fourth, the Senate races will involve Class 3 rather than Class 2; it's inherently more Democratic (and democratic).
And winning the presidency back will be much harder. As noted in my 2012 postmortem,
President Obama easily won re-election last night, carrying virtually all of the battleground states. Meanwhile, abortion, gay marriage, and recreational marijuana also won big.

To win, Mitt Romney needed to carry all of the states where he was ahead in the polls plus Ohio, Virginia, and either New Hampshire or Colorado. It appears he lost all of those state plus Florida, which had appeared to move into his column.

Despite reports of long lines that kept polls open hours after closing time, including in the Northern Virginia suburbs near where I live, turnout was actually lower than it was four years ago and eight years ago. But it's an electorate that's inexorably becoming less friendly to a Republican message that hasn't changed since 1980. Romney would have won the 1980 electorate in a landslide; he needed everything to go his way to win in this one.
Despite the Republican wave, those trends held true Tuesday. Recreational marijuana initiatives passed in Oregon, Alaska, and the District of Columbia. Anti-abortion "personhood" amendments failed in North Dakota and Colorado.  Minimum wage ballot measures passed overwhelmingly in Alaska, Arkansas, Nebraska and South Dakota. And, while it wasn't on the ballot Tuesday, gay marriage is legal in many more states than it was two years ago and is rapidly becoming socially acceptable in most of the country.
There's an argument to be made that this is all good news for the Republican Party. Having lost on these issues should take them off the table and force the party and its candidates to focus on the more popular parts of the GOP agenda and/or to come up with some fresh ideas. But a large part of the nominating electorate seems not to understand that those fights are over and they're doubling down.
The final paragraph of that 2012 post—the one that contains the quote Merline finds amusing in hindsight—was the opposite of a prediction that the GOP wouldn't win again:
The 1980 model Republican Party will not win the White House ever again. Since 1860, when the Whigs fractured and died, our two major parties have managed to survive and even thrive by constantly re-inventing themselves. After a string of defeats, the Democrats rebooted in 1992, nominating a Southern moderate and jettisoning the more unpopular parts of their agenda, at least at the national level. At some point, the GOP will do the same. The only question is how many more elections they'll lose clinging to a "traditional America" that's a distant memory.
With a handful of exceptions, Republicans fielded much more mainstream candidates in 2014 than they did in 2010. Tea Party challenges to relatively moderate incumbents mostly failed this go-round. So there's reason to hope that the party is slowly learning the lesson that the Democrats did after a similar string of defeats, losing five of six presidential races between 1968 to 1988. And they learned it despite holding the House of Representatives throughout that period and mostly holding the Senate. As noted two years ago, I have full confidence that the GOP will do the same. The question remains whether they'll do it in time for 2016.