What to Make of the 2014 Wave Election
What happened Tuesday? And what does it tell us about 2016?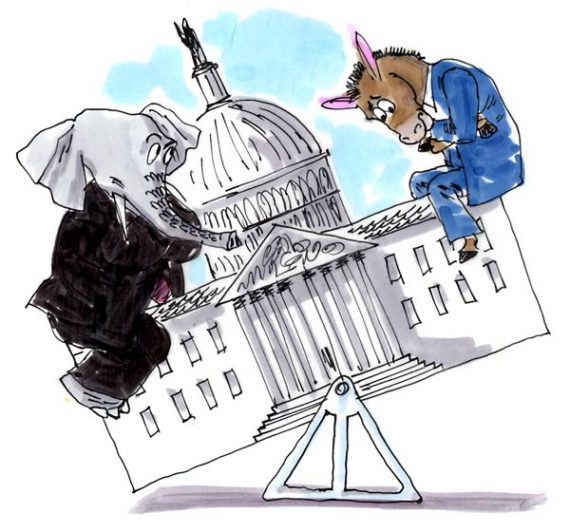 Republicans swept yesterday's elections in a wave even beyond that forecast by the polls. In Doug Mataconis' wrapup this morning, he termed it "a sharp and stunning rebuke of President Obama and the Democratic Party akin to the results seen in elections such as those in 1994, 2006, and 2010." Early commenters pushed back on this notion, blaming the results on some combination of mediocre Democratic candidates and "things breaking slightly in the Republicans' favor for a bunch of races." These are not mutually exclusive options. Indeed, it was quite likely all of the above.
First off, as Nate Silver concedes, "the average Senate poll conducted in the final three weeks of this year's campaign overestimated the Democrat's performance by 4 percentage points." That's not his fault of course—he analyzes poll results; he doesn't conduct the polls. Regardless, Silver rightly notes that the bias is not systemic: "Beyond the shadow of a doubt, the polling was biased against Democrats in 1998, 2006 and 2012. However, just as certainly, it was biased against Republicans in 1994, 2002 and now 2014."
My sense is that it's just the age-old problem in close races, especially in midterm elections: we're really good at assessing public preference but really lousy at predicting turnout. If the early exit poll results are correct, Democrats—who almost always underperform in midterms, anyway—were hampered this year by poor turnout by young voters and Hispanics, who are historically hard to turn out and who are especially disillusioned with President Obama's performance in office.
Second, Republican pollster Bill McInturff (a family friend and long-time boss of my late wife) has put together some great charts comparing surveys over the last several midterm elections. The public mood was even more toxic than in previous wave elections. In an email summary ("Why the Elephants are Dancing:  Understanding the November 2014 Election") he highlights some of the results:
On Election Day, roughly two-thirds (65%) of voters said the country is headed off on the wrong track.
The weekend before the election 64% of voters said they were dissatisfied with the state of the U.S. economy.
In the national exit polls, President Obama's job approval was 44% on Election Day, exactly matching his job approval on Election Day in 2010.
By a roughly two-to-one margin, people say they voted as a signal to oppose rather than to support President Obama (17% support/32% oppose).
Republicans enjoyed a six point edge on the generic vote for Congress (52% saying they voted for the Republican candidate for Congress compared to 46% saying they voted for the Democratic candidate for Congress).
In the national exit polls, Republicans carried White men by an even wider margin in 2014 than in 2010 (64% saying they voted for the Republican candidate/33% saying they voted for the Democratic candidate this cycle compared to 62%/34% in 2010).
While not quite as high as in 2010, Republicans captured White women by a comfortable double-digit margin this cycle (56% saying they voted for the Republican candidate/43% saying they voted for the Democratic candidate in 2014 compared to 58%/39% in 2010 according to national exit polls).

65% say the country is headed off on the wrong track.
A majority disapprove of the president's job (37% approve/59% disapprove).
A double-digit majority voted Republican for Congress (53% Republican candidate/37% Democratic candidate).
Republican positive fortunes were spurred as well by high dissatisfaction among Independents and double-digit support on the generic Congressional vote.   Among Independents on our Election Day survey:

Confirming recent off-year trends, the majority of voters (60%) say they made up their mind on which Congressional candidate to vote for in September or earlier.  Republicans carried these early deciders by a wide margin (57% Republican candidate/41% Democratic candidate) , while losing the 24% of voters who made up their mind in October (44% Republican candidate/53% Democratic candidate) and the 15% who made up their mind on the few days before the election or Election Day (42% Republican candidate/51% Democratic candidate).
Early voting continues to increase with the highest number of people in a mid-term (34%) saying they voted before the election.  Republicans broke even with early voters (50% Republican candidate/50% Democratic candidate) and carried Election Day voters by eight points (52% Republican candidate/44% Democratic candidate).
It's hard to read that as a pro-Republican mandate.
The electorate has been stuck for years in a state of exasperation. Whereas the 1994 Republican wave was a rare phenomenon, we've now had three "wave" midterms in a row. All of them were rebukes of the party of the sitting president. And, sadly, unlike 1994, that's all they were. That is, there was no Contract With America or similar Republican counteragenda on the offer. "Bush is horrible" and "Obama is horrible" have been the singular, successful message. That's especially odd in that both presidents won second terms.
It's also inevitable that the party on the losing side of a wave election will point to weaknesses in their own candidate pool, often with some justification. Several Republican incumbents who won seemed vulnerable, after all, and it's easy for Democrats to believe that more appealing candidates would have knocked them off. But, of course, there's a reason these people were incumbents in the first place—they're probably both pretty good politicians and live in states inclined to vote for their party. Additionally, it's really hard to recruit top flight candidates to go against entrenched incumbents, especially when it's obvious months out that the tide is against your party.
Naturally, Republicans will over-read the results of their overwhelming victory last night, seeing a mandate for their platform. That's a mistake. Just as the Tea Party wave of 2010 didn't stop Obama from cruising to easy re-election two years later, there's no reason to think that the 2014 Republican wave means the GOP will win back the White House in 2016.
Aside from the fact that this was an anti-Obama election rather than a pro-Republican one, the dynamics two years from now will be quite different even irrespective to whatever changes happen between now and then on the economic and foreign policy fronts.
First, turnout will be much higher; that's always the case in presidential year elections and almost always benefits Democrats.
Second, there will be less low-hanging fruit in two years. One of the reasons for these back-and-forth wave elections is that waves swing blue states to red and vice versa. Yesterday was something of a return to the natural order, tossing out Red State Democrats who came to power in the Obama landslide of 2008.
Third, while Obama will inevitably be a central figure in the 2016 campaign, we'll have two presidential nominees at the top of the ticket. It'll ultimately be about them.
Fourth, the Senate races will involve Class 3 rather than Class 2; it's inherently more Democratic (and democratic).
Yesterday was a great day for the GOP but party leadership needs to understand that their brand still needs a lot of work. Glen Bolger and Neil Newhouse (again, family friends and partners in the firm that employed my late wife) provided a "GOP reality check" on the eve of the elections:
Republicans can win in red states. Tuesday should bear that out pretty well. But the challenge for the GOP long-term is winning in blue or purple states. Our success in states such as Iowa, Colorado and New Hampshire on Tuesday may indicate that we're getting back on track. That's pretty important, because in 2016 we face the "Big Blue Wall" — the 18 states (plus Washington, D.C.) that have gone for the Democratic presidential candidate six elections in a row. They add up to 242 electoral votes, leaving the Democrats needing just 28 of the 183 electoral votes in the 18 toss-up states. Republicans were not able to put any Senate races in those Blue Wall states in play. Thus the GOP "strategy" is essentially to be perfect in purple states — not a game plan with a high probability of success.

[…]

Our focus groups and open-ended questions in polls find that voters unhappy with the GOP think the party is living in the past. The Democrats have also had success in hammering the Republican Party as favoring the wealthy at the expense of the middle class. That is a battle we will have to fight again in 2016.

While the Democrats aren't in terrific shape on image, either (37 percent positive, 43 percent negative in the NBC poll), the gap between the two parties has widened since 2012. The Republicans are losing ground.

Their prescription for fixing the problem is twofold:

In the next session, new Senate Majority Leader Mitch McConnell and House Speaker John Boehner should seek to send Obama a blend of bills — some he can sign and others he can veto to keep his coalition happy. For those upset at the prospect of Republicans passing intentional veto bait for political gain, we're sorry to disillusion you, but it's happened before. In 2008, for example, the Democratic Congress passed an Intelligence Authorization Act that put tight strictures on the CIA and other intelligence agencies. Bush vetoed it because it took away too many interrogation tactics, a move the Democrats deployed as a campaign issue in 2008.

Being able to campaign in 2016 with a combination of "Here's how we moved the ball forward" and "Here are the great bills Obama vetoed" will improve Republicans' standing. That strategy will not necessarily help GOP legislators withstand the more difficult election terrain resulting from a larger, younger and more diverse electorate, but it will help the Republican presidential nominee point to policies that he or she would shepherd into law.

Republican governors have incubated new policy ideas that have transformed their states into business-friendly environments that will create jobs. More broadly, they have cut taxes and debt, improved the quality of education by providing more choices, and streamlined the delivery of state services.

We have got to be able to point to how those policies and ideas help America's middle class. If we can undercut the Democrats' message that the GOP is only for the rich, there won't be much left for them to offer in 2016.
There's some reason to be hopeful that Republicans understand that they actually have to offer an alternative to win back the White House and compete again as a majority party.
Most of yesterday's winners were from the more traditional wing of the party rather than the more extreme Tea Party cohort. They're much more likely to appeal to a mass electorate and to help clean up the tarnished Republican brand.There's reason to think that'll continue. Not only did the Tea Party take a pretty substantial hit when several of their candidates lost in 2010, denying the GOP a really good chance to take back the Senate, but they lost most of their attempts to knock off Establishment Republicans in this year's primaries.
Additionally, presumptive Senate Majority Leader To Be Mitch McConnell is sending every signal that he intends to govern as a mainstream Republican. In an interview with TIME Monday afternoon, he says he plans to actually get some legislation passed rather than spending two years trying to embarrass President Obama.
I think we need to do everything we can to get America back to work. And exactly which bill comes up first will be determined after discussing that with my colleagues and with the Speaker. Some examples of things that we're very likely to be voting on: approving the Keystone XL pipeline, repealing the medical device tax, trying to restore the 40-hour work week, trying to get rid of the individual mandate. These are the kinds of things that I believe there is a bipartisan majority in the Senate to approve.

Also, we're going to want to see what kind of things we might be able to agree on with the President. After all, he's going to be there for two more years. Maybe there are things that we can agree on. I'll give you a couple of examples where there may be areas of agreement: comprehensive tax reform and trade agreements. Most of my members think that America's a winner in international trade. The president hasn't sent us a single trade bill in six years. I hope he'll do that.

[…]

Biden and I did the December 2010 extension of the Bush tax cuts; the August 2011 budget control act, which actually led to a reduction in government spending for two years in a row for the first time since the Korean War; and the Dec. 31 fiscal cliff deal 2012, which made 99% of the Bush tax cuts permanent and saved virtually every family farm and small business in my state from being sold by altering the Death Tax exemption. So I'm not fundamentally opposed to negotiating with the President and his team and, in fact, I've been the one who's done that in the past. So, sure, he's going to be there for two more years, so we're going to sit down and talk to him and see what we might be able to agree on.

[…]

There is no possibility of a government shutdown. Remember me? I'm the guy that gets us out of government shutdowns.

[…]

The Senate needs a lot of institutional repair. We need to get back to normal, and normal means that senators can offer amendments and actually get votes and the committees actually work. And we actually work occasionally or Fridays. There are a number of things that we need to do to become more productive. Some of it has to do with rebuilding relationships across the aisle and some of it has to do with just simply working harder.
To be sure, the Senate is an incredibly unwieldy organization and McConnell will not only have to rein in the more firebrand members of his coalition—some of whom have near-term presidential ambitions—but Harry Reid is no slouch at obstructionism in his own right. But there's nonetheless a really strong chance that the Republican leadership understands that the public is sick and tired of the status quo in Washington.