Another Shoe Drops In The Catholic Church Abuse Scandal
Pope Francis accepted the resignation of the Archbishop of Washington, D.C this week, but his letter reveals that he still has a blind spot when it comes to the Catholic abuse scandal.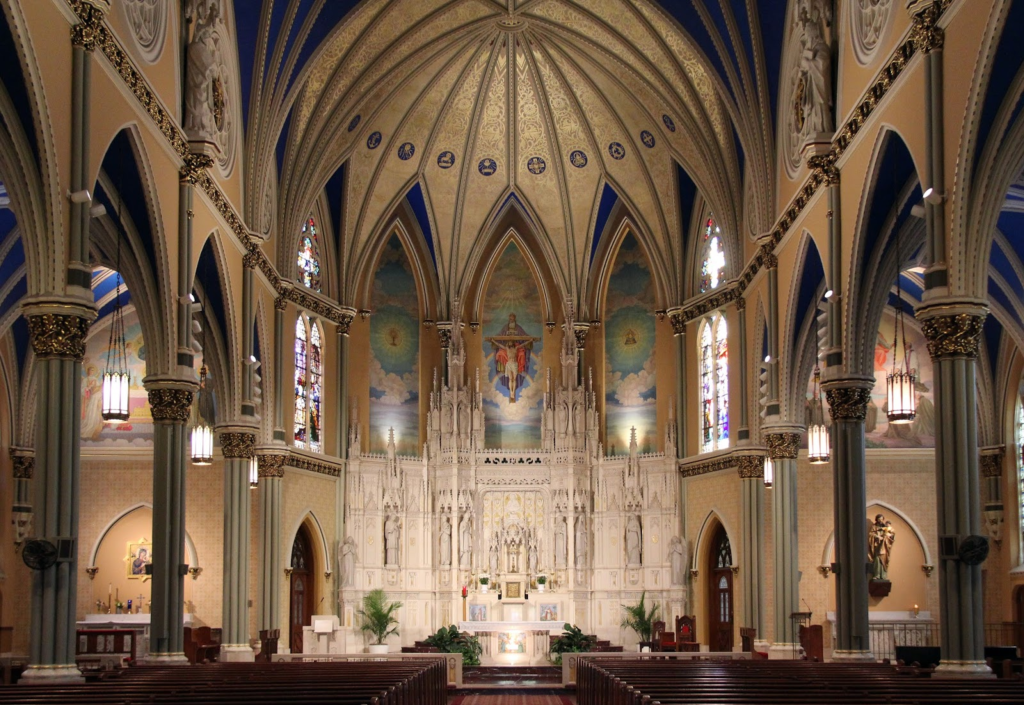 In the latest shoe to drop in the ongoing scandal ripping through the Catholic Church over renewed allegations of child sex abuse, Pope Francis has accepted the resignation Cardinal Donald Wuerl, the Archbishop of Washington, D.C. who stands at the center of the allegations regarding a coverup of the actions of his predecessor Theodore McCarrick as well as a report released by a Pennsylvania Grand Jury that found a widespread scandal involving nearly all of the state's diocese:
Pope Francis on Friday accepted the resignation of Cardinal Donald Wuerl, the archbishop of Washington, a moment many victims of clerical abuse had hoped would demonstrate his commitment to holding bishops accountable for mismanaging cases of sexual misconduct.

But instead of making an example of Cardinal Wuerl, who was named in a recent Pennsylvania grand jury report that accused church leaders of covering up abuse, Francis held him up as a model for the future unity of the Roman Catholic Church. The pope cited Cardinal Wuerl's "nobility" and announced that the 77-year-old prelate would stay on as the archdiocese's caretaker until the appointment of his successor.

In an interview, Cardinal Wuerl said that he would continue to live in Washington and that he expected to keep his position in Vatican offices that exert great influence, including one that advises the pope on the appointment of bishops.

For some Catholics, Friday's decision was a disappointment.

"It doesn't sound like the pope has gone far enough at all," said Mary Pat Fox, president of Voice of the Faithful, a national group that advocates for those who have suffered clerical abuse. "They're removing him from this situation where people feel betrayed, but he's still got all the power pretty much that he ever had."

Cardinal Wuerl had a reputation as a reformer before the Pennsylvania grand jury report in August detailed widespread clerical abuse over many decades. The report included accounts of Cardinal Wuerl's poor handling of accusations against priests when he was the bishop of Pittsburgh, mentioning his name more than 200 times.

The report said Cardinal Wuerl had relied on the advice of psychologists to permit priests accused of sexually abusing children to remain in the ministry.

Still, the Archdiocese of Washington on Friday released a letter from Francis, saying that Cardinal Wuerl had sufficient evidence to "justify" his actions as a bishop and to "distinguish between what it means to cover up crimes or not to deal with problems, and to commit some mistakes."

"However," Francis's letter added, "your nobility has led you not to choose this way of defense. Of this, I am proud and thank you."

By making it clear he thought Cardinal Wuerl had served the church well, Francis sent yet another mixed message on an issue that has troubled his papacy and threatened his legacy.

The erosion of Cardinal Wuerl's standing was compounded by his association with his predecessor as archbishop of Washington, Theodore E. McCarrick. He recently stepped down from the College of Cardinals over accusations that he had molested an altar boy decades ago and coerced seminary students to share his bed.

In an extraordinary letter released in August, the Vatican's former ambassador to the United States, Archbishop Carlo Maria Viganò, accused Francis of covering up inappropriate behavior by Cardinal McCarrick and called on the pope to resign.

In the weeks since, Francis has alluded to Archbishop Viganò's letter, to which he has said he will not respond, by speaking of the devil's role in trying to divide the church. He seemed to do so again in Friday's letter, warning against the "sterile division sown by the father of lies who, trying to hurt the shepherd, wants nothing more than that the sheep be dispersed."

Francis saw Cardinal Wuerl as that shepherd, a force for unity. The cardinal's Sept. 21 request that the pontiff accept his resignation reflected his dedication to "procure the good of the people entrusted to your care," Francis wrote.

Cardinal Wuerl called the pope's letter a "very, very beautiful" recognition of his effort to put his flock before himself, but added that the pope, in choosing his replacement, would select a bishop who began serving after the American church adopted new guidelines in 2002 to prevent and punish abuse.

(…)

Cardinal Wuerl was first seen as a rising star in the Catholic hierarchy decades ago, when he appeared to risk his career to report an abuse case.

He arrived in Pittsburgh, a possible steppingstone to greater things, in 1988, just as the diocese had removed two priests accused of molesting altar boys. In his first months as bishop, after the priests were charged with more than 100 counts of abuse, he formed a review board at the diocese level. He also sought an extension to the statute of limitations on child sexual abuse cases in canon law.

In 1993, when John Paul II was pope, Bishop Wuerl traveled to Rome, where he successfully persuaded the Vatican to overturn a ruling reinstating an abusive priest.

But cases from that era ultimately forced him to resign.

Cardinal Wuerl initially tried to defend himself from charges in the Pennsylvania report, posting an online rebuttal on TheWuerlRecord.com that was quickly taken down after drawing criticism and ridicule. He gave an interview to a local television station, saying that the cases had occurred in the 1980s and 1990s, before the church had developed clear policies on clergy sexual abuse.

"I think I did everything that I possibly could," Cardinal Wuerl said in the television interview.

But it soon became clear that he would become the biggest target of outrage over the Pennsylvania report.

"The grand jury report showed that Cardinal Wuerl oversaw and participated in the cover-up," the Pennsylvania attorney general, Josh Shapiro, said in an interview. "It is well documented."

Calls for Cardinal Wuerl to resign began almost immediately. In Washington, as the archdiocese celebrated the opening of school in late August with a special Mass, a group of teachers marked the occasion by protesting and calling for Cardinal Wuerl's removal.

At a "listening session" held at St. Matthew's Cathedral in Washington, one parishioner after another said publicly that he should step down, said Becky Ianni, leader of the Washington-area chapter of the Survivors Network of Those Abused by Priests, who attended the session.

"Wuerl to this day has not accepted his responsibility. He called what he did 'errors in judgment,' and that really bothered me," she said in an interview.
Rod Dreher isn't buying it:
This is not a pope who understands the gravity of the sex abuse problem. This is a pope who, in lavishing praise on the exiting Wuerl, is in effect justifying his own past actions. Hey, everybody makes mistakes, right? I've been sitting here nobly being silent about them. You should be proud of me, and thank me. 

This is a pope who has still not said a word about why he embraced Cardinal McCarrick and drew him out of private life despite the overwhelming likelihood that he, Francis, knew exactly what McCarrick had done. In fact, in the text of his letter to Wuerl — full letter here — Francis referred to his own critics — as if the pressure on Wuerl to resign over his handling of sex abuse as Bishop of Pittsburgh was really an attack on Francis himself by the devil

(…)

Pope Francis's attitude towards Wuerl, as expressed in this letter, reflects the kind of hardcore clericalism shown by Cardinal Bernard Law to Father John Geoghan, molester of 130 boys, upon his retirement. No awareness of the suffering of others caused by the cleric's actions regarding sex abuse (in Geoghan's case, committing it; in Wuerl's case, covering up for it), only compassion for the poor, poor priest, forced out of ministry by the unpleasantness. Francis is effectively saying to the DC cardinal: Yours has been an effective life of episcopal ministry, sadly marred by some mistakes, accountability for which you are too noble to defend yourself — and for this, I am proud of you. God bless you, Don.
The New York Times Editorial Board strikes much the same theme, arguing that Pope Francis continues to miss why the seemingly endless reports about child abuse by clergy are causing problems for his Church:
In his letter on Friday accepting the resignation of Cardinal Donald Wuerl, the Catholic archbishop of Washington, Pope Francis praised the departing prelate for his "nobility" in not trying to defend "mistakes" in his handling of sexual-abuse allegations.

The pope misses the point.

The archbishop may not be as culpable as other bishops who more systematically covered up sexual predation, and in at least one case he took action that was initially thwarted by the Vatican.

But a devastatingly detailed grand jury report on widespread child sex abuse in Pennsylvania churches showed that Cardinal Wuerl, as bishop of Pittsburgh, was immersed in a clerical culture that hid pedophilic crimes behind euphemisms, conducted unprofessional investigations and evaluations of accused priests, kept acknowledged cases of sex abuse secret from parish communities and avoided reporting the abuse to police.

(…)

[B]y indicating that he regards Cardinal Wuerl's past actions simply as "mistakes," and by allowing him to remain a member of the powerful Congregation for Bishops, the pope reinforces the sense that he does not understand the extraordinary damage done by clerics who cruelly and shamelessly abused their power over trusting children and adults. What the Pennsylvania grand jury report and other reports chronicle is not "inappropriate contact," as diocesan records so often claimed, but the brutal and repeated rape of innocents who have been marked by this for life.

(…)

[I]f the church is to make amends for the scars it has inflicted on thousands of its members, the pope must do a far better job of demonstrating at every opportunity that there is no "nobility" whatsoever in the way sexual predation was allowed to spread through the church, that he will not tolerate the slightest of "mistakes" in the handling of such abuse and that he will upend a rotten Vatican culture that let it all happen
The Church abuse scandal story had largely quieted down in recent years, but that has changed significantly over the past two months as evidence regarding past accusations and cover-ups have come to light. The most prominent example of this involves Cardinal Theodore McCarrick, who served as the Bishop or Archbishop the three dioceses before being elevated to Cardinal by Pope John Paul II in 2001 and, as a result, becoming one of the most prominent Catholic leaders in the United States. In July, though, it was revealed that, for years, McCarrick had been engaged in a pattern of sexual abuse against underage boys and sexual harassment of young adult seminarians that church officials knew about but chose to sweep under the rug. As a result of these new revelations, Pope Francis stripped the retired McCarrick of his remaining titles and turned his case over for an internal (and secret) Church investigation that could lead to him being defrocked as a Catholic Priest. It quickly became clear, though, that the Pope's rhetoric on these new revelations was largely empty, especially when a senior Vatican official alleged late last month that both Pope Francis and his predecessor Pope Emeritus Benedict XVI were aware of the allegations against McCarrick as well as other abuse allegations that were also hidden from the public and from relevant law enforcement authorities. On top of all of that, of course, we got a report from a special Grand Jury convened in Pennsylvania that found a history of abuse in nearly all of the state's diocese involving some 300 Priests and 1,000 children over the course of several decades. Last month, five states announced that they would open investigations similar to the one that took place in Pennsylvania and Attorneys General and other officials in other states have said that they are considering taking similar steps.
It was the Pennsylvania Grand Jury Report that was particularly damning for Wurel since it alleges that the Cardinal, while he was Bishop of Pittsburgh from 1988 to 2008, did not take sufficient steps to discipline Priests who had been priests who had been credibly abused of having abused children in the past.  Initially, Wurel attempted to defend himself by pointing to a handful of cases in which he did act against abusers, but the defense largely fell on deaf ears given that fact the Grand Jury report made clear the numerous instances in which Wurel either ignored or swept under the rug allegations against Priests in his diocese and the role he played in reassigning these Priests so as to avoid publicity and entering into settlement agreements with families that essentially would guarantee that the general public would never learn about these abusive Priests suddenly being moved into their Parishes. Combined with that there's the fact that Wuerl was apparently aware of the allegations made against his predecessor in Washington, Theodore McCarrick, and that he went along with Vatican efforts to keep those allegations secret. Because of this, Wuerl's efforts to defend himself were largely a bust and his resignation was inevitable.
As Dreher and the New York Times Editors (along with the Editors at The Washington Post) all note, Pope Francis's letter accepting Wuerl's resignation. along with the fact that the Cardinal will continue to retain his title and his influence in Rome, which includes playing a key role in selecting new Bishops for Catholic diocese across the United States, demonstrates the extent to which he still doesn't seem to get the extent of the scandal that he is still dealing with as head of the world's roughly 1.2 billion Catholics. Even before the scandal reappeared in the news in the United States, there were signs that Francis, like his predecessors, had a blind spot when it comes to the issues of sexual abuse by Catholic Priests. Earlier this year, for example, Francis came to the defense of Chilean Bishops when they were accused of having covered up abuse in much the same manner as their fellow Bishops around the world. This blind spot continues to reveal itself in the praiseworthy manner in which he refers to Wuerl in the letter accepting his resignation, and it indicates that, notwithstanding two decades of revelations that have wrecked the reputation of the Church around the world, this Pope, and the powers that be in the Vatican, still don't get it. As long as that lasts, the problems the Church faces are going to continue to go on being ignored.