Back to SCOTUS Reform and "Legitimacy"
Doing nothing is still a choice, and the legitimacy crisis is here, like it or not.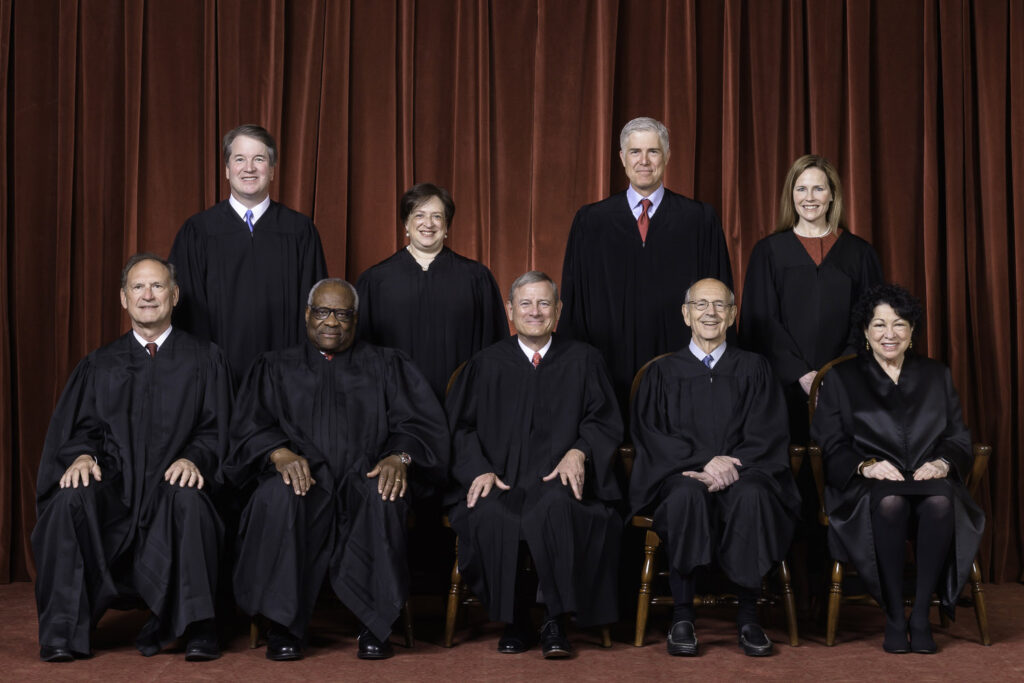 Earlier this week, the commission appointed by Biden to explore Supreme Court reform options issued a preliminary report as per CNN: White House's Supreme Court commission releases draft materials punting on court packing, but appears to favor term limits for justices. Dahlia Lithwick and Mark Joseph Stern, writing for Slate have an analysis of this outcome: Biden's Supreme Court Commission Walked Straight Into the Legitimacy Trap
The Supreme Court is struggling with a "legitimacy crisis." According to the polls, Americans have lost confidence in the branch that requires public confidence to exercise power. Several of the justices see the legitimacy of the court as an existential matter that demands blame-shifting. According to Justice Samuel Alito, the media and liberal law professors are responsible. According to Justice Clarence Thomas, the press are wholly to blame. According to Justice Amy Coney Barrett, the partisan press is culpable. And according to Justice Stephen Breyer, partisan politics itself is to blame. It should surprise nobody, then, that according to the draft report issued by 36-ish members (at least one has resigned) of President Joe Biden's blue-ribbon commission to evaluate the court, absolutely nobody is to blame.
Well, you know if nobody is to blame, it means that doing nothing is the best route.
On Thursday, the commission released 200 pages of "Discussion Materials" that represent a tranche of legal research, committee impressions, and policy placeholders. After six months of gathering facts and evidence, taking testimony, and mulling reform ideas, the commission declares that it is neither offering recommendations about fixing the courts nor proposing a specific path forward. One problem: In so doing, the commission is actually proposing a specific path forward—the one we are already on. The commission seems to frame the status quo as the reasonable choice and all alternatives as dangerous deviations.
It is important to underscore the recommending no changes is a choice and should not be treated as anything other than such (acknowledging, of course, that it is the easiest choice and will be perceived by many as simply respecting our institutions).
This underscores, I would argue, the small-c conservative nature of our politics, especially when it comes to any conversation about reform (large or small). We get so caught up in a combination of reverence for the past and concerns about unintended consequences (two key features of a small-c conservative mindset) that we refuse to do anything. And, hence, the status quo remains in place. That is great if the status quo is functioning adequately, but it isn't.
To wit, and to repeat a fact that I have noted multiple times: the current Court unfairly represents minority interests in the country due to profound flaws in our governing institutions. Its 6-3 conservative majority is straight-up the result of minority rule.
Yet,
the commission's draft starts and ends with the proposition that preserving the court's public legitimacy is the only goal. By definition, any course of action disrupts that. By definition then, shoring up public confidence requires blinkering oneself to a decadeslong program of capturing the court for conservatives who were unable to capture governing majorities.
To update a list from a previous post (A Defense of Expanding the US Supreme Court):
Since 2000 (recognizing that the current presidential term is incomplete):
Six presidential terms
Three terms for Republicans (Bush x2, Trump)
Three terms for Democrats (Obama x2, Biden)
One popular vote win by Republicans (2004)
Five popular vote wins by Democrats (2000, 2008, 2012, 2016, 2020)
Five Supreme Court Justices appointed by presidents who initially came to office (Bush had not appointees in his first term) after having lost the popular vote (Roberts, Alito, Gorsuch, Kavanaugh, Barrett).
Three Supreme Court Justices appointed by a one-term president who lost the popular vote by almost three million votes (Gorsuch, Kavanaugh, Barrett)
Allow me to emphasize: five popular vote wins for Democrats, but five Supreme Court nominations by Republicans. (And don't forget the Senates that confirmed those GOP-nominated Justices represented a minority of the population).
Further, the system we currently use to appoint Justices is not systematic and is predicated entirely on either the uncertainly of death or the choices of an individual Justice.
All of this means that maintaining the status quo and pretending like we have a well-oiled constitutional machine in place that promotes legitimacy is a flawed premise, even if it is an easy choice to make.
Indeed, Gallup tells us (from September of 2021): Approval of U.S. Supreme Court Down to 40%, a New Low.
As Lithwick and Stern note:
shoring up public confidence requires blinkering oneself to a decadeslong program of capturing the court for conservatives who were unable to capture governing majorities. That story is well-known. Sen. Mitch McConnell boasts about it. Donald Trump never tires of bragging about it. Nobody disputes that this was the conservative legal movement's strategy or that they succeeded.

But that isn't the story the commission wants to tell. Instead, the commissioners offered a passive narrative about politics and polarization and mutual mistrust. To be sure, it's a good, neutral, elevated story rooted in the insistence that everyone is equally at fault. But the consequences of this studied neutrality—this choice to contend that the crisis at hand is one of judicial legitimacy, as opposed to the deliberate subversion of judicial legitimacy and democratic norms—is anything but neutral.
Let me be clear: despite what one may think of McConnell and his Republican allies, they achieved their goals via constitutionally legitimate (and I use that word pointedly here) means. But, to return to what I noted above about the last two decades of American politics, they achieved those ends with a stacked deck. To mix metaphors, the playing field is not level, nor will it naturally level itself.
That is not a recipe for fixing the Court's legitimacy problem.
But the Commission is ignoring this.
The most important section, on court expansion, is also the most craven and misleading. Democrats should get over it and move on, the committee suggests, for the good of the country: "The risks of court expansion are considerable," it warns, "including that it could undermine the very goal of some of its proponents of restoring the court's legitimacy. Recent polls suggest that a majority of the public does not support court expansion. And as even some supporters of court expansion acknowledged during the commission's public hearings, the reform—at least if it were done in the near term and all at once—would be perceived by many as a partisan maneuver."

[…]

Incredibly, the commission is even dubious about statutory term limits for justices, an extremely popular proposal with bipartisan support. Some members, to be sure, support these limits. But others oppose them, fearing they will "generate greater uncertainty and mistrust" while undermining "the court's legitimacy, or perceptions of its legitimacy." As Sen noted, this sour language throws cold water on the momentum for term limits. Because ultimately concerns for "legitimacy"—not empirical measurements of it, or scrutiny for where it was lost, but free-floating, abstract institutional feelings-ball—trumps placing even modest limits on our philosopher kings.
Look, "legitimacy" as a concept is a slippery one. It can mean that an action or behavior is within the norms of society, or done via established, legal means. It really means, in basic terms, broad social acceptance, especially as being used here. But as I note above (and as the Commission seems to acknowledge) SCOTUS already has a legitimacy problem and maintaining the status quo is not going to fix it, because it only going to get worse, in my view, if there is no change.
Consider the following scenario: Breyer dies in 2023 and the Republican-controlled Senate blocks Biden from replacing him and a popular-vote losing Republican appoints a 7th conservative to the bench in 2025. That scenario is not at all out of the question. That scenario is not going to lead to enhanced legitimacy for SCOTUS (it would probably lead to street protests and probably some rioting). Even the scenario wherein Roe is overturned and SCOTUS upholds a number of voting rights restrictions will have its own negative impacts on the Court's legitimacy (and that is an almost certain scenario).
This is why the following is a problem:
The committee seems to think that an overwhelming bias toward the status quo does not count as taking sides.
It is absolutely true that the norm is to have nine Justices and that for Justices to only be added when one leaves for whatever reason. Therefore, any change to that process will be the breaking of old norms in the hopes of establishing new ones. Such shifts will, inevitably, been seen as a power move by one side at the expense of another side (and that assessment would be correct).
But, two points. First, as noted, maintaining the status quo enhances one side at the expense of the other. Second, McConnell's move on the Garland nomination was a power move by one side at the expense of the other side (and was a violation of norms in and of itself). The notion that the status quo is somehow neutral is simply not true. (It is worth noting that Kavanaugh's fairly blatant partisanship at this confirmation hearing was norm-breaking as well).
Yes, expanding the Court or some other set of reforms would be perceived as illegitimate by some Americans. But it needs to be understood that the status quo is not viewed as fully legitimate by another subset of Americans.
I should also note that most Americans likely have no idea how many Justices there are, why we have the number we have, or really what SCOTUS does. Google does not provide confirmation nor denial of this premise, but it does say that in 2018, 52% of Americans could not name a single Justice, according to a C-Span poll–a poll that shows partisan splits over the Court already, and as well as overwhelming support for doing away with lifetime appointments.
To the point about ongoing, eroding legitimacy in some quarters, back to the linked piece:
During the six months that this commission has been preparing its draft report, the current Supreme Court made it harder for minorities to challenge racist voter suppression laws, harder for unions to organize, and harder to learn who is contributing funds to political groups. It has changed the law of religious liberty through the shadow docket. It has also, in case you missed it, allowed approximately 10 percent of American women of childbearing age to lose their constitutional right to abortion in September.
While I am sure that a lot of Americans will just accept whatever the Court decides on whatever issue (or, more accurately, most Americans will not pay attention to most of it what the Court does). But a substantial number of people will look at the outcomes, know how the current Court was constructed, and perceive it as illegitimate.
I would note, what McConnell did after Scalia died was constitutional. But, likewise, adding members to the Court is constitutional.
Legitimacy is almost a tautological concept: an institution has it because it has it. There is no magic that can be deployed to guarantee that legitimacy is in place nor that it will be maintained. Change can diminish legitimacy and change can enhance it. The same is true of doing nothing.
We are already at the illegitimacy moment, so avoiding reform so that we avoid perceptions of illegitimacy is a moot position. We are likely just burying our heads in the sand and hoping that everything turns out fine.
---
Also, a comparative note that doesn't fully fit in above:
And what about America's role as a shining beacon on the hill? "The American example in the world matters," the commission writes. "Some Commissioners believe that there is a real risk that the willingness of Congress to expand the size of the U.S. Supreme Court could further weaken national and international norms against tampering with independent judiciaries." Unmentioned in this passage: No other country except India has a high court as powerful as the United States' or allows judges to serve for life. Rather, the vast majority of peer nations strictly limit or disallow judicial review of democratically enacted legislation; and yet most Americans probably would not consider the United Kingdom or France or Israel to be the authoritarian hellscape the commission fears. Ignoring this mountain of evidence from around the world, the commission speculates that if elected representatives impose a constitutional check on nine unelected justices, they will not enhance world democracy but destroy it.
Quite frankly, we should probably change the national motto to "Ignoring Mountains of Evidence from Around the World." Note my post on Comparative Judiciaries from 2018 that details the lack of systems that rely on the capricious choices of sitting Justices or the randomness of death to determine who sits on their constitutional courts. And while I can remember the exact powers of the Indian Supreme Court, I can confirm that the US Court is extremely powerful in comparative terms to the point of being, dare I say, exceptional, and that most countries limit the appointees to their constitutional courts either with an age limit, a fixed term, or both.