Ben Carson: Slaves Were Immigrants
Ben Carson is back and he's saying some pretty dumb things again.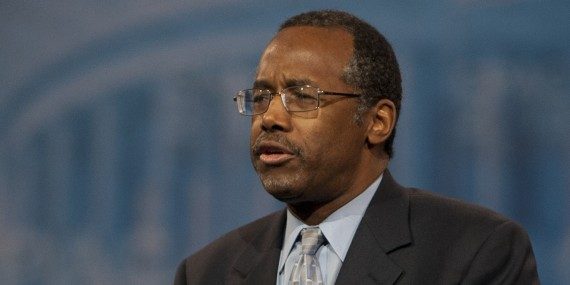 Ben Carson's first full week as Secretary of Housing and Urban Development got off to a weird start on Monday after a speech in which he referred to African-Americans brought to the New World as slaves as "immigrants":
Ben Carson's first full week as secretary of Housing and Urban Development got off to a rough start on Monday after he described African slaves as "immigrants" during his first speech to hundreds of assembled department employees. The remark, which came as part of a 40-minute address on the theme of America as "a land of dreams and opportunity," was met with swift outrage online.

Mr. Carson turned his attention to slavery after describing photographs of poor immigrants displayed at the Ellis Island National Museum of Immigration. These new arrivals worked long hours, six or seven days a week, with little pay, he said. And before them, there were slaves.

"That's what America is about, a land of dreams and opportunity," he said. "There were other immigrants who came here in the bottom of slave ships, worked even longer, even harder for less. But they too had a dream that one day their sons, daughters, grandsons, granddaughters, great-grandsons, great-granddaughters, might pursue prosperity and happiness in this land."

The comparison was first reported by USA Today and quickly drew the ire of social media users who attacked the secretary, who is African-American, for what they saw as racially insensitive comments. On Twitter, the comedian and actress Whoopi Goldberg recommended Mr. Carson watch the 1980s mini-series "Roots."

The Department of Housing and Urban Development was stunned by the uproar and spent part of the afternoon responding to the news media on Twitter. In a statement, it said critics were watching only a short clip from a 30-minute speech and were viewing the remarks in bad faith.

"This is the most cynical interpretation of the secretary's remarks to an army of welcoming HUD employees," the department said in a statement. "No one honestly believes he equates voluntary immigration with involuntary servitude!"

A spokesman for the department said Mr. Carson's speech appeared to cause little upset among the employees who had gathered to hear him speak. Several hundred people attended the event and many lingered afterward to snap selfies with Mr. Carson, who was sworn in last Thursday.

On Monday night, following a radio interview in which he defended his remarks earlier in the day, Mr. Carson also did so on Twitter. "You can be an involuntary immigrant," he said, adding that "slaves didn't just give up and die, our ancestors made something of themselves." He continued, "An immigrant is: 'a person who comes to live permanently in a foreign country.'"

But later that night, on Facebook, Mr. Carson drew a clear distinction between immmigrants and slavery: "The Immigrants made the choice to come to America. They saw this country as a land of opportunity. In contrast, slaves were forced here against their will and lost all their opportunities. We continue to live with that legacy."
This isn't the first time that Carson has said something bizarre, of course, and it most likely won't be the last. After all, this is the same many who has equated the Affordable Care Act to the September 11th attacks, made frequent use of Nazi analogies to criticize the President,  and said that "progressives" want to turn the United States into Nazi Germany. He has also compared abortion to human sacrifices by civilizations to abortion. During the course of the 2016 campaign for President, for example, Carson demonstrated ignorance about how government works as well as the details of important domestic public policy issues. In addition to this, of course, he displayed what can only be called an odd relationship with the truth, including many of the details of his personal biography.  Under pressure, Carson resorted to attacking the media even though it is rather obvious that he was not being treated unfairly. Perhaps the thing that is proved fatal to Carson, though, is foreign policy. Starting in a November 2015 Republican debate on Fox News Channel, Carson displayed what can only be called utter incoherence on basic foreign policy matters, something that was effectively confirmed by those brought in to advise him on the issue. Given the prominence that foreign policy took in the race, the fact that voters may be looked elsewhere isn't surprising, nor is it surprising that it would be Carson who would fade from prominence as quickly as he did in a manner that mimicked the rise and fall of Herman Cain in the 2012 race. This is also the same Ben Carson who said publicly that he wasn't qualified to head a Cabinet Department before being picked by Trump to head a Cabinet Department and, of course, accepting the nomination.
There's really no point in addressing the substance of Carson's initial comments, of course. While the strict definition of the word "immigrant" doesn't specify that it involves someone who moves from one country to another voluntarily, that is clearly the implication of what the word means and what the concept involves. The idea that people who were taken from the homes, placed into boats where they were chained together in a confined space for a journey that would take a week or more and then sold into lifelong bondage certainly doesn't imply anything resembling immigration as we understand it. Instead, words such as kidnapping, barbaric and, of course, slavery comes to mind as being far more accurate descriptions of the manner in which most of the ancestors of African-Americans arrived in the United States. Calling it anything else is not only idiotic, but it comes across as a deliberate attempt to quite literally whitewash history. This may not have been Carson's intent, but that's certainly how it comes across. More likely this is just another example of Ben Carson being an ignorant fool. And just remember, it's likely that at some point in the next four years Carson will be the Designated Survivor when President Trump addresses a joint session of Congress.