Biden Pleads for Regime Change in Russia
The President commits a Kinsley gaffe.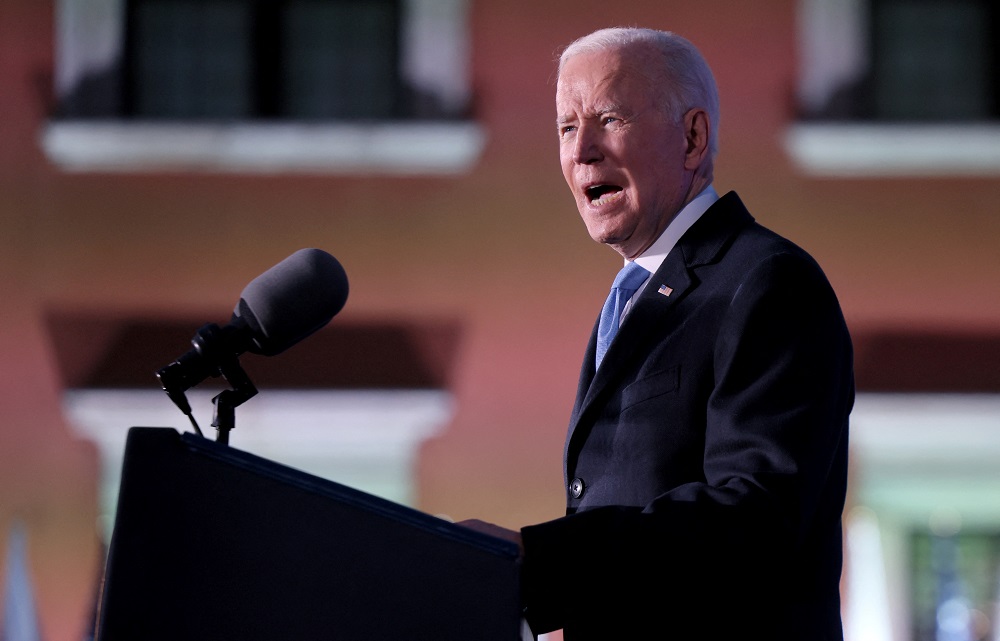 WaPo ("Biden says Putin 'cannot remain in power' in forceful speech in Poland"):
President Biden forcefully denounced Russia's invasion of Ukraine on Saturday, casting Moscow's aggression as "the test of all time" for democracy before ending his sunset speech here by saying that Russian President Vladimir Putin "cannot remain in power."

"For God's sake, this man cannot remain in power," Biden said, in an unscripted remark that came at the end of his roughly 30-minute address.

The White House raced to clarify his comment, issuing a statement saying that Biden had not actually meant what he'd said.

"The president's point was that Putin cannot be allowed to exercise power over his neighbors or the region," a White House official said in a statement. "He was not discussing Putin's power in Russia, or regime change."

Even aside from that remark, Biden's speech in Warsaw — the capstone of a three-day trip to Europe — marked the most defiant and aggressive speech about Russia by an American president since Ronald Reagan, and came as the war between Russia and Ukraine entered its second month.

Biden sought to use his address at the Royal Castle in Poland's capital to send a clear and unmistakable message to Putin and the world: "Don't even think about moving on one single inch of NATO territory."

Biden and his team specifically chose as his backdrop the Royal Castle, which was destroyed during World War II and rebuilt as a monument to Polish history and culture. The building, a White House official said, represents the resilience and the indomitable spirit of the Polish people and provided a natural setting for Biden to deliver a clarion call about the stakes of democracy.

Biden's off-the-cuff comment about Putin needing to be removed from power came at the climax of his speech, and Biden himself seemed caught up in the force of his rhetoric — riding the wave of his oration right into a nine-word statement his aides had not intended him to utter.

The remark surprised aides, who knew it was not included in his prepared remarks, said a person familiar with the issue who spoke on the condition of anonymity to share candid details of a sensitive situation. In the minutes after the speech, administration officials — who have long made a point of not calling for regime change in Russia — scrambled to clarify Biden's comments.
NYT ("Biden Condemns Putin, Saying He 'Cannot Remain in Power'"):
President Biden ended three days of diplomacy in Europe on Saturday that brought him within miles of the war in Ukraine, using a speech in Poland to rally American allies for what he said would be a long fight and escalating his personal denunciation of Vladimir V. Putin, saying the Russian leader "cannot remain in power."

Mr. Biden described the war in sweeping terms, as "a battle between democracy and autocracy, between liberty and repression, between a rules-based order and one governed by brute force." He portrayed it as part of a long struggle against authoritarianism, linking it to past uprisings against Soviet domination in Eastern Europe.

[…]

Mr. Biden's remark, in the closing lines of his speech, was quickly examined for signs of whether it was a considered declaration that the United States sought Mr. Putin's ouster. Some analysts described it as undermining Mr. Biden's diplomacy on the trip and potentially giving Mr. Putin grounds to extend the war. Others described it as an off-the-cuff expression of Mr. Biden's exasperation that Mr. Putin, whom he recently called a "war criminal," could lead Russia.
WSJ ("Biden Says Russian President Vladimir Putin 'Cannot Remain in Power'"):
President Biden appeared to call for Vladimir Putin's ouster in a speech Saturday, saying the Russian president's invasion of Ukraine had ignited a "new battle for freedom" between democracies and autocracies.

[…]

Mr. Peskov, the Kremlin spokesman, in remarks carried by Russia's state-run TASS news agency, responded to Mr. Biden: "Such personal insults are narrowing down the window of opportunity for our bilateral relationship under the current [U.S.] administration."

Mr. Biden has previously called Mr. Putin a "war criminal." His comment was formalized days later, with the U.S. government accusing Russia of war crimes. Moscow summoned U.S. Ambassador John Sullivan on Monday to hand him a note of protest over Mr. Biden's comment, and Russia's Foreign Ministry warned that relations between Moscow and Washington were "on the verge of a rupture."
Reuters ("Biden says Putin 'cannot remain in power' in fiery speech on Ukraine war"):
U.S. President Joe Biden said that Russia's leader Vladimir Putin "cannot remain in power" in Poland Saturday, remarks a White House official said later were meant to prepare the world's democracies for extended conflict over Ukraine, not back regime change in Russia.

Biden's comments on Saturday, including a statement earlier in the day calling Putin a "butcher," were a sharp escalation of the U.S. approach to Moscow over its invasion of Ukraine.
Michael Shear and David Sanger of NYT ask "Was Biden's barbed remark about Putin a slip or a veiled threat?" Alas, they provide no answer.
On its face, he appeared to be calling for President Vladimir V. Putin of Russia to be ousted for his brutal invasion of Ukraine. But Mr. Biden's aides quickly insisted that the remark — delivered in front of a castle that served for centuries as a home for Polish monarchs — was not intended as an appeal for regime change.

Whatever his intent, the moment underscored the dual challenges Mr. Biden faced during three extraordinary summit meetings in Belgium and an up-close look at the war's consequences from Poland: keeping America's allies united against Mr. Putin, while at the same time avoiding an escalation with Russia, which the president has said could lead to World War III.

[…]

Several of the administration's most ardent supporters in the foreign policy world quickly chided the president for seeming to seek Mr. Putin's removal. Richard Haass, the president of the Council on Foreign Relations, called it a "bad lapse in discipline that runs risk of extending the scope and duration of the war."

While American officials still insist their goal is not regime change in Moscow, even the president's top national security advisers have made clear they want Mr. Putin to emerge strategically weakened.
WaPo's Tyler Pager and Matt Viser weigh in with "How Biden sparked a global uproar with nine ad-libbed words about Putin."
During his presidential campaign, President Biden often reminded his audience about the heavy weight that the words of a president can carry.

"The words of a president matter," he said more than once. "They can move markets. They can send our brave men and women to war. They can bring peace."

They can also, as Biden discovered on Saturday, spark a global uproar in the middle of a war.

[…]

White House officials were adamant the remark was not a sign of a policy change, but they did concede it was just the latest example of Biden's penchant for stumbling off message. And like many of his unintended comments, they came at the end of his speech as he ad-libbed and veered from the carefully crafted text on the teleprompter.

"The speech was quite remarkable," said Aaron David Miller, a veteran diplomat and senior fellow at the Carnegie Endowment for International Peace. "This is one of those speeches where the one-liner in many ways drowns out the intent of the speech. Because that's exactly what people are focusing on."

Miller said that had the White House not immediately clarified, the comment would have led to a significant shift in policy and signaled to Putin that the United States would attempt to drive him out of office. It is unclear what the full impact of the comment may be in coming days.

"I'm risk averse by nature, especially with a guy who has nuclear weapons," he said. "But will it have operational consequences? I don't know."

It likely signals to Putin what he already suspected about Biden's true feelings, and it almost certainly will be used as part of Russia's propaganda.

"I guess you can call this a gaffe from the heart," Miller said. "If Biden could close his eyes tomorrow and have 10 wishes, one would be there's a leadership change in Russia."

But the comment also seemed to provide a window into Biden's current thinking, and some of the mind-set that the administration has with regard to Putin.

"What it tells me, and worries me, is that the top team is not thinking about plausible war termination," said Michael O'Hanlon, a senior fellow at the Brookings Institution and author of the book "The Art of War in an Age of Peace: U.S. Grand Strategy and Resolute Restraint."
Der Spiegel's René Pfister frets over "The dangerous regime change game."
Joe Biden has the special talent of tearing down with his loose mouth what he has previously worked hard to build up. The world can be happy that the Democrat is sitting in the White House in the Ukraine crisis and not Donald Trump, who considers Vladimir Putin to be a genius and who could only be prevented from leading the USA out of NATO with great difficulty .

[…]

Biden spoke as one would wish from an American president: emotional, full of historical references and yet to the point – if Biden had not said the fateful sentence at the end: "For God's sake, this man cannot remain in power."

It was a statement that could only be understood as a call for regime change in Moscow . Now it is always desirable when a dictator disappears – especially one with as much blood on his hands as Putin. But Biden is not speaking in private. If his words are meant seriously, a series of complicated questions immediately follow: Can the US still conduct negotiations with a man who is to be ousted from power? Is the US actively supporting a transfer of power in Moscow? How do you ensure that Putin's successor doesn't go from bad to worse? Or even worse: that the nuclear power Russiain chaos? And from Putin's point of view: Isn't he now more than ever forced to win this war by any means necessary, because otherwise he faces the fate of Saddam Hussein and Muammar al-Gaddafi ?

All of these things should be thought through before making such a sweeping statement. But evidently, Biden's sentence wasn't planned, it was one of those rhetorical blunders he's been known for for decades and has gotten him into trouble on more than one occasion. But now it's not about a failed election campaign slogan, but about war and peace.
This is a classic example of what has become known as the "Kinsley gaffe," after a 2007 column by Michael Kinsley which is literally illustrated with a photo of Joe Biden.
It used to be, there was truth and there was falsehood. Now there is spin and there are gaffes. Spin is often thought to be synonymous with falsehood or lying, but more accurately it is indifference to the truth. A politician engaged in spin is saying what he or she wishes were true, and sometimes, by coincidence, it is. Meanwhile, a gaffe, it has been said, is when a politician tells the truth–or more precisely, when he or she accidentally reveals something truthful about what is going on in his or her head. A gaffe is what happens when the spin breaks down. [emphasis mine-jhj]

Journalists enjoy gaffes as a slight taste of human reality at the banquet of artifice where they sup. But a small secret is that journalists don't mind spin either. A politician's ability to spin is a measure of his or her professionalism, which journalists respect. Furthermore, spin needs to be interpreted, which is the journalist's job. If politicians were totally truthful, political journalists would be out of business.
Kinsley wrote that we should judge these gaffes against what we already know about the speaker. In Biden's case, then as now, he's "pathologically loquacious. And he babbles."
We like him for the former and rather wish he'd stop with the latter, particularly when conducting matters of the gravest national security. But it's who he is and everyone, including Russian decision-makers, should reasonably be expected to adjust for it. Biden has bent over backward to make clear that he isn't going to use military force against Russia.
Other Presidents I've voted for have done similar things, it should be noted. Two examples come readily to mind.
Ronald Reagan, for whom I cast my first vote, joked in what he thought was off-air testing ahead of an August 1984 radio broadcast, "My fellow Americans, I am pleased to tell you today that I've signed legislation that will outlaw Russia forever. We begin bombing in five minutes." It was mostly laughed off but there are reports that it put Moscow on heightened alert.
His successor, George H.W. Bush, declared in a February 1991 speech toward the end of the first Gulf War, "There's another way for the bloodshed to stop, and this is for the Iraqi military and the Iraqi people to take matters into their own hands and force Saddam Hussein, the dictator, to step aside." Intended as a call to action by Baathist leaders, it instead encouraged a Kurdish rebellion that required a second US intervention and the establishment of a no-fly zone that lasted more than a decade. And Bush is widely considered, including by me, a first-rate foreign policy President.
Again, it would be better if Biden hadn't ad-libbed that line. But saying things he probably shouldn't when speaking from his heart is who he's always been.