Can Mitt Romney Turn This Election Around?
It's still possible for Mitt Romney to win this election, but is it probable?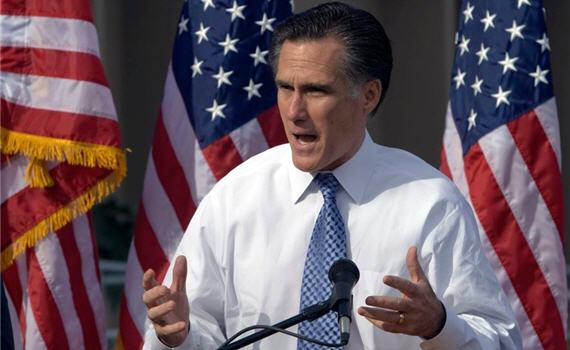 There's no question that Mitt Romney has had a rough three weeks. His Convention was delayed for a day by a threatening hurricane that ended up dodging the Tampa area completely. His own speech on the final night of that convention was upstaged by a bizarre routine featuring Clint Eastwood and a chair, and the speech itself was ultimately criticized for failing to mention the war the nation happens to be fighting in Afghanistan. That was followed by a Democratic National Convention that certainly went a lot smoother and which, despite being followed by a disappointing jobs report, has given the President a bump in the polls at the national and state levels. Last week, his campaign's message got derailed by a hasty press release from his campaign in the wake of the embassy protests in Egypt and Libya and, this week, it's been derailed by a day in which the story was about infighting on his campaign and another where the story is about his ill-advised comments about half the American population.
It's easy to look at all of this and start writing the Romney campaign postmortem, and certainly many Obama partisans are well on their way to doing that. I said myself this morning that the latest Romney distraction is a problem for the campaign because it throws them off message yet again. However, there are plenty of reasons for everyone to just sit back, take a deep breath, and realize that this race isn't quite over yet. The President's convention bounce seems to have tempered off just a little bit, with both the Gallup and Rasmussen tracking polls showing the race within the margin of error while other national polls are showing the President's lead at somewhere in the range of 3-5%, which is certainly within grasp of a candidate that can put together a winning argument in the closing weeks. True, the President's lead in the Electoral College is more apparent, but even there it hasn't yet reached the insurmountable stage. So, it's a bit too early to start writing Mitt Romney's political obituary just yet.
The real question, though, is what Romney could do to turn the campaign around and pull off a win. Obviously, it's absolutely crucial that he perform well in all three of the Presidential Debates, and that Paul Ryan do the same in his match-up against Joe Biden. Additionally, the campaign is going to need to engage in aggressive advertising and get out the vote and advertising campaigns, especially in the swing states. There's going to have to be something, more though. Along those lines, The Atlantic's, Ron Fournier points out five  reasons that Romney should not be completely written off just yet:
Bad news on the economy. Americans are hurting, and the president owns this economy. Two more unemployment reports are due out before the election. "It's not over for the simple fact that the economy means [Obama] has a national ceiling of about 51 [percent]," said Chris Lehane, a Democratic consultant who has witnessed the premature burial of many candidates. Still, like most Democrats, Lehane is grateful that Obama drew Romney as a rival. "The only reason it is not over is [because] there is time on the clock and the score is within reach because of the economy," he said in an email. "But they don't have a QB capable of mounting a winning drive."
A foreign-policy crisis. Had Romney not rushed to make the assault on U.S. embassies a political issue, the mess in the Middle East might be a bigger problem for Obama. Rather than filing stories about the Romney gaffe, journalists may have pointed their pens at Obama and asked, "Who lost the Arab street?" But the president is not off the hook: History shows that nothing makes a president look weak more quickly than a bungled foreign-policy crisis.
A bad debate. During the contentious Democratic nomination fight in 2008, Hillary Rodham Clinton said in a debate that Obama is "very likable." Obama responded with a curt, "You're likable enough, Hillary." It was called a major gaffe, and more than one pundit used it as a proof point for their case against an Obama presidency. Anything can go wrong in a debate, and Obama is not a perfect debater.
A gaffe. Obama is running a better-than-average campaign, but he's not above a mistake. Indeed, Romney's gaffe at a secretly recorded fundraiser has an eerie parallel to a time not that long ago when Obama dismissed a huge swath of the electorate: "You go into some of these small towns in Pennsylvania, and like a lot of small towns in the Midwest, the jobs have been gone now for 25 years and nothing's replaced them," Obama said in 2008. "And they fell through the Clinton administration, and the Bush administration, and each successive administration has said that somehow these communities are gonna regenerate, and they have not. And it's not surprising then they get bitter; they cling to guns or religion or antipathy to people who aren't like them or anti-immigrant sentiment or anti-trade sentiment as a way to explain their frustrations." A bone-headed, insensitive thing to say in the midst of a close election — and yet, Obama survived.
A Romney turnaround. Romney is not a good politician, and his staff's performance has been uneven at best. But these are not dumb people. Odds are they'll figure out a way to pull out of this spiral and shift attention to a more positive narrative. A series of policy speeches might do it. And there is the important fact that Republicans are girded to outspend Democrats by a sizable amount this fall: A killer ad or an innovative get-out-the-vote operation could make a difference in a close election.
These all make sense, but there are a few caveats here. The economy is still the major issue in the election, and will remain so through Election Day, but I'm no longer sure that it's as big an advantage for Romney as it used to be. We've already seen signs in some polls that Romney has lost his advantage on economic issues and voters seem to be giving more credit to Obama on the economy. Whether that will last in the face of what could be bad economic news on the jobs and economic growth fronts remains to be seen, however it's worth noting that a whole summer of bad economic news didn't really have that much of an impact on the polls. As for Romney benefiting from a foreign policy crisis, I suppose it's possible but, based on the initial reaction of the public to what happened last week, I don't see it as being very likely. The one area of vulnerability for the President here is in his Administration's bizarre insistence on sticking to a narrative regarding the Benghazi attack that, based on the evidence, doesn't seem to make sense. If events in that regard go against the President, it could provide Romney an opening. As for the rest of Fournier's points, most of them require the President making a mistake and, so far at least, he hasn't really done that.
The Week comes up with their own list of possible Romney strategies, including one that has been mentioned for a couple weeks now by pundits and conservatives outside the campaign:
1. Get more specific about his plans

Team Romney in fact announced a campaign retooling of its own on Monday, promising a "pivot to specificity," says John Dickerson at Slate. Romney's policy vagueness has been a frequent bone of contention with "conservative wise men," and if this isn't just a rhetorical "sop to pundits" — if Romney is really going to start detailing his governing plans and how they affect voters — that could help him recover. Yes, "to win, Romney must give voters a reason to vote for him — not just a reason to oppose Obama," says Matt Lewis at The Guardian. We need to see his larger vision, but his old "notion that he can skate by without providing details — that he can run out the clock and hope we don't check his homework — won't fly."
And Chris Cillizza makes a similar suggestion as part of his own list:
* A big speech (with specifics!): On Monday morning, the Romney campaign held a conference call to make clear that they were planning to move into a new phase of the race where the candidate would begin offering specifics on exactly what he would do if he is elected president. While that re-booting got totally overrun by events, it's still a sound strategic idea.  If Romney was to deliver a detailed-laden (or even detail-sprinkled) speech on what, specifically, he might do in his first 100 days to turn the economy around, it would be hard for the media not to cover it and pore through the proposals to see if they indeed could work. A debate over the specific differences in the policy directions that the two presidential candidates want to take the country — particularly at a time when polls show a majority of voters disapprove of President Obama's handling of the economy —  is far more winnable than the current fight in which Romney is engaged.
I've talked about the "go specific" approach before, and it is a good idea. The caveat is that it was a good idea thirty days ago too, and it was a good idea at the convention when Romney had the attention of some 30 million television viewers. As we sit here now with just seven weeks left until Election Day, I'm not at all sure that there's enough time for a real "give a big speech and get specific" strategy. In just two weeks, some people in states like Ohio are going to start voting and, once they vote, it won't matter what the Romney campaign does. Perhaps such a campaign can succeed in influencing those people who wait until Election Day to vote, but in an election where every vote will count in states like Ohio, it seems unwise to write off those early voters. So, yea, Romney should get more specific. Honestly, he should've gotten more specific at least a month ago and in any case no later than the convention. Taking that route now when the narrative has changed so significantly from where it was back then may end up being a waste of time.
If I had to lock a prediction in today, I would say that Barack Obama is going to be reelected with a 2-3% margin in the national popular vote, and an Electoral College margin of 303-235. But, of course, the election isn't being held today, it's being held in 49 days. A lot of things can happen in that time frame, and there's still time for a good campaign to turn this election around. The problem