Cynical Political Games, Military Pay, And Government Shutdowns
For the past day or so, America's fighting men have been pawns in a cynical political game.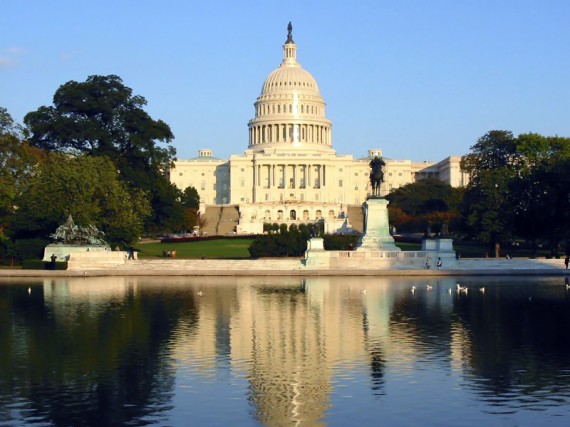 Just about an hour ago, the House of Representatives approved a bill that would extend the Continuing Resolution currently in effect for one week and would also fund the Defense Department through the end of the fiscal year. However, President Obama already said earlier today that he would veto the bill:
The White House announced President Obama would veto a short-term spending agreement proposed by Republicans.

The threat came less than an hour before Obama was to meet Speaker John Boehner (R-Ohio) and Senate Majority Leader Harry Reid (D-Nev.) to discuss a 2011 spending plan.

The White House said Thursday that Obama would veto the bill that would fund the military through September and the federal government for one week, saying the president "believes that we need to put politics aside and work out our differences for a bill that covers the rest of the fiscal year."

"As the President stated on April 5, 2011, if negotiations are making significant progress, the Administration would support a short-term, clean Continuing Resolution to allow for enactment of a final bill," the White House said in an official news release of administration policy that was to be released later Thursday.

(…)

GOP leaders, who have cast the bill as a "troop funding" legislation because it would fund the Pentagon through the end of the fiscal year, blasted the veto threat.

"If the president vetoes this bill and shuts the government down, our men and women in uniform serving in Afghanistan, Iraq, and around the world will not be paid. Our troops must be paid, our country is broke, and we are committed to fixing that. I urge the president revisit his decision and work with us," House Majority Leader Eric Cantor (R-Va.) said in a statement.

The bill also includes language that would prohibit the District of Columbia from using local government funds for abortion services. The legislation is opposed by Senate Democrats and is not expected to reach Obama's desk.
I noted the concerns about the fact that a government shutdown would affect pay for soldiers serving in combat. During an appearance with troops in Iraq today Secretary of Defense Gates said that troops would get at least some pay even if the government did shut down tomorrow:
Speaking to a group of 200 soldiers in Baghdad, Defense Secretary Gates drew Army cheers of "Hooah" from the crowd when he eased their concerns about the government shutdown and said "first of all, let me say you will be paid."

Gates's comment came during a question and answer session when one of the soldiers about how the government shutdown might affect them. He then joked, "as a historian it always occurred to me the smart thing for government was always to pay the guys with guns first."

Turning serious he explained to them how if there is a government shutdown, days the troops in the field would get half a paycheck for this pay period, but get back pay in the future.

"But in all seriousness, based on some stuff I read this morning, if the government shuts down starts on the 8th and goes for a week, you'd get a half a check.  If it goes from the 15th to the 30th, you wouldn't get a pay check on the 30th but you would be back paid for all of it. So that's the deal and I'm, you know, frankly, I remember when I was your age I did a lot of living from pay check to pay check and so I hope this thing doesn't happen."
Since many lower-ranking soldiers who do serve in combat have dependents who rely on that paycheck, an extended shutdown (which seems unlikely in any event) would be a problem. So, for the past day or so, both sides have been using this issue as a weapon in the PR war that has been going on throughout this process. That was the reason that the GOP introduced this bill, after all, and the fact that they've attached things like abortion funding riders to it demonstrates that they know it has no chance of passing in the Senate, never mind being signed by the President. If this was really about making sure they troops get paid if the government shuts down, both sides could easily take care of that without attaching riders to it like this.
Some on the right, like Ed Morrissey think that the President and the Democrats have fallen into a political trap. That's one way of looking at it, but with polls showing that the public is ready to blame both sides pretty much equally if they aren't able to make a deal here, I'm not sure that the GOP's cynical use of the troops to score a political point here is going to impress anyone. At this point, it seems that the only thing the public really wants to see is a deal that averts a shutdown. Pushing it off for another week just means we'll be back here again arguing the same stuff over and over again.
John Boehner and Harry Reid will be returning to the White House tonight at 7pm to meet with the President and Vice-President. If there's any chance of a last minute deal being made, it would seem that this is it. By tomorrow, everyone will be busy planning for the shutdown and positioning themselves politically. Given how the past two days have gone, my guess is we'll see a shutdown at midnight on Friday with continued negotiations through the weekend that result in a deal before the government is supposed to open for business on Monday. What that will accomplish for either side, I cannot fathom.