Donald Trump, Ben Carson Tied In New Iowa Poll
Two candidates with no political experienced whatsoever are tied in Iowa as Republican voters continue to reject anyone with political experience.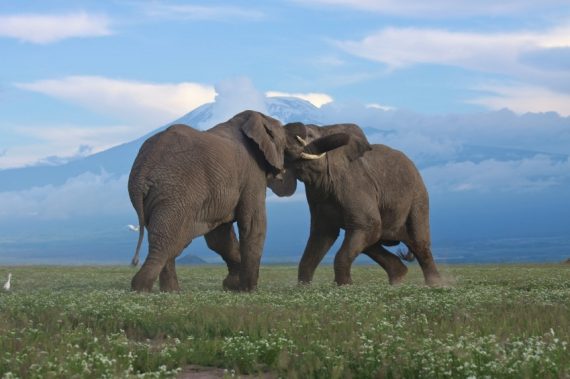 The newest poll out of Iowa has Donald Trump and Ben Carson tied at the top of the field, and no Republican candidate with even a small amount of political experience in double digits:
Ben Carson and Donald Trump are tied at the top of the Republican field in a new survey of likely Iowa caucus-goers with 23 percent each, according to the results of a Monmouth University poll released Monday.

The good news continues for the retired neurosurgeon with his favorability ratings, as 81 percent said they view him favorably, compared with just 6 percent who do not. And Trump's favorability went up as well, at 52 percent to 33 percent, up from 47 percent and 35 percent, respectively, last month.

Carson has steadily gained support over the summer despite keeping a relatively low profile, especially compared with Trump. But Carson, who has never held political office, has similarly tapped into a strong anti-Washington sentiment among voters.

In the poll released Monday, the two non-establishment candidates are followed by another, former Hewlett-Packard executive Carly Fiorina with 10 percent. Following Fiorina are Texas Sen. Ted Cruz at 9 percent, Wisconsin Gov. Scott Walker at 7 percent, former Florida Gov. Jeb Bush at 5 percent, Ohio Gov. John Kasich and Florida Sen. Marco Rubio at 4 percent, and Kentucky Sen. Rand Paul at 3 percent. No other candidates registered more than 2 percent, including the past two winners of the caucus — former Pennsylvania Sen. Rick Santorum and former Arkansas Gov. Mike Huckabee (both at 2 percent).

The latest survey showed Carson making inroads on key voting blocs that Trump has been winning in recent polls. Women preferred Carson at 30 percent to 19 percent, while Trump did better with male voters, at 27 percent to 17 percent.

Among those identifying with the tea party, 27 percent pledged their support for Trump, compared to 22 percent for Carson, with Cruz behind with 16 percent. But Carson leads among non-tea-party-affiliated Republicans, taking 25 percent to Trump's 19 percent.

Voters who described themselves as very or somewhat conservative were split between the top two, while moderates and liberals went for Trump at 26 percent, Fiorina at 18 percent and Carson at 17 percent.

Carson leads among evangelical voters, earning 29 percent to Trump's 23 percent, while non-evangelicals backed Trump with 24 percent, followed by Carson at 18 percent and Fiorina at 13 percent.
While Carson does seem to be doing better than Trump among some demographic groups, at least to some extent, his rise in the polls, which we also saw in the Des Moines Register poll released Saturday night, seems to have come mostly at the expense of Wisconsin Governor Scott Walker. In the last Monmouth University poll conducted just about six weeks ago, Walker was at the head of the pack at 22%, with Trump at 13% and nobody else in double digits. Carson at that point was in third place at eight percent, which means that he has risen almost exactly as much as Walker has fallen while most of the candidates have stayed still or only moved up or down within the margin of error. Considering the fact that Walker was the near-prohibitive leader among Republicans in Iowa from February until right before the August 6th debate in Cleveland, it's not hard to surmise that his performance in the debate and since then has hurt him while, largely to the benefit of Carson and Trump. In fact, Carson's rise in the poll does not seem to have come at Trump's expense at all given the fact that Trump's 23% here is mirrored by the numbers we see in the recent Des Moines Register and CNN polls out of Iowa. Whether this makes Trump and Carson rivals now, though, is an interesting question because, so far we've seen Trump go after each of the candidates that was closest to him the polls but he's laid off Dr. Carson so far. That may not last very much longer.
The other fascinating thing about this poll is the fact that none of the people who are in double digits have ever held elective office before. Each of them has their own records in the private sphere, of course, but as we've discussed before there's a vast difference between the private sphere and government, and experience in the first does not necessarily mean one would be competent in the second, especially as President of the United States. That experience issue doesn't seem to bother voters very much, though, and instead what we clearly are seeing here is evidence of a decidedly anti-establishment, anti-Washington, anti-politician mindset among Republicans that people like Trump, Carson, and former Hewlett-Packard CEO Carly Fiorina are benefiting from. Whether that will last, and whether these candidates will survive the inevitable scrutiny that will come with their new found success in the polls remains to be seem. For the moment, though, Republican voters in Iowa, as well as nationally and in New Hampshire seem to be very turned off by anyone with political experience.