Donald Trump, Hillary Clinton Likely To Do Very Well In Mid-Atlantic Primaries
With voters in five states set to go to the polls, both Donald Trump and Hillary Clinton are likely to make significant progress toward their quest for a majority of delegates in their respective contests.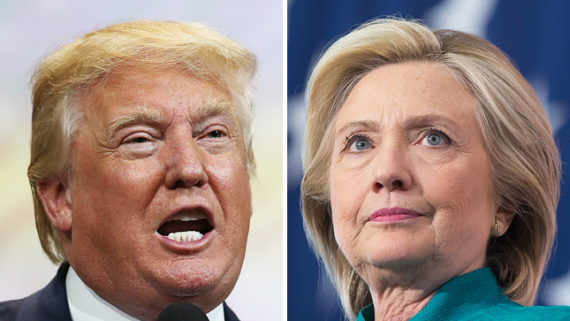 Republican and Democratic voters head to the polls today in a series of Mid-Atlantic primaries that seem likely to solidify the leads of the front runners in both parties:
Five states vote in the "Amtrak Primary" on Tuesday in contests expected to help the two presidential front-runners, Republican Donald Trump and Democrat Hillary Clinton, rack up ever wider leads in their parties' crucial delegates counts.

For Republicans, the race for delegates remains a key focus, with Trump hoping to secure the 1,237 delegates needed before the Republican National Convention in Cleveland in July. If they come up short on Tuesday night, Sen. Ted Cruz (R-Tex.) and Ohio Gov. John Kasich — now loosely aligned in hopes of stopping Trump — aren't expected to be able to win many delegates.

On the Democratic side, polls in recent days suggests that Clinton could win all but one or two of the five states up for grabs Tuesday — or potentially sweep the table. Besides Pennsylvania, voters go the polls in Maryland, Connecticut, Rhode Island and Delaware.

Bernie Sanders, the upstart White House hopeful who's stirred the passions of liberals around the country, made a final appeal for support in Philadelphia Monday ahead of five primaries that could render his already narrow path to the Democratic nomination virtually nonexistent.

"If you come out to vote tomorrow and drag your friends and your aunts and your uncles and your co-workers, we're going to win here in Pennsylvania," Sanders declared at a rally at Drexel University where he was greeted with boisterous cheers by a crowd of more than 3,000 people as he promised to fight a "rigged economy" and take on a "corrupt" campaign finance system.

After a winning streak that started in late March, Sanders's momentum stalled considerably following Clinton's decisive victory in New York. Given a sizable deficit in the delegate count, Sanders needs to not only be winning states, but winning them big, to catch Clinton — a proposition that will be severely tested Tuesday.

Clinton appeared to be moving past Sanders — taking a swipe at Trump for flying into parts of the country on a "big jet," painting him as an out-of-touch magnate ensconced in his towers bearing his name.

"Donald Trump says wages are too high in America and he doesn't support raising the minimum wage," Clinton said. "I have said come out of those towers named for yourself and actually come out and talk and listen to people.

"At some point, if you want to be president of the United States, you've got to get familiar with the United States," she added, to laughter from the crowd.

Trump, meanwhile, blasted his remaining two GOP presidential rivals after they announced an agreement Sunday to coordinate in upcoming primary contests with the aim of preventing Trump from securing the nomination.

"Honestly, it shows such total weakness, and it's pathetic when two longtime insider politicians — establishment guys, whether you like it or not — have to collude, have to get together to try to beat a guy that really speaks what the people want," Trump said during a campaign event in Warwick, R.I., on Monday.
Looking at the numbers, it seems clear that tonight has the potential to be quite a consequential one on both sides of the aisle, and while it not result in either candidate officially clinching their party's nomination, it is likely to put both Trump and Clinton much closer to their goals and make it that much harder for their respective opponents to stop them, or to do anything more than just delay the inevitable.
On the Republican side, RealClearPolitics shows Donald Trump winning by double digits in all five states. In Pennsylvania, Trump has a 21.8 point average lead over his closest opponent, which in this case is Texas Senator Ted Cruz. The complicating factor in the Keystone State is that, while th officially the state is a modified "Winner Take All" state, some 58 of the state's 71 delegates are unbound and in many cases the voters who are selecting them are given no indication which way the delegate may be leaning. This means that a candidate could win a Congressional District in the state and still see the delegates from that district vote for someone else on the first ballot. Many of the candidates for delegate have said that they would respect the decision of the voters, either in their Congressional District or statewide, but there's really nothing to force them to do that. As a result, the real impact of a victory in Pennsylvania on the delegate count will be hard to calculate even though a solid win there will contribute to forward momentum in the race. Beyond Pennsylvania, Trump has a 21 point average lead in Maryland, and should pick up all or nearly all of that state's 38 delegates. In Connecticut, where Trump leads by an average of 27 points, there are 28 delegates at stake but Trump could win all, or nearly all of them, if he gets a sufficiently high percentage of the vote. Rhode Island has 19 delegates at stake, and will award those delegates proportionally, but Trump leads the field by such a wide margin that he seems likely to walk away with most of them on his own. Finally, there has been limited polling in Delaware but this state seems well-suited to another Trump sweep, which should garner him the majority of that state's 16 delegates. In other words, by the end of the night, Trump seems likely to pick up at least another 100 delegates, while Ted Cruz and John Kasich will get, at best, table scraps, thus putting Trump that much closer to his goal of the 1,237 delegates needed for a first ballot victory.
On the Democratic side, Hillary Clinton also seems well-positioned to score wins across the board, but the Democratic Party's mandate of proportional delegate allocation means that she'll have to share at least some delegates with Bernie Sanders. In Pennsylvania, where there are 189 delegates at stake, Clinton has an average lead of sixteen points according to RealClearPolitics that has been fairly consistent over time. Assuming this holds up, that means Clinton would walk away from the Keystone State with at least 102 delegates, and possibly more depending on how well Senator Bernie Sanders does in the final results. In Maryland, where there are 95 delegates at stake, Clinton has an average twenty-seven point lead and should benefit from the fact that there is a highly contested Democratic Senate primary on the ballot as well that is likely to bring a lot of African-American and other minority voters to the polls. The race in Connecticut, where there are 55 delegates at stake, the race seems to be a bit closer than one might have expected and a recent surge in the polls by Senator Sanders has shrunk Clinton's lead there to just two points. Thanks to proportional allocation, though, a narrow win here wouldn't do Sanders very much good in any case and, in the end, I suspect that Clinton will pull off a win in the end. Polling in Rhode Island has been limited and inconsistent, perhaps indicating that this race may be too close to call for much of the night and that, no matter who "wins" the state's 24 delegates will end up being evenly divided, which would essentially be the same as a loss for Sanders. Finally, in Delaware, there's insufficient polling data to pick a winner but even if Sanders were to win big here the fact that there are only 16  delegates at stake makes the outcome essentially meaningless. In the end, though, I suspect that Clinton will be able to pull off a win here as well, completing the sweep. More important than how many states she wins, though, by the end of the night, it's likely that Clinton will pick up at least 200 of the 348 delegates at stake today for Democrats, a number that would put her just above 200 delegates away from her final goal, and which would mathematically eliminate Senator Sanders from any chance of winning the nomination at all.