Donald Trump's Bad June Shows Up In The Polls
Donald Trump has had a bad June, and it's showing in the poll numbers.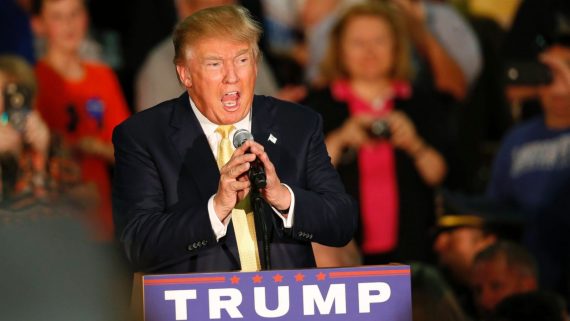 From a week long controversy that erupted after he claimed that the Judge presiding over the Trump University lawsuits is biased against him because of his Mexican heritage to the latest in a long line of bigoted comments about Muslims, it's been a rough June for Donald Trump. Added to his own mistakes, but no doubt prompted by them, Trump has seen numerous Republican politicians distance themselves from him to the point where the defections are turning into a stampede, and he's found himself far behind Hillary Clinton in the money race and already on the radar for attacks from Hillary Clinton, Elizabeth Warren, and others. Meanwhile, Trump's own campaign seems to have spent the month languishing in internal conflicts that finally resulted in the ouster of Corey Lewandowski as Campaign Director, and there have been real questions about the extent to which Republican donors are eager to support him. If you figured that this would result in bad news in the polls, you'd be right.
First up in the trail of bad news is the new ABC News/Washington Post poll, which shows Hillary Clinton crossing the 50% margin and opening up a double digit lead:
Support for Donald Trump has plunged as he has alienated fellow Republicans and large majorities of voters overall in the course of a month of self-inflicted controversies, propelling Democrat Hillary Clinton to a double-digit lead nationally in a new Washington Post-ABC News poll.

The survey finds sweeping unease with the presumptive Republican nominee's candidacy — from his incendiary rhetoric and values to his handling of both terrorism and his own business — foreshadowing that the November election could be a referendum on Trump more than anything else.

Roughly two in three Americans say they think Trump is unqualified to lead the nation; are anxious about the idea of him as president; believe his comments about women, minorities and Muslims show an unfair bias; and see his attacks on a federal judge because of his Mexican American heritage as racist.

A slimmer majority say they disapprove of the way Clinton has handled questions about her use of a personal email server while she was secretary of state, and half of Americans are anxious about the prospect of a Clinton presidency, underscoring the historic unpopularity of the two major-party candidates.

In fact, so strong is many Americans' opposition to Clinton and desire for a change in Washington that even some registering their disapproval of Trump say that as of now they feel compelled to vote for him.

Nevertheless, in a head-to-head general election matchup, Clinton leads Trump 51 percent to 39 percent among registered voters nationwide, the poll found. This is Clinton's largest lead in Post-ABC polling since last fall and a dramatic reversal from last month's survey, which found the race nearly even, with Trump at 46 percent and Clinton at 44 percent.

As the hard-fought general election gets underway, Trump's political standing is on dangerous ground. Fifty-six percent of the public at large say the celebrity business mogul stands against their beliefs, while 64 percent say he does not have the necessary credentials to be president. Fifty-six percent feel strongly that he is unqualified.

Nearly one-third of Republicans and Republican-leaning independents say Trump is unqualified for office, and 18 percent say he does not represent their beliefs, exposing deep fissures in the GOP base as Trump struggles to unite conservatives going into next month's national convention in Cleveland.

(…)

In May, Trump was more competitive with Clinton because he had just secured the Republican nomination and the party's electorate was coalescing around his candidacy. Clinton's unfavorable ratings among registered voters tied their record high last month, matching Trump's at 57 percent and weighing her down.
And there is clear evidence that Trump's controversial statements have hurt him:
The poll finds that 66 percent saying Trump's controversial comments about women, minorities and Muslims show an unfair bias; 68 percent say Trump's criticisms of Judge Gonzalo Curiel were racist; and 85 percent say the comments were inappropriate.

Among Republicans and Republican-leaning independents, 36 percent say Trump's comments show he is unfairly biased toward certain groups while 39 percent say the Curiel comments were racist and 71 percent say they were inappropriate.

With such broad public disapproval of Trump's controversial comments, Republican elected officials have awkwardly tiptoed around their likely nominee. Trump has chastised fellow party leaders when they have distanced themselves or denounced his comments.

The poll found that 62 percent of Republicans or Republican-leaning independents want GOP leaders to speak out against Trump when they disagree with his views, while 35 percent think they should avoid criticizing him.
The poll also found Libertarian Party nominee Gary Johnson pulling 7% and Green Party nominee Jill Stein pulling 3%, which is roughly consistent with where the two candidates have been polling since they started being included in polling a month or so ago. With both minor-party candidates in the race, Clinton's margin over Trump dips slightly from 12% to 10%
The latest NBC News/Wall Street Journal poll, meanwhile, shows Clinton gaining on Trump, albeit with a small margin than the previous poll:
Democrat Hillary Clinton holds a five-point advantage over Republican Donald Trump after becoming her party's presumptive presidential nominee, according to the latest national NBC News/Wall Street Journal poll.

Forty-six percent of registered voters back Clinton, versus 41 percent who support Trump – slightly up from Clinton's three-point lead in May, 46 percent to 43 percent.

When the horserace is expanded to four candidates – including Libertarian Gary Johnson and the Green Party's Jill Stein – Clinton gets support from 39 percent of voters, Trump gets 38 percent, Johnson 10 percent and Stein 6 percent.

The NBC/WSJ poll – conducted June 19-23 – comes after Clinton clinched the number of delegates needed to become the Democratic Party's presumptive nominee; after the tragic June 12 Orlando, Fla., shootings; and after a rough three-week stretch for Trump's campaign.

Despite these events and changes, the Clinton-vs.-Trump horserace remains relatively consistent.

Much like last month, Clinton leads Trump among African Americans (87 percent to 5 percent), Latinos (69 percent to 22 percent), those ages 18-34 (53 percent to 30 percent), women (52 percent to 35 percent).

Trump, meanwhile, has the edge among whites (49 percent to 37 percent), men (48 percent to 38 percent) and independents (40 percent to 30 percent).
These numbers are largely consistent with a number of polls that have come out over the course of the past month, all of which generally show Clinton leading Trump either by double digits or outside the margin of error. Presently, that margin stands at + 6.7 points if you're only including the two major party candidates, by +6.6 points if you include Gary Johnson in the mix, and +5.6 points if you include Johnson and Stein. More importantly for Trump, he hasn't led in a poll, even inside the margin of error, for a month now and hasn't had a discernible lead in the polling average aat any point since his head to had polling with Clinton started being tracked. What we do see over the past month, though, are clear signs that Trump is declining in the polls while Clinton rises. If that continues, then Trump is likely to go into the convention time at the end of July at a distinct disadvantage vis a vis Clinton that will be difficult for him to make up in the three months left in the campaign after the conventions are over.
Interestingly enough, despite the fact that Clinton's lead shrinks when the minor party candidates are added into the poll, it seems fairly apparent that both Johnson and Stein are drawing supporters from both majority party candidates as well as from the larger poll of voters who have indicated in the two-candidate poll that they are undecided. This suggests that, at least at this moment, Johnson and Stein are not necessarily 'harming' one candidate more than the other, although that may change as the race goes on, assuming, of course, that these two minor party candidates are able to keep their numbers at these levels or potentially increase them to the point where one or both of them becomes eligible to participate in the Presidential debates in the fall.
No matter how you look at these numbers, there's really no good news here for Trump. While it's early, a double digit lead for Clinton at this point in the race suggests that the race could be entering the period when it would be next to impossible for Trump to catch up to her. At the very least, what we are definitely seeing here is that the up-tick in the polls that Trump saw in the wake of becoming the presumptive Republican nominee is now at an end and that Clinton is starting to benefit from the fact that her race against Bernie Sanders has come to an end and Democrats are starting to consolidate behind her. Trump, meanwhile, just saw his numbers shrink. If that continues, then this race could effectively be over long before Americans head to the polls in November.