Everybody Hates Donald
A new poll finds that Donald Trump is really, really disliked by voters, but it's unclear how much that will matter going forward.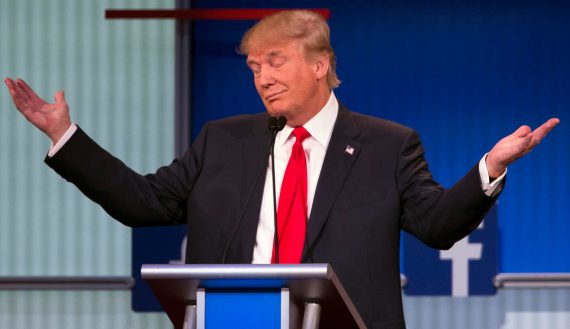 A new poll from the Associated Press shows that Americans really, really don't like Donald Trump:
WASHINGTON (AP) — For Americans of nearly every race, gender, political persuasion and location, disdain for Donald Trump runs deep, saddling the Republican front-runner with unprecedented unpopularity as he tries to overcome recent campaign setbacks.

Seven in 10 people, including close to half of Republican voters, have an unfavorable view of Trump, according to a new Associated Press-GfK poll. It's an opinion shared by majorities of men and women; young and old; conservatives, moderates and liberals; and whites, Hispanics and blacks — a devastatingly broad indictment of the billionaire businessman.

Even in the South, a region where Trump has won GOP primaries decisively, close to 70 percent view him unfavorably. And among whites without a college education, one of Trump's most loyal voting blocs, 55 percent have a negative opinion.

Trump still leads the Republican field in delegates and has built a loyal following with a steady share of the Republican primary electorate. But the breadth of his unpopularity raises significant questions about how he could stitch together enough support in the general election to win the White House.

It also underscores the trouble he may still face in the Republican race, which appears headed to a contested convention where party insiders would have their say about who will represent the GOP in the fall campaign.

"He's at risk of having the nomination denied to him because grass-roots party activists fear he's so widely disliked that he can't possibly win," said Ari Fleischer, a former adviser to President George W. Bush.

Beyond their generally negative perception of Trump, large majorities also said they would not describe him as civil, compassionate or likable. On nearly all of these measures, Trump fared worse than his remaining Democratic or Republican rivals.

Not that voters have all that much love for those rivals. But their negative perceptions don't match the depth of the distaste for Trump. Texas Sen. Ted Cruz, who is seeking to catch Trump in the Republican delegate count, is viewed unfavorably by 59 percent, while 55 percent have negative views of Democratic front-runner Hillary Clinton.

Another problem for Trump is that his public perception seems to be getting worse. The number of Americans who view him unfavorably has risen more than 10 percentage points since mid-February, a two-month stretch that has included some of his biggest primary victories but also an array of stumbles that suggested difficulties with his campaign organization and a lack of policy depth.
With numbers like this, the first instinct of even the amateur political analyst is to assume that Trump is essentially doomed, if not in the fight for the Republican nomination then at least in any General Election battle with the likely Democratic Presidential nominee. Indeed, when you look at the head-to-head polling, Trump loses decisively to both Hillary Clinton and Senator Bernie Sanders, by a wider margin than Ted Cruz does against either candidate, and in contrast to Ohio Governor John Kasich who leads  Clinton and is far more competitive against Sanders, although that may largely be attributable to the fact that he is relatively unknown. In any case, when a candidate has negatives this high, the logical conclusion is that they aren't going to go very far and that they are eventually headed toward ignominious defeat.
There's just one problem, and it lies in the fact that the 2016  campaign has defied logic in almost every respect. Virtually from the time that he has entered the race last June, Donald Trump has had incredibly high negatives among voters in general and Republican voters in particular. Over the course of the pre-primary period that stretched through the end of January, Trump managed to find ways to insult about Mexicans, John McCain, Megyn Kelly, Carly Fiorina, Ben Carson, a disabled New York Times reporter, and Muslims, each time leading to speculation that he had, finally, gone "too far" and brought upon himself the point at which voters would start looking at other candidates. Instead of losing support after incidents like this, though, Trump typically ended up gaining support and he's gone on to win a solid plurality of the delegates at stake so far, gained about a 2,000,000 vote margin in the popular vote, and won 19 of the 32 states in which contests have been held so far. All of this while unfavorable ratings of 60% or higher hung over his head. Given that, the fact that those numbers have ticked up slightly doesn't strike me as being particularly relevant, because the people who are supporting Trump seem to be supporting him notwithstanding the fact that they may not like him personally.
This isn't to say that I think that Trump has a realistic chance of winning the General Election in the fall if he becomes the Republican nominee. The Democratic advantage in the Electoral College, combined with the problems that a Republican Party led by Donald Trump is likely to have attracting minority voters, argues strongly that Trump would perform no better in the Electoral College than John McCain did in 2008, and possibly worse in that he could put states such as Missouri and Georgia into play for the first time in years. As far as the remaining battle for the Republican nomination goes, though, I suspect the fact that Trump isn't very well-liked isn't necessarily going to hurt him in the manner that conventional wisdom would indicate. Indeed, given the odd ways that Republican Party base, it may actually end up helping him.