Florida Senate Race Is A Dead Heat
The first significant post-primary poll of the Florida Senate race shows a dead heat between Governor Rick Scott and Senator Bill Nelson.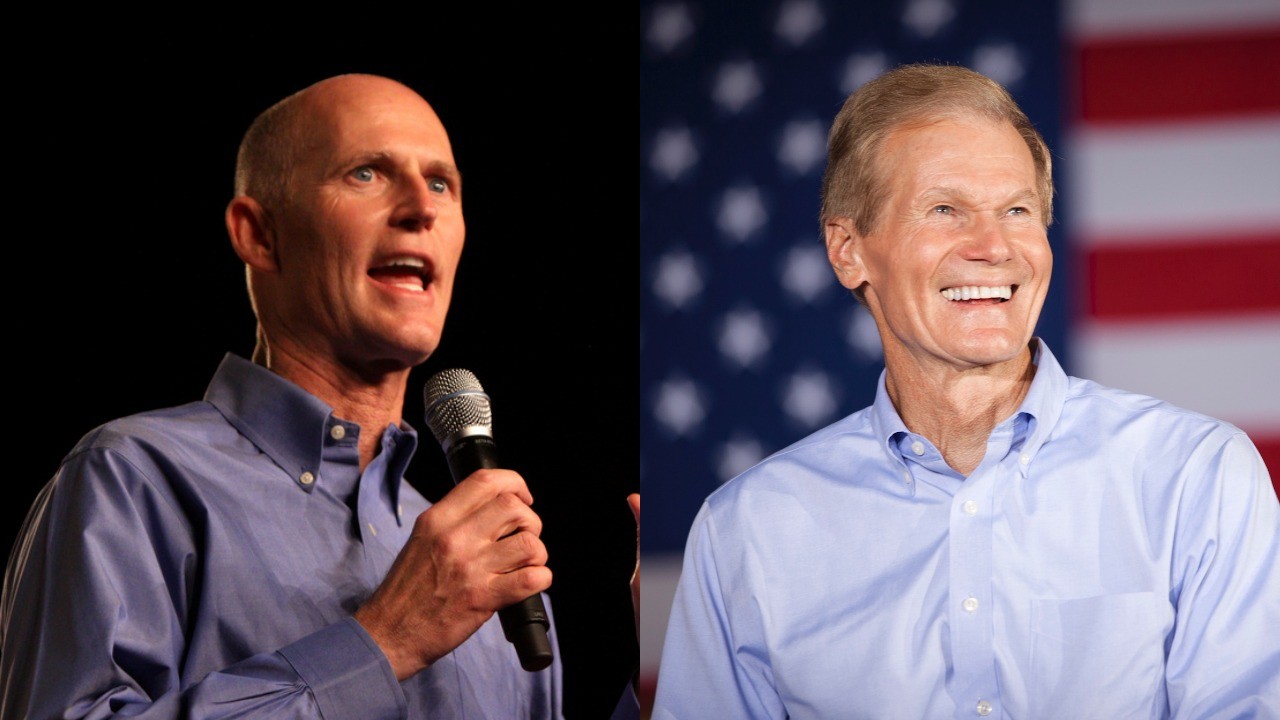 A new poll shows Florida Senator Bill Nelson and Florida Governor Rick Scott in a dead heat in what is likely going to be one of the most closely watched Senate races of the year:
The nation's most-expensive Senate race is a dead-even tie between Florida Sen. Bill Nelson and Gov. Rick Scott, according to a new Quinnipiac University poll.

The 49 – 49 percent race shows how Scott has narrowed a 4-point deficit since Quinnipiac last surveyed the race in February, but the results suggest that the three-term Democratic senator has so far weathered a storm of negative ads after Scott and Republican groups outspent Nelson and Democrats on TV ads by $30 million to $12 million as of mid-August.

Since Tuesday's primary, however, Nelson's camp has started to narrow the gap with Scott on TV. Democrats have recently placed about $55.4 million total on air in the biggest swing state, compared to $66.3 million from Republicans. TV ad spending is a must in a state as large and as competitive as Florida, which has 10 major media markets and can cost upward of $3 million weekly to advertise. So the cumulative $121 million in ad spending to date is set to grow significantly.

The tie race is no surprise in Florida, which has a history of razor-thin election margins. But what stands out in the poll is that 9 in 10 voters who have picked a candidate say they won't change their mind by Election Day.

Peter A. Brown, assistant director of the Quinnipiac University Poll, said the electorate is polarized when it comes to party affiliation, gender and race and ethnicity.

"The campaign is a prototype of our nation's political environment: Democrat Nelson carries women and black voters, while Republican Scott wins among men and white voters. The key in close elections like this one often lies with independent voters. So far, Sen. Nelson has the edge with this swing group. The candidate who holds those voters in November is likely to win," Brown said in a statement.

Black voters strongly support Nelson 90 – 5 percent, a key data point for the Democrat in the wake of his party nominating its first African-American gubernatorial candidate, Andrew Gillum, who's expected to drive more black voters to the polls.

Scott wins men overall, 53 – 45 percent. Women back Nelson 53 – 45 percent. Scott also leads with white voters, 55 – 44 percent, and among Hispanic voters, 59 – 39 percent. Scott's Hispanic support is critical because he traditionally has strong backing from Cuban-Americans in the Miami area and polls show he's far too close for Democrats' comfort when it comes to Democratic-leaning Puerto Rican voters in the Orlando area.

Scott has slightly more support among Republicans, 92 percent, than Nelson does among Democrats, 89 percent. But Nelson is carrying independents by 56 – 43 percent.

The poll surveyed slightly more Republicans than Democrats, 34 percent to 31 percent, which is in keeping with historic Florida midterm turnout rates.

Scott, who has had historically bad approval ratings in Quinnipiac's polls, is riding an all-time high for his job approval, with 51 percent favoring the job he's doing and 46 disapproving. Nelson's job approval: 49 percent in favor and 43 percent disapproving.
This poll of the Senate race is part of the same poll which also shows Democratic nominee for Governor Andrew Gillum with a narrow lead over Republican Ron DeSantis in the race to replace Scott, who is term-limited, as Governor. As with that poll, this is the first poll of a Scott v. Nelson head-to-head race since the primary last week in which both candidates easily won the nomination of their respective parties that has been publicly released. As such, it is hard to judge whether its accurate or an outlier and whether either of these candidates has a firmer lead than this poll would indicate. That being said, there have been some other recent polls that suggest that this will indeed be a competitive race. A Gravis Marketing poll taken in the days immediately after the primary also shows the race to be tied, with the two candidates garner 47% apiece. Previous polling before the primary had shown Governor Scott with a slight lead both inside and outside the margin of error of the respective poll. As a result, the current RealClearPolitics average for the race gives Scott (46.5%) a 1.5 point advantage over Nelson (44,8%), which is essentially a dead heat. For this reason, all of the major ratings agencies have the race listed as a toss-up, and this is why this is likely to be one of the most-watched races this year.
As I said in the aftermath of the primary, this race is likely to have national implications in terms of the battle for control of the Senate:
The national implications of this race are, of course, easy to see. As we sit here today, Republicans have a slim majority in the Senate that, with the death of John McCain,  is down to 50-49. That number will return to 51-49 when Arizona's Governor names McCain's successor, of course, but that's still a very tight majority even taking into account the fact that there are far more potentially vulnerable Democratic seats than they are vulnerable Republican seats. On the Republican side, the vulnerable seats can be found in Nevada, Arizona, and, potentially Tennessee. On the Democratic side, though, the vulnerabilities exist in several states that Donald Trump won in 2016 and where Republicans have been gaining strength for years now, including Montana, North Dakota, Indiana, Missouri, and now Florida. If Republicans can flip even a handful of these states, then they will offset whatever losses they might suffer elsewhere and, potentially, could even defy the odds and increase their majority in the Senate to something slightly more comfortable like 52-48 or even 53-47.
Since I wrote that, Arizona Governor Doug Ducey has selected former Senator Jon Kyl to succeed McCain, so the Republican majority is back to its full 51-49 strength. All the rest of the analysis, it stands as is, and the fate of the Senate remains up in the air. However, if Republicans are able to win in Florida then they have a good shot at holding on to the Senate.