Fourth Democratic Debate Garners 8.3 Million Voters
The fourth Democratic debate saw a viewership dip from September, but there are likely some good reasons for that.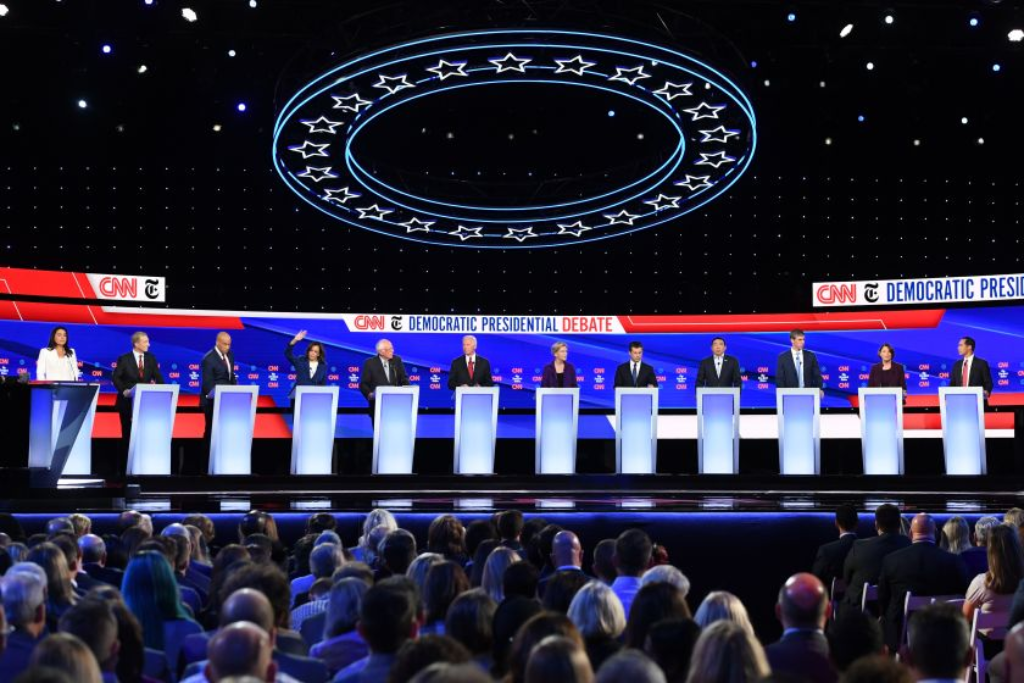 Tuesday night's fourth Democratic debate saw a drop in viewers from the numbers set a month ago, perhaps a sign that viewers are growing tired of the "full-stage" debate format that has marked debates to date. Specifically, it's estimated that 8.3 million people watched the debate:
WESTERVILLE, Ohio — The Democratic debate stage getting bigger, but television ratings are getting smaller.

The primary debate on Tuesday night in Ohio, co-sponsored by CNN and The New York Times, drew about 8.3 million live television viewers on CNN, Nielsen said on Wednesday. The event featured 12 candidates, up from the 10 who debated last month in Houston at an event seen by about 14 million people on ABC News and Univision.

Interest in the 2020 presidential race is clearly strong. The 8.3 million people who watched on Tuesday roughly equaled the number of viewers for a 2008 matchup between Barack Obama and Hillary Clinton, days before the so-called Super Tuesday primary night.

But the three-hour Ohio event — which featured a cavalcade of candidates attacking Senator Elizabeth Warren of Massachusetts — did not perform much better than this year's lowest-rated primary debate, a CNN forum in late July in Detroit with 8.2 million viewers.
By way of comparison, the first night of the first debate back in June saw some 15.3 million viewers tune in to watch a debate that included Elizabeth Warren, Pete Buttigieg, and a field of also-rans. The second night of that debate saw 18.1 million viewers tune in to watch a debate that became best known for the showdown between Senator Kamala Harris and former Vice-President Joe Biden. The numbers for the second debate, though, showed a significant drop, with just 8.7 million viewers for the first night and 10.7 million viewers for the second night. Finally, the third debate saw viewership numbers jump back up, with some 14 million viewers tuning in.
In addition to the fact that viewers may be growing tired of a debate format that includes candidates that essentially have no chance at becoming the nominee, the difference in viewership numbers may be due to the news outlet(s) covering the debate. The first and third debates, for example, were broadcast by NBC and ABC News respectively, In addition to each networks broadcast channel, the debate also showed up on a number of different cable news outlets such as MSNBC and Telemundo for the NBC debate and Univision for the ABC debate. The second and third debates, by contrast, were broadcast only on CNN, which may have limited the audience to some extent. Additionally, as noted, Tuesday night's debate was the first to compete against first-run episodes of primetime programming nut also the National League Championship Series Game Four which saw the Washington Nationals defeat the Los Angeles Dodgers to punch their ticket to the World Series, the first appearance in that series by a Washington, D.C. team since the 1933 Washingon Senators.
In any case, going forward we are likely to see much smaller debates thanks to the incresingly difficult qualificiation criteria. To make it into the stage this time, candiates will have to show support from 165,000 unique donors regardless of the amount they donate and will either have to reached 3% in at least four national polls pre-approved by the Democratic National Committee or 5% in two polls in one or more of the states voting in February (Iowa, New Hampshire, Nevada, or South Carolina). As of this writing, only seven candidates — Joe Biden, Elizabeth Warren, Bernie Sanders, Pete Buttigieg, Kamala Harris, Tom Steyer, Andrew Yang, and Cory Booker — have met both the donor and polling criteria. An additional four candidates — Beto O'Rourke, Amy Klobuchar, Julian Castro, and Tulsi Gabbard — have met the donor criteria but not the polling criteia. The remainder of the candidates have not met either of the critera. This means that there could be as few as seven candidates at the next debate, but that it is at least theoretically possible that this number could increase to 11. Candidates have until November 13th to qualify for the November 20th debate. (Source) Here's hoping that we have as few candidates as possible on the stage.