Freedom Of Speech Under Attack
Increasingly, the right of people to speak is being sacrificed in the name of "tolerance" and "security."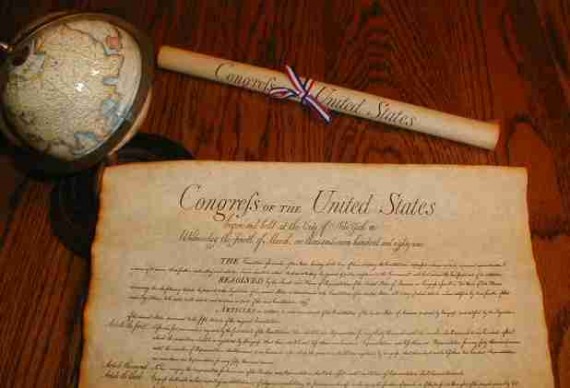 George Washington University Law Professor Jonathan Turley penned a compelling piece in Sunday's Washington Post pointing out the extent to which the West is placing increasingly stringent restrictions on freedom of speech in the name of so-called "tolerance":
Free speech is dying in the Western world. While most people still enjoy considerable freedom of expression, this right, once a near-absolute, has become less defined and less dependable for those espousing controversial social, political or religious views. The decline of free speech has come not from any single blow but rather from thousands of paper cuts of well-intentioned exceptions designed to maintain social harmony.

In the face of the violence that frequently results from anti-religious expression, some world leaders seem to be losing their patience with free speech. After a video called "Innocence of Muslims" appeared on YouTube and sparked violent protests in several Muslim nations last month, U.N. Secretary General Ban Ki-moon warned that "when some people use this freedom of expression to provoke or humiliate some others' values and beliefs, then this cannot be protected."

It appears that the one thing modern society can no longer tolerate is intolerance. As Australian Prime Minister Julia Gillard put it in her recent speech before the United Nations, "Our tolerance must never extend to tolerating religious hatred."

A willingness to confine free speech in the name of social pluralism can be seen at various levels of authority and government. In February, for instance, Pennsylvania Judge Mark Martin heard a case in which a Muslim man was charged with attacking an atheist marching in a Halloween parade as a "zombie Muhammed." Martin castigated not the defendant but the victim, Ernie Perce, lecturing him that "our forefathers intended to use the First Amendment so we can speak with our mind, not to piss off other people and cultures — which is what you did."

Of course, free speech is often precisely about pissing off other people — challenging social taboos or political values.
Many of the examples that Turley cites of Western abandonment of free speech come from nations with a far less stringent history of protecting the right of citizens to speak their minds than we have hear in the United States. In that respect, it's not entirely surprising that a nation like France would find someone guilty of making discriminatory comments because of something that he said in a bar, or that Ireland would pass a law criminalizing the "publication or utterance of blasphemous matter" deemed "grossly abusive or insulting in relation to matters held sacred by any religion." Neither of these nations, indeed no other Western nation has the same level of protections for free speech that the United States does. Great Britain has the Official Secrets Act and far more stringent Libel and Slander laws than the United States, Canada has a Human Rights Commission that has routinely brought people before it for making allegedly "offensive" comments that would clearly be protected here in the United States, and Germany has long banned virtually any speech that could be deemed supportive of the Nazi Era. On that level, it's not entirely surprising that these nations would be amenable to restricting speech because it offended Muslims, or homosexuals, or for any other reason for that matter.
What is truly disturbing about recent developments in this area, though, is the extent to which the rejection of freedom of speech and the value of freedom of expression seem to be being tossed by the wayside here in the United States. Hate crime laws that essentially punish people for what they were thinking have proliferated in recent decades. Just this year, the Supreme Court had to deal with a case involving an attempt by the United States Government to prosecute a man for making a false statement about receiving a military award that caused absolutely no objective harm to anyone. Thankfully, the Court correctly ruled that the law under which this man was prosecuted was unconstitutional. More recently, we've seen the Obama Administration attempt to cajole YouTube into removing a video that was offensive to Muslims from the service. Then we saw them purchasing airtime on Pakistani video to apologize for this same video even though the United States Government had nothing to do with it. Finally, at the United Nations General Assembly, the President essentially capitulated to the argument that "blasphemy" is a valid complaint against someone's exercise of their right to speak freely.
Of course, outrages over a film aren't the only manner in which freedom of speech has been restricted in the United States in recent years. Perhaps one of the most egregious examples of that can be found in something that sprung up seemingly out of nowhere, the concept of so-called "free speech zones."  As I'm sure all who are reading this are aware, these "zones" are areas mandated by police authorities as the only areas where protests can take place during high profile events such as political conventions. The first example of such a "zone" that I can find goes back to the 1988 Democratic National Convention in Atlanta, when the City of Atlanta set up "designated protest zones" whose primary purpose seemed to be to ensure that people exercising their right to speak would not disrupt the convention itself. Starting in 1992, these zones became commonplace during the conventions of both major political parties. From there, the use of these "zones" have expanded beyond political conventions to all kinds of events, and the primary purpose has clearly become preventing the protesters from being able to interact at all with the people that they are protesting against. It's the kind of set-up that Richard Daley would've loved to have been able to have back in 1968 since it would've allowed his cops to beat up protesters outside the view of television cameras.
Legally, these "free speech zones" are justified under Supreme Court case law that states that authorities have the right to regulate the time, place, and manner of speech activities that could potentially disrupt public life. That point is conceded, but it strikes me that these regulations take that authority a step to far, especially when one notes that, in many cases, supporters of a particular event are not subject to the same "free speech zone" regulations as those who wish to protests against it. That's  not a time, place, or manner regulation, that's the government putting its thumb on the scale in favor of favorable speech.
In the end, I fear Turley is correct. We've entered an era where freedom of speech is being sacrificed in the name of not offending people, or in the name of security. That's a mistake.