Gender Gap: Gone Yet at Record High
A recent poll has Obama and Romney tied among women. Another gives Obama a 33 point edge.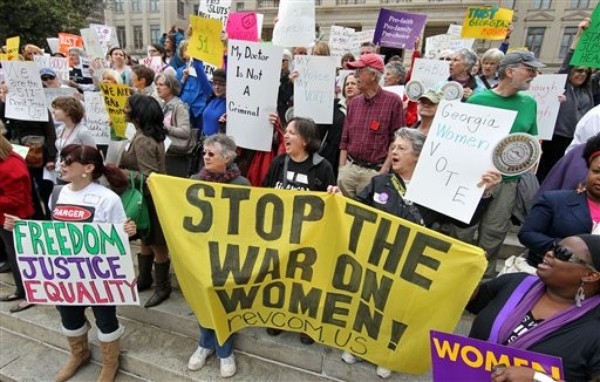 The dangers of over-analyzing the results of one poll is perfectly illustrated by a pair of stories in The Atlantic highlighted at YahooNews this morning.
In, "Revenge of the Soccer Moms: Why Are Women Abandoning Obama?" Molly Ball drives out to Chantilly, Virginia to investigate the sudden disappearance of the gender gap.
A few months ago, it seemed like the battle for women's votes was one Democrats had decisively won. While (male) Republican politicians talked about transvaginal ultrasounds, legitimate rape and the like, Democrats laughed all the way to the bank. President Obama's steady double-digit leads with women in poll after poll were a major reason he stayed ahead of Mitt Romney for months on end.

Then suddenly, a couple of weeks ago, Obama's edge with women began to melt away. More than any other group, women have accounted for Romney's surge in the polls, which has now given him a slim lead in the national popular vote and in some calculations of the electoral college. Women, it appeared, were not as firmly ensconced in Obama's camp as they had seemed. Indeed, they were abandoning the president en masse.
Based on a discussion with two random women, we learn that women aren't all that concerned about so-called "women's issues" and instead, at least in well-to-do places like Chantilly, antsy about Obama's desire to raise taxes on the well-to-do.
Yet, in "Ladies (Still) Love Obama," Adam Clark Estes informs us that, "According to the latest poll numbers, the gender gap is on track to hit historic highs in the upcoming presidential election."
The split isn't terribly surprising. President Obama, as expected, is holding his own among women voters, and Romney is the favorite among men. But the split is big, perhaps bigger than ever. "If only women voted, President Obama would be on track for a landslide re-election, equaling or exceeding his margin of victory over Senator John McCain in 2008," New York Times polling wizard Nate Silver explains. "If only men voted, Mr. Obama would be biding his time until a crushing defeat at the hands of Mitt Romney, who might win by a margin similar to the one Ronald Reagan realized over Jimmy Carter in 1980."

It gets more interesting when you did down into the numbers. One poll put the gender gap at a staggering 33 points, whereas the average of those reviewed by Silver put it at a still significant 19 points. If there race were actually gender-specific, the margin of victory for either candidate would also be big: at least nine points. This is almost in line with the split during the Bush-Gore race of 2000, which at 20 points had the biggest gender gap on record since 1972 when exit polls were first conducted. Obama won the election in 2008 beating McCain by 13 points among female voters.

[…]

It gets a little more complicated when you try to pick the issue that's causing the divide, but Silver says all signs point to women's health. It's been a particularly active issue lately, as states enacted 92 new laws restricting abortion in 2011 and Republican-after-Republican has trampled on the issue for the entire election cycle. Obama's done nothing but some out strongly, in favor of a woman's right to choose. "There are millions of women all across the country who rely on Planned Parenthood for not just contraceptive care," he said at the Hofstra debate last week. "They rely on it for mammograms, for cervical-cancer screenings. That's a pocketbook issue for women and families all across the country."

There may be nothing for poor Mitt Romney to do. On one hand, women have always loved Obama. On the other hand, according to a focus group full of women after the last debate, women find Romney to be kind of "douchey." Nevermind what people are saying about Paul Ryan.
Because the national media polls are simply fodder for news stories and means of getting attention for the purveying outlet, they're done a cheaply and quickly as possible. They're just quick snapshots of the electorate and completely meaningless a week later in a fluid race. The people who do this for the candidates use larger samples, more rigorous methodologies, and poll over multiple days. They also invest a lot more money in the polls, since they're going to use the results to decide how to spend millions in advertising revenue and otherwise make choices that could make or break their candidate's campaign.
Taken in aggregate, the media polls nonetheless give us a pretty good idea of how the race is going.  Right now, I'm reasonably confident that the national race is essentially tied, with Mitt Romney perhaps having a very slight edge, and that President Obama is ahead in the Electoral College race and would pass the magic 270 vote threshold if the election were held today. Also, I'm confident that the election won't be held today (unless you count early voting).
Taken individually, though, they don't tell us much. The screens for determining who is a "likely voter" are just not that scientific. And, because the samples are relatively small and the demographic methodologies aren't carefully controlled, the sub-samples have very large sampling error. That explains why there can be no gender gap at all in one poll and a 33 point gap in another.
If I had to guess, the actual gender gap is somewhere near the average of the national polls: around 15 percent. That's about the middle of the range of the gap in the last several presidential elections.