George W. Bush Won't Campaign For Ted Cruz
Former President Bush has waded back into politics but don't expect him to be campaigning for Ted Cruz.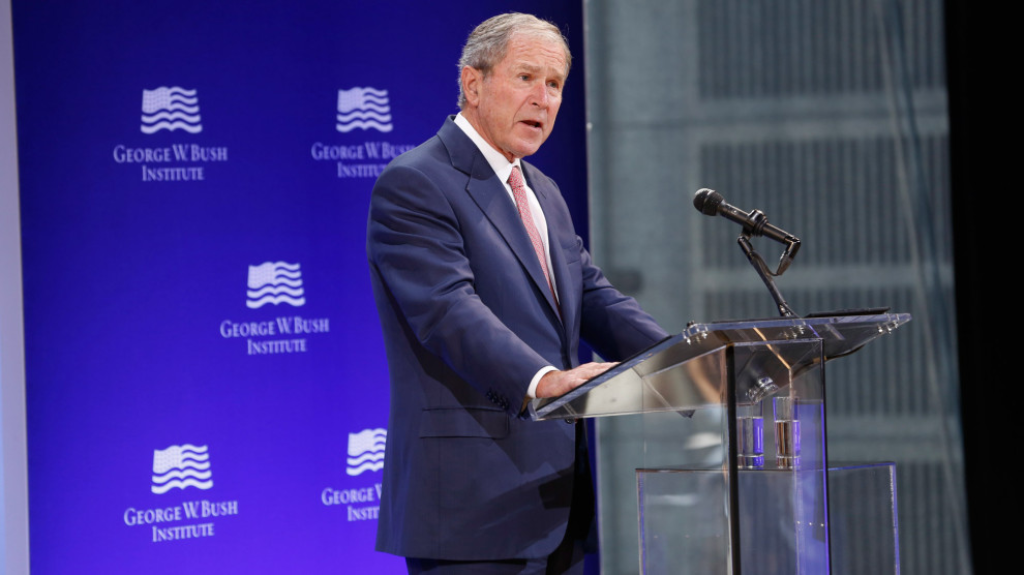 As I noted last week, former President George W. Bush has waded back into politics to some degree with fundraising appearances in Texas and Florida, but there's one candidate he won't be campaigning for:
Former President George W. Bush is hosting a series of fundraising events for vulnerable Republican candidates, including a couple of House members facing tough re-election bids in his home state of Texas.

Politico first reported that Bush held a closed-door event Wednesday morning in Fort Worth for Rep. Will Hurd, R-San Antonio, and will host a similar gathering next week in Dallas for Rep. Pete Sessions, the Republican who serves as Bush's congressman.

The former president will also headline fundraisers in the coming days and weeks for Florida Gov. Rick Scott, who is running for Senate in that state; North Dakota Senate candidate Kevin Cramer; Missouri Senate candidate Josh Hawley; and Indiana Senate candidate Mike Braun.

"While he prefers to consider himself retired from politics, President Bush recognizes how important it is to keep the Senate and decided to help a few key candidates," Bush spokesman Freddy Ford told Politico.

Noticeably absent from the list is Texas Sen. Ted Cruz, a Republican who is facing a surprisingly robust challenge from Rep. Beto O'Rourke, D-El Paso.

Cruz once worked for the former commander in chief, both on Bush's presidential campaign and then in his administration. The senator also met his wife, Heidi, while working for Bush's campaign, leading him to say that he "will always be grateful" to the former president.

But Bush hasn't reciprocated many warm feelings for Cruz, who made his name by rebelling against the GOP establishment that Bush represents.

Bush reportedly dissed Cruz at a private fundraising event in late 2015 by saying, "I just don't like the guy." Bush and his wife, Laura, also haven't given to Cruz's campaigns, despite supporting other Republicans since leaving the White House, according to campaign finance records.

Ford, the Bush spokesman, on Wednesday said there are currently no plans to host a fundraising event for Cruz, adding that he's not aware of the senator having requested such assistance.
While Cruz did work for the Bush Administration, there's no indication that he worked closely with the President at any point in time, or indeed that Bush even knew who he was before he became Texas's Solicitor General and, later, Senator in 2012. Given that, I'm not sure it's accurate to call this a "diss" or anything of the like. Additionally, it's obvious that Bush and Cruz come from very different wings of the Republican Party and that Bush has probably never been very comfortable with Cruz's brand of conservatism or the manner in which he has conducted himself as either a Senator or a candidate for President.
What does make this interesting, though, is that it does appear to demonstrate yet again the electoral disadvantages that Cruz is facing as he seeks to win election to his sophomore term in the Senate. While other Republicans on the statewide ballot have wide leads over their Democratic challengers, Cruz is fighting off a stronger than expected challenge from Democratic Congressman Beto O'Rourke. Shortly after O'Rourke won his party's nomination, there was at least some indication that Cruz could be in for a real challenge in the form of polling that showed Cruz with only a three-point lead over the Congressman, which was within the poll's margin of error. Polling taken about a month later, though, seemed to show that the initial bounce in O'Rourke's favor had fizzled out and that Cruz was well-positioned to be comfortably re-elected notwithstanding the fact that national Democrats were pouring money into O'Rourke's campaign. More recent polling, such as a poll taken just under a month ago, though, showed the race back to being a close race and an indication that Cruz could be in real trouble in a race that he should be winning easily. A more recent poll from Emerson College shows Cruz with just a one-point lead, while the RealClearPolitics average gives the Senator a mere 3.2 point advantage. This is compared to another statewide race in Texas, Greg Abbott's bid for his own second term in office, where Abbott has an average lead of 14.5 points over his Democratic opponent. The polling for other statewide races in the Lone Star State, such as Lt. Governor, Attorney General, and Commissioner of the General Land Office, a position currently held by Bush's nephew George P. Bush shows Republicans with similarly strong leads. All of this suggests that Bush isn't alone in just not liking Ted Cruz.