GOP Establishment Pushes Back Against Calls For Impeachment
Led by Speaker John Boehner, Republican leaders are trying to placate calls for impeachment.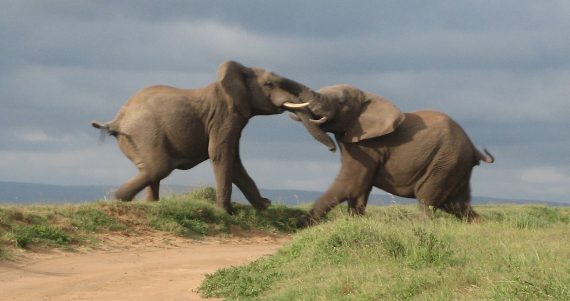 Sarah Palin's endorsement of impeaching President Obama of isn't going over very well with other Republicans.
On Wednesday, for example, House Speaker John Boehner dismissed the idea, quickly, curtly, and with little subtlety as to what he actually thinks of the former Governor of Alaska:
House Speaker John A. Boehner (R-Ohio) disagrees with Republicans calling for the impeachment of President Obama.

Former GOP vice presidential candidate Sarah Palin on Tuesday joined a growing chorus of Republicans calling for the impeachment of Obama, writing in an op-ed that the influx of young illegal immigrants over the southern border "is the last straw that makes the battered wife say, 'no mas.' "

"I disagree," Boehner said when asked by reporters Wednesday morning. When a reporter pointed out that some House Republicans also are calling for impeachment, Boehner said again: "I disagree."
Here's the video:
The man who put Palin on the national stage also disagrees with her:
On Fox Business Network on Thursday, her running mate in the 2008 presidential election, Sen. John McCain disagreed.

"Well, I don't agree and I remember going through an impeachment of William Jefferson Clinton," McCain said. "There are not the votes here in the United States Senate to impeach the president of the United States and I think that we should focus our attention on winning elections. We win this election and we regain control of the United States Senate we can be far more effective than an effort to impeach the president, which has no chance of succeeding."
The Wall Street Journal, meanwhile, characterized the entire idea of impeachment as something of a delusion:
On Wednesday House Speaker John Boehner said "I disagree" with Mrs. Palin, though as usual without elaboration. What he might add is that the Constitution says a President can be impeached for "Treason, Bribery or other high Crimes and Misdemeanors." Bill Clinton lied under oath and Richard Nixon obstructed justice. While Mr. Obama's abuses of executive power are serious, they don't rise to that level.

Impeachment is also inherently a political process that at the current moment would backfire on Republicans. Mr. Obama is unpopular, but that is due mainly to the failure of his policies. Focusing on impeachment lets Democrats off the hook on those progressive failures and plays into their claim that GOP opposition to Mr. Obama is personal. Then there is the answer to nobody's question—President Biden? Impeachment fails to address any of the problems that Republicans are upset about.

If conservatives really want to address those problems, they should elect a Republican Senate majority. A GOP Senate could stop the President's worst appointees, including judicial nominees. It could use budget reconciliation to pass policy reforms on ObamaCare, energy and other issues that the President would pay a political price for vetoing. And a GOP Senate could add its oversight power to dig into government abuses like the IRS political targeting.

Republicans aiming to rebuild a governing majority should be making a systematic case about the failures of Democratic governance that include slow growth and stagnant incomes, fewer health-care choices and higher costs, growing world disorder, and more. Trying to impeach Mr. Obama now is firing at the wrong target at the wrong time with the wrong ammunition.
Mainstream Republicans and conservatives rejecting the idea of impeachment isn't entirely surprising, of course. As I've noted when writing about this issue in the past, many of these people, including the likes of Boehner and McCain, were around the last time that the GOP tried the impeachment strategy and they remember how it ended. Clinton was impeached, of course, be he was ultimately acquitted in a Republican controlled Senate because, as anyone could have seen beforehand, there were not 67 votes to convict him of any of the charges against him. In the end, there were 45 votes to convict on the perjury charge and 50 to convict on obstruction of justice, and all of the guilty votes on each of the charges came from Republican Senators. Regardless of who wins control of the Senate in November, and there's no chance that there'd be any action on an issue like this before then, the outcome would be basically the same, with the added benefit of all business in Congress grinding to a halt during the month or two (or three) it took the process to play out. In the end, it's likely that the Republican Party would come out of the entire thing looking utterly ridiculous, just as it heads into a Presidential election. That's why the leadership and mainstream conservatives are pushing back against the idea, if not ignoring it entirely.
Among the Tea Party and the hardcore GOP base, though, it seems as though impeachment is well on the way to becoming yet another one of those articles of faith, right along with absolute belief in the fact that Fast & Furious, Benghazi, and the IRS targeting story are the worst Presidential scandals in American history. In fact, notwithstanding the fact that the leadership opposes impeachment and knows that it would be a political disaster, it remains to be seen whether this impeachment talk remains something confined to the fringe of the GOP and the conservative or if it starts to become a more mainstream idea to the point where the leadership in Congress finds itself forced to "do something" in response to pressure from the base.  That pressure could increase if the GOP captures the Senate in November and the base of the party finds itself energized in the manner it was after the 2010 midterms. It could also become an issue if and when the lawsuit that the House of Representatives intends to file against the President ends up going nowhere, as I fully expect that it will. Bill Scher, in fact, argues that Boehner has painted himself into a corner and arguably created the very conditions that could force his hand on this issue:
The June announcement of the lawsuit now looks like an unforced error. But it was February when Boehner inadvertently got the impeachment ball rolling.

At the time, Boehner had just failed to impress his caucus with a plan to legalize the 11 million undocumented immigrants now living in the United States. Caught between his desire to reach out to Latinos and his commitment to maintaining party unity, Boehner sought to shift blame for the stalemate to the president, declaring, "There's widespread doubt about whether this administration can be trusted to enforce our laws. And it's going to be difficult to move any immigration legislation until that changes."

What might have seemed to Boehner as a clever bit of misdirection also validated an incendiary charge that would easily combust into an allegation of law-breaking.

Making the charge even more reckless was Boehner's obvious insincerity. In April, he deliberately sabotaged his earlier message at his hometown Rotary Club, saying of his Republican caucus on immigration reform, "Here's the attitude. Ohhhh. Don't make me do this. Ohhhh. This is too hard." He went on: "We get elected to solve problems and it's remarkable to me how many of my colleagues just don't want to." But he proved unwilling to seriously lean on his own members. A few days later, he scurried back to questioning Obama's fealty to the law, saying, "the biggest impediment we have to immigration reform is that the American people don't trust the president to enforce or implement the law that we may or may not pass."

(…)

Boehner might have been aiming for just enough to keep the party from splintering before the primary elections, but instead he established the predicate for impeachment, jeopardizing Republican chances to win complete control of Congress in November.

If you believe the president isn't following the law, impeachment is the logical next step. However, impeachment is completely illogical if you believe "we get elected to solve problems" and not play political games. Since Boehner knew he would never take such a radical step, he should never have embraced the rationale for that step.

 Yet he did, and in doing so, painted himself into a corner
When the midterms are over, and the House lawsuit end up languishing in the Federal Courts in D.C. only to be eventually dismissed in all likelihood, Boehner may find that his plan to placate and outwit the radical wing of his own party has backfired on him. At that point, he may find himself faced with the choice of either doing the utterly irrational or sacrificing his own position to the purity-or-nothing of the Tea Party. Neither possibility bodes well for the GOP's future political fortunes.