John Boehner's Lawsuit Against Obama Is All About Obamacare, And Will Probably Be Dismissed
John Boehner's latest political move is designed mostly to appease the GOP base, but it's likely a non-starter from a legal point of view.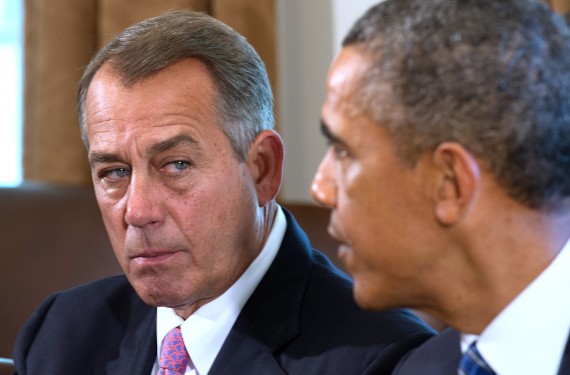 Ever since Speaker John Boehner announced his plan to file a lawsuit against President Obama, there's been much speculation about what, exactly, he had in mind. In the comments he made on the issue, Boehner has generally only referred to general ideas of "Executive overreach" and a President who is going around Congress via Executive Orders to accomplish things that cannot through Congress. As I've noted before, there are legitimate issues raised by some of what Speaker Boehner has referred to, and it applies not only to the actions of this President but to the actions of his predecessors going back decades. For a long time, the American people, and Congress, seemed just fine with the idea of what has come to be known as the Imperial Presidency, especially in times where national security is threatened, but we've also seen plenty of examples in the past six decades or more of how that assumption of power by the Executive Branch has posed dangers to our Constitutional structure, and led to Presidents who are more and more willing to take action unchecked by the people's representatives in the Legislative Branch. To some extent, then, a national discussion about these issues might actually be a good thing, although it was obvious to me from the start that this entire idea of a lawsuit by the House of Representatives was nothing but a massive political stunt.
Yesterday, that impression was seemingly confirmed when we learned that, in the end, the lawsuit that Boehner is talking about is going to be based solely on the GOP's favorite political whipping boy, the Affordable Care Act:
WASHINGTON — Speaker John A. Boehner's lawsuit against President Obama will focus on changes to the health care law that Mr. Boehner says should have been left to Congress, according to a statement issued Thursday by the speaker's office.

By narrowly focusing the legal action on the Affordable Care Act, Mr. Boehner will sidestep the more politically problematic issue involving Mr. Obama's executive action offering work permits for some illegal immigrants who were brought to the United States as children.

Last month, Mr. Boehner announced his intention to seek legislation allowing the House to sue the president over his use of executive actions, a reflection of charges by congressional Republicans that the president has overreached his authority. On Thursday, Mr. Boehner said the lawsuit would specifically challenge
the president's decision to delay imposing penalties on employers who do not offer health insurance to employees in compliance with the Affordable Care Act.

"The current president believes he has the power to make his own laws — at times even boasting about it," Mr. Boehner said in his statement. "He has said that if Congress won't make the laws he wants, he'll go ahead and make them himself, and in the case of the employer mandate in his health care law, that's exactly what he did."

"If this president can get away with making his own laws, future presidents will have the ability to as well," the speaker added. "The House has an obligation to stand up for the legislative branch, and the Constitution, and that is exactly what we will do."

(…)

Mr. Boehner sought to clarify that he was not challenging Mr. Obama's right to issue executive orders, only his right to change legislation without congressional approval. Republican leaders have carefully avoided challenging the president's 2012 executive order concerning young illegal immigrants, although until Thursday, Mr. Boehner had refused to rule out such a challenge.

"In 2013, the president changed the health care law without a vote of Congress, effectively creating his own law by literally waiving the employer mandate and the penalties for failing to comply with it," Mr. Boehner said. "That's not the way our system of government was designed to work. No president should have the power to make laws on his or her own."
Over the past several years, there have admittedly been several instances where the Obama Administration has stepped in, principally via regulations issued by the Dept. Of Health And Human Services, to modify deadlines set forth in the Affordable Care Act. For example, just since the PPACA exchanges went live last October, the Administration has delayed the requirement to comply with the employer mandate for small businesses, allowed people facing cancellation of their existing plans due to the law's requirements to keep those plans if they wish, introduced another "administrative fix" that applies to people with pre-existing plans that may not strictly comply with the law, extended the open enrollment period due to problems with the Obamacare Exchanges not once but twice, and introduced yet more delays that apply to small business owners that push their compliance requirements out as far as 2016. Before last October, the Administration had also provided exemptions to large employers, unions, and several states in response to lobbying and complaints from those groups about the manner in which the law affected their pre-existing plans. Each of these changes, extensions, or exemptions has been latched on to by the President's critics as an example both of him trying to "rewrite" the law and proof to their mind that the law as originally conceived was unworkable.
As I've noted before, there are definite concerns raised by the manner in which the Administration has used its regulatory and Executive Action powers to modify, or limit the impact of, certain provisions of the PPACA. As a general rule, after all, it is Congress's job to pass the laws and the Executive Branch's job to put those laws into effect. Numerous times, though, the Administration has acted to use its regulatory and other powers to "fix" the law in one way or another, quite often to avoid the political fallout that would come if the extension or exemption in question were not granted. That isn't how things are supposed to work, however. If there are problems with a law passed by Congress then Congress needs to fix it by passing a supplemental law rather than letting the Executive Branch assume that role on its own. Practically speaking, of course, a bill to "fix" the PPACA would never make it through Congress, but that fact alone is not an excuse to deviate from what ought to be the proper manner in which these things are done. Notwithstanding that argument, though, it is not clear that these Administration actions are in any way illegal. Like every major law passed by Congress since the New Deal, the PPACA grants extensive rule making authority to the Executive Branch, principally the Dept. of Health And Human Services. The Administration, of course, has relied on this rule making authority to justify the actions that Republicans are complaining about here, of course, and it is entirely possible that there are entirely correct on the merits and would win the lawsuit should a Court every get to that point.
Most likely, though, any Court that hears this House of Representatives lawsuit will never get to that point.
As a general rule, the jurisdiction of Federal Courts is limited, pursuant to Article III, Section Two, of the Constitution, to what are generally referred to as actual "cases and controversies." While the term is not explicitly defined in the Constitution, it is rooted in to some extent in the English Common Law that guided courts in the pre-Constitution era and, in general, means that Federal Courts are only authorized to hear matters that involve real disputes involving actual parties at least one of whom has suffered some kind of articulable injury. In Marbury v. Madison, which is known mostly for its establishment of the idea of Judicial Review, for example. the Court ruled in part that there were some actions taken by the Secretary of State that were not reviewable by a Federal Court. The doctrine was more fully fleshed out, though, in Baker v. Carr, a case which dealt with redistricting at the state level but which also set forth a six point standard for evaluating what is and is not a "political question" that is largely still followed today. Generally, the Court held that cases are "political" in nature, and thus outside the jurisdiction of the Federal Courts, when the following is true:
"Textually demonstrable constitutional commitment of the issue to a coordinate political department;" as an example of this, Brennan cited issues of foreign affairs and executive war powers, arguing that cases involving such matters would be "political questions"
"A lack of judicially discoverable and manageable standards for resolving it;"
"The impossibility of deciding without an initial policy determination of a kind clearly for nonjudicial discretion;"
"The impossibility of a court's undertaking independent resolution without expressing lack of the respect due coordinate branches of government;"
"An unusual need for unquestioning adherence to a political decision already made;"
"The potentiality of embarrassment from multifarious pronouncements by various departments on one question."
Without delving too far into the weeds of the not entirely interesting issues of justicability and standing in Federal Court, it strikes me that a very good argument can be made that the hypothetical lawsuit that the House is talking about here would meet all of these tests and, thus, would be considered a "Political Question" and dismissed before the Court even reached the merits of the claims made in the case. It is fair to note that there is a counter-argument that has been advanced by conservative attorneys who are apparently part of the team that is developing this lawsuit, but in all honesty those arguments don't immediately strike me as being very persuasive. While it's hard to make a definitive judgment on the matter before the lawsuit is filed, never mind before any Motions to Dismiss are filed in such a case, my instincts tell me that it is more likely than not that this lawsuit would would dismissed before the Court even talks about the merits of the arguments that it raises.
There is one puzzling thing about this lawsuit, and it concerns exactly what the House will be asking the Court to do. Every lawsuit must have some kind of "prayer for relief" setting forth in at least some basic form what it is that the Complainant is seeking as a recovery. Since monetary damages are out of the question here, the only logical remedy that the House could ask for here is to have all of the exemptions and extensions that the Administration put in place. In other words, the Republican House would be asking the Court to make sure that the Affordable Care Act is implemented faster. Somehow, I'm not sure that's what the GOP is thinking of when they think of a lawsuit against Obama over Obamacare.
Of course, it's blindingly obvious that this lawsuit isn't really about the law, it's about politics. As several political analysts have noted, the entire issues of executive overreach is one that polls well among the GOP base, and also has some resonance with independent voters. In many respects, then, it seems apparent that the lawsuit, which wouldn't be anywhere close to being decided before November, is as much about bringing people to the polls to vote as it is anything else, probably more so. The political motivations are even more obvious by the fact that the lawsuit is exclusively concerned with Obamacare, which has been a Republican target for four years now as epitomized by the fact that the House has voted, on strict party lines, to repeal the law in whole or in part 54 times since they took control of the House in  January 2011. If that's not a sign that this is an entirely political maneuver that has little to do with actual legitimate concerns about the Separation of Powers, I don't know what is.
The question, in the end, is what Speaker Boehner and the House Leadership will do when it becomes apparent that their lawsuit is going nowhere. At that point, the base is likely to wonder what they're going to do next, and demanding something more substantial than just symbolism.