Grumpy Uncle Joe?
Say it ain't so!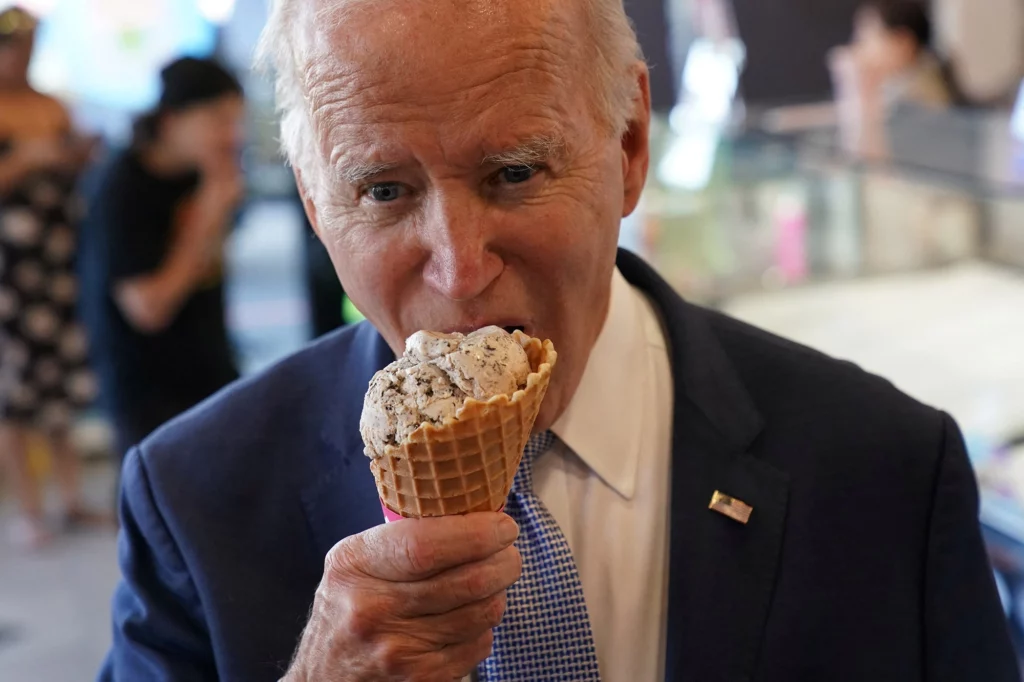 An essay from National Review's Charles C.W. Cooke with the crass title "Joe Biden Is an Asshole" is making the rounds in the Republican blogosphere. The gist:
Can we not all see it? For those who cannot conceive of truth without triangulation, I will freely stipulate that Donald Trump is an asshole, too — and that, in some ways, he's an even worse one. But that does not let Biden off the hook. President or not, Biden is a decrepit, dishonest, unpleasant blowhard. He's a nasty, corrupt, partisan fraud. He is, as Shakespeare had it, "a most notable coward, an infinite and endless liar, an hourly promise breaker, the owner of no one good quality." Biden is twice as irritating as he believes himself to be, and half as intelligent into the bargain. From the moment he arrived on the scene — nearly 50 years ago, Lord help us — he has represented all that is wrong with our politics. A century hence, his name will be set into aspic and memorialized under "Hack."
What's the basis for this absurd set of assertions?
At Axios, Alex Thompson reports the apparently surprising news that Biden "has such a quick-trigger temper that some aides try to avoid meeting alone with him." Among the president's favorite admonitions are: "God dammit, how the f**k don't you know this?!," "Don't f**king bullsh*t me!," and "Get the f**k out of here!" Per Thompson, these revelations are important because, like his refusal to acknowledge his own granddaughter, they threaten to damage Biden's "carefully cultivated image as a kindly uncle." But that image is for cretins and sycophants. Joe Biden has never been a "kindly uncle" — or anything approaching one. For his whole life, Joe Biden has been a plodding mediocrity with a Delaware-sized chip on his shoulder. What about him, I wonder, would not lead him to shout stupidly at people? He's a bully. Check. He's insecure. Check. He's senile. Check. He is hostage to his precarious record of lies. Check. His anger is as inevitable as the sunset.
I read the Axios report and must admit I wasn't terribly bothered by it. Biden's Irish temper is hardly a state secret but he's got a reputation as being pretty good to work for. He's known to insist that staffers make time to attend birthdays and other important family events, for example.
Cooke's column was the first I'd heard of the unacknowledged granddaughter, a fact that apparently gained traction after being mentioned in Maureen Dowd's latest column. Essentially, wayward son Hunter got a stripper pregnant while on one of his frequent benders and the family isn't too keen on highlighting that fact. I'm not sure this makes Joe Biden an asshole, though, so much as it highlights the continuing tragedy of Hunter's inability to get his shit together despite being given considerable advantages. (Albeit, also considerably tragedy in the death of his mother and baby sister when he was but a child and the more recent death of the favored brother.)
Cooke continues,
We don't need Axios to tell us about it. In 1987, during his first run for president, Biden was in spiffing form. Asked by a voter in New Hampshire about his academic record, Biden grew unhinged. "I think I probably have a much higher IQ than you do," he said, before rattling off a sequence of falsehoods that ought by rights to have ended his career. He said that he graduated in the top half of his law-school class. He did not. He said that he went to that law school on a "full academic scholarship." He did not. He said that he "won the international moot-court competition," "was the outstanding student in the political science department," and "graduated with three degrees from undergraduate school." None of that was true. In closing, Biden betrayed what the exchange was really about. "I'd be delighted to sit back and compare my IQ to yours if you'd like," he jabbed. Mr. Dunning-Kruger, your table is ready.
I do indeed remember that incident. It was indeed the mark of an asshole (or, at least, an insecure jerk) and it reminds me that it's not quite true that I've always liked Joe Biden. That was, however, 35 years ago. Granting that he was a middle-aged man of 45 at the time, he seems a genuinely better human being these days.
Instapundit guest Ed Driscoll approvingly cites the piece and piles on with an even older anecdote, a truly cringe-worthy interview with Kitty Kelly from way back in 1974.
Amusingly, the commenters, while agreeing that Biden is indeed an asshole, use the space to bludgeon Cooke for not realizing it in time to get behind Trump in 2020 and instead urging people to vote for Biden.
And, over at Patterico's, guest poster JVW calls Cooke's characterization "exactly right," adding,
The court stenographers (as Rush Limbaugh used to call them) still want us to believe that Joe Biden is a lovable, grandfatherly, figure who — ok, sure — may from time to time lash out in a rather startling manner but who otherwise is dedicated to restoring honor and dignity to the White House. Pish posh. He's a raging jackass, a man who was only about half-bright to begin with and now has lived long enough to witness his mind turning to mush in his dotage, which in itself has made him infinitely more irascible and stubborn.

[…]

The President's eruptions of sputtering episodes of rage are apparently even directed at young female staffers. It was just the other day that an older powerful white male speaking harshly to young women aides was considered to be absolutely unacceptable and an unquestioned abuse of authority. These days, with a progressive establishment desperate to keep Democrats in power and stuck with a truly wretched human being as party leader, the media is finding it harder and harder to cover for this pompous jerkwad. Not that they don't try. The same Axios article which related President Biden's awful temper took some ameliorating steps to explain them away by dutifully quoting an unnamed Biden aide who insists that the Boss's temper-tantrums and barbed outbursts demonstrate a measure of respect for the unlucky recipient. They also quote unnamed employees of Team Biden as pondering whether more public displays of his temper would help assuage concerns by the voters that the 80-year Chief Executive lacks passion for the job, somehow ignoring the fact that Biden has on many occasions shown his prickly and pugnacious side, never really to any positive effect save for his most devoted fans.

Whether it's in lashing out at other branches of government, his repeated lies and fairy-tales, or the simple bullying of his overmatched staff, Joe Biden has proven conclusively that he is unfit for the office which he holds. Given that this has been the trend for our Chief Executives in recent years and that there is a very strong chance that next year's election will come down to two grossly unfit choices offered up by our two major political parties, we seem to be entering into the dying days of the American experiment. It was fun while it lasted, but we voters proved to be incapable of keeping our Republic, just as Benjamin Franklin seemed to foreshadow nearly a quarter-millennium ago.
It is possible, I suppose, to simultaneously believe, as both Cooke and JVW seem to, that Trump is unfit for office and that Biden is, too. (I haven't read Driscoll consistently enough in recent years to know his position on Trump.) But it sure seems like a lot of vitriol over a report of yelling in the oval office and some decades-old anecdotes. And, if we're again faced with the choice between a twice-impeached former President who tried to foment an insurrection and a guy who yells at staffers and was a jerk to reporters during the Reagan administration, it's not a particularly close call.
JVW does, backhandedly at least, make a point that occurred to me as well reading the Axios account about our double standards on demeaning treatment of staffers. In particular, Amy Klobuchar got quite a bit of scrutiny over her own tirades, with a weird incident involving a salad garnering page one treatment in the nation's newspaper of record. The most obvious explanation is that we view these things through gendered lenses, giving men more of a pass for being, well, assholes. But it's also true that Klobuchar was a relative unknown on the national scene, while Biden has been well known for almost half a century now. Our perception of him as an all-around decent guy is pretty hardened at this point and it can survive some contrary evidence from time to time.