Hamid Karzai Blasts United States In Farewell Address
Before leaving office, Hamid Karzai is once again biting that hand that has fed him for the past decade.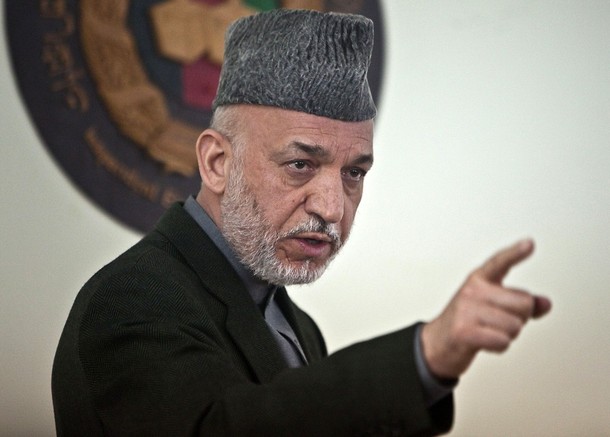 Hamid Karzai will be leaving office in the coming weeks, making way for President Ashraf Ghani, who will be serving in office under a power sharing arrangement with his rival in the recently concluded Presidential election, Abdullah Abdullah. but he's not leaving quietly. In addition to the manner in which he has tried to assert influence over the controversies the followed the election and continuing to block final ratification of the Status of Forces Agreement between Afghanistan and the United States, yesterday he gave a farewell address in which he blasted the very people that were responsible for putting him in office in the first place:
KABUL, Afghanistan — In his nearly 13 years as the leader of Afghanistan, Hamid Karzai's most memorable public stances always seemed driven by some deep emotion, and an almost compulsive need to express it. There was heartbreak for families killed by errant airstrikes, outrage at the scheming of hostile neighbors, palpable longing to preside over a peaceful end to the Taliban insurgency.

On Tuesday, though he delivered a farewell speech in a loose and sometimes jocular way, there was, again, no doubt of the emotion that inspired his words: bitterness at what he saw as an American betrayal of Afghanistan.

"America did not want peace for Afghanistan, because it had its own agendas and goals here," he told an audience of hundreds of cabinet and staff members at the presidential palace in Kabul, warning them not to trust the Americans. "I have always said this: that if America and Pakistan want peace, it is possible to bring peace to Afghanistan."

Mr. Karzai's denunciation of the United States came in terms that had become wearily familiar to the diplomats watching the televised speech from the heavily fortified American Embassy just a few blocks and many blast walls from the palace. But what the president did not say, omitting any recognition of the more than 2,000 American lives and hundreds of billions of dollars the United States expended in fighting the Taliban, may have grated more.

Instead, Mr. Karzai pointedly praised the assistance of countries that had given notably less, like India. He did not mention the sacrifices of other Western allies, nor of his own security forces, who have lost an estimated 15,000 men killed in a war that seems unlikely to end soon.

"I want to thank those countries who genuinely supported us," Mr. Karzai said. "Western countries had their personal interest — the Western countries and the United States had their own personal goal."

The departing American ambassador, James B. Cunningham, dispensed with diplomatic niceties afterward, telling Western journalists that Mr. Karzai's remarks were ungrateful and ungracious.

"It makes me kind of sad. I think his remarks, which were uncalled-for, do a disservice to the American people, and dishonor the sacrifices that Americans have made here," Mr. Cunningham said. "By not recognizing the many contributions that Americans have made, and our partners, that's the part that's ungracious and ungrateful."
This isn't exactly out of character for Karzai, of course. In the decade that he has been in power as President, he has frequently engaged in what can often only be called bizarre rants against the United States and others for reasons that make no sense other than, perhaps, the fact that he is appealing to a domestic constituency. Both of his elections were marred by allegations of fraud and corruption, but little was made of it because it was in the interests of the United States and our mission in Afghanistan that he stay in power. It's also been clear from the beginning that there was a high degree of corruption among the President, his family, and his inner political circle that included bribes from local chieftains and from the Islamic Republic of Iran.  On more than one occasion, he has called for the U.S. to reduce its presence in his country, a position which once 'astonished' General David Petraeus, to saying that the U.S. led coalition wasn't doing enough to help Kabul in the government's war against the Taliban. He's accused the United States and the rest of the coalition of colluding against him in remarks that can only be described as paranoid, and most recently he said that Afghanistan didn't need any American troops to stay after 2014 even though pretty much every other political leader in Kabul thinks otherwise. Taken in that context, Karzai's rant yesterday fits a long established pattern.
I've long been critical of the war in Afghanistan. In the beginning, it was indeed the "good war" that President Obama characterized it as when he was running for office in 2008 in that we were pursuing the people responsible for the worst non-military attack on the American homeland in history and who had promised to conduct more attacks if they were able to do so. At some point, however, that war switched from being about al Qaeda and turned into an effort to prop up the Karzai government in Kabul and fight his war against the Taliban for him. We did this, at least in part, because it as allegedly in our interests to try to create a stable Afghanistan that would no longer be a haven for terrorists, but in the process we managed to ally ourselves with a corrupt, mercurial politician who was playing all sides against each other. Now, as he sails off into a retirement that will no doubt see him spending more time at a penthouse in Dubai than on the ground in Kabul, he has engaged in another irrational attack on the people who are responsible for every benefit he has received over the past 13 years. Aside from the lack of gratitude that this demonstrates, it's yet another signal of exactly the kind of person we were dealing with. Good riddance to him, and one hopes we'll get ourselves out of that country before it causes us even more problems.