Hillary Clinton Remains Untouchable In The Polls
A new poll shows that Hillary Clinton remains largely unstoppable on her quest for the Democratic Presidential Nomination, and she has a pretty clear path to the White House as well.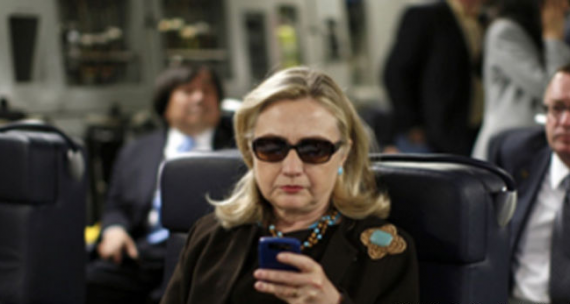 A new NBC News/Wall Street Journal Poll shows that Hillary Clinton continues to be the overwhelming, indeed prohibitive, leader of the race for the Democratic nomination, and continues to lead her potential Republican rivals in head-to-head matchups:
Hillary Clinton has emerged from the rocky launch of her second presidential bid with a firm grip on Democratic voters and leads over three potential Republican rivals, a Wall Street Journal/NBC News poll finds.

The survey, taken in the days after Mrs. Clinton held her first public rally earlier this month, showed the former secretary of state garnering broad support from voter groups most likely to determine the election, including Latinos and women under the age of 50.

The poll underscores Mrs. Clinton's strength as a candidate, both among Democrats and key constituencies that could tip the balance in a general election. But the results also show a clear desire among Democratic voters for a rival to emerge and hint at potential cracks in her support.

"She starts with advantages among very important groups," said Republican pollster Bill McInturff, who conducted the survey with Democrat Fred Yang. He called her standing among fellow Democrats "the strongest and most advantageous" he has seen for any candidate entering a primary since he began working in politics in 1980.

Despite the strength of her early support, polls last week from the first-in-the-nation primary state of New Hampshire showed Sen. Bernie Sanders of Vermont pulling closer. And Mrs. Clinton's failed 2008 bid offers a dash of caution, as well.

"When was the last time you saw numbers as strong as this?" asked Democratic pollsterPeter Hart, a member of the polling team. "It would be Hillary Clinton in the early part of 2007"—before Barack Obama surfaced as a significant challenger.

No similarly strong competitor has yet emerged this time, and Mrs. Clinton enters the 2016 contest with unusually broad support from fellow Democrats—some 92% of Democratic primary voters say they could see themselves supporting her; just 8% said they couldn't.

Three-quarters of Democratic primary voters said she was their top pick to be the nominee, compared with the 15% who selected Mr. Sanders. Mrs. Clinton was the top choice of 71% of liberals and 91% of nonwhite Democratic primary voters, giving rivals little room to outflank her.

(…)

Looking ahead to the November 2016 election, Mrs. Clinton leads former Florida Gov. Jeb Bush, 48% to 40%, in a hypothetical head-to-head matchup. Her lead grows to 10 points in a face-off with Florida Sen. Marco Rubio and 14 points against Wisconsin Gov. Scott Walker.

The survey of 1,000 adults, conducted June 14-18, found that Americans are almost evenly divided on whether they want the next president to be a Republican or a Democrat. But among many key demographic groups, Mrs. Clinton outpaces the support for her party.

For example, Latinos favor a Democratic president over a Republican by nine percentage points, but Mrs. Clinton's average lead over Messrs. Bush and Rubio is 42 points. Similarly, she draws more support than an unnamed Democrat among women under the age of 50.
Among other things, this poll seems to demonstrate that the purported rise of Bernie Sanders that many have been talking about over the course of the last several weeks is much less than meets the eye. Yes, we have seen some evidence that Sanders has picked up some interest in New Hampshire, but as I said last week that is somewhat to be expected given the fact that Sanders has been a fixture in neighboring Vermont for some thirty years and that he likely knows how to connect with rural New Hampshire-ites the same way he connects with people in his home state. Once you look beyond the Granite State though to places such as Iowa, South Carolina, and Florida, Sanders is barely registering at all. Indeed, I am not certain that there is much of anything constituting a Bernie Sanders Presidential campaign outside of Iowa and New Hampshire and while those to states are important, they are not the end of the race and Clinton will obviously be able to out-organize Sanders and everyone else in the Democratic field as time goes on.
This poll also shows that Clinton remains the prohibitive favorite for the Democratic nomination in a way that no non-incumbent candidate in either party in recent memory has been. While some political pundits and many conservatives continue to hold on to the trope that observations about Clinton's seeming inevitability ignore what happened to her in 2008 when she lost the nomination to Barack Obama in a closely fought race. While this position is, to a large extent, driven by political pundits who need something to talk about and conservatives engaging in wishful thinking, it is a position not supported by the evidence. If you actually look at the polling from this point in 2007, in Iowa just to pick one state, it is obvious that Barack Obama was already a potential threat to Clinton this far out even if he was a candidate that most people didn't view as being able to go the long haul against her. There is simply nobody in the Democratic field like that this year. Not Martin O'Malley. Not Lincoln Chafee. Not Jim Webb if he gets in the race. And, most certainly not a septugenarian socialist from Vermont named Bernie Sanders. It's possible something could happen that could deny Clinton the nomination, but that something is going to have to be something of her own doing such a mistake of a nature, which seems unlikely, or a health problem that forces her from the race, which hopefully will not happen. Beyond that, it seems certain that Hillary Clinton is going to be the Democratic nominee for President. Any analyst trying to tell you otherwise really shouldn't be taken seriously at the moment.
On the General Election side, it is quite honestly far too early to be making any definitive predictions or drawing any conclusions. The Republican Convention is still a year away, and the Democratic Convention is a month after that. There is much that can happen over the course of that year that will impact the General Election race between Clinton and whomever the Republican nominee ends up being, and even more that will happen over the course of the four months between the conventions and the General Election. That being said, the fact that Clinton continues to lead all of her potential Republican opponent that she is put up against, and most especially the candidates that are most likely to win the nomination such as Jeb Bush, Scott Walker, and Marco Rubio, is something that should cause concern for the GOP. Beyond these raw popular vote match-ups, though, the Democratic Electoral College advantage is something that should make Clinton supporters quite pleased with her current position in head-to-head polling.
We are still very much in the early stages of the 2016 Presidential race, but Clinton continues to look like the strongest candidate in the field. While that could change as time goes on, the fact that she has maintained that position despite months of reported about reporting about stories involving email services and donations to the Clinton Foundation would seem to indicate that she's close to being unstoppable.