In Many States, It's A Midterm Election In Name Only
In many states, there aren't really any races at all this year even if both parties have candidates on the ballot.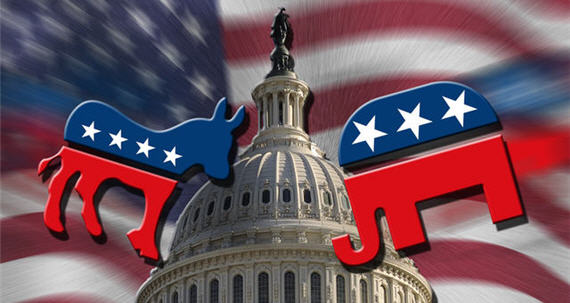 While other states are in the middle of high profile races heading into the midterms, things are positively copacetic in South Carolina:
Although candidates, parties and outside groups are spending nearly $4 billion to capture the two dozen House races and maybe one dozen Senate contests across the nation that are truly competitive, in states such as South Carolina, there are precious few bumper stickers or yard signs to be seen and barely any debates or forums where challengers can face off against incumbents.

"Why would congressmen come around here?" asked Beverly Huff, a Republican who owns the Antique Emporium in downtown Aiken. "They're shoo-ins. They go to Washington and the money is flowing and pretty soon, they feel entitled and they feel dug-in, and they don't need us anymore. I want a front-row seat on Judgment Day so I can watch them all get sucked to hell."

In Newberry, a charming town 40 miles outside of Columbia, Jason Valek, the wrestling coach at Newberry College, shakes his head at the lack of competition. "It's just the norm now — just presumed that the same good old boys stay in office till you're off the earth," he said. "Just like in college wrestling, it'd be nice to get someone to push the front-runner."

But Rep. Jeff Duncan — a Republican rolling toward his third term representing a mostly rural district between Columbia and Greenville — sees the lack of competition as a sign that, whatever frustrations Americans have with their government, they think their own congressman is doing a swell job.

"Most people are generally satisfied with their representative," Duncan said at a candidates night at the glorious Victorian opera house in Newberry. "True, you're not seeing the engagement you might have seen in 2008, but people have learned that hope and change ain't all it was cracked up to be." (Actually, after many years in which voters blamed Congress for Washington's ills but approved of their own House member, the latest Washington Post-ABC News poll on Congress found that most Americans now disapprove of their representative's work as well.

(…)

"If the voters keep voting the same people back in and the electorate is suffering from terminal ennui, and the candidates have learned to say nothing because the slightest gaffe will end their careers, why would anyone run?" asked Dick Harpootlian, former chairman of the state Democratic Party. "Why would candidates bother going out and campaigning and exposing themselves to getting in trouble when they can use technology to spoon-feed their message to the people they've identified as their core voters?"

"Nobody's out on the hustings," said David Woodard, a Republican political consultant who teaches at Clemson University. "Debates are unthinkable because you're giving credibility to the nobody who's running against you. So there's not much discourse, not much substance."

"A lot of forces are stacked against change — incumbency, money, outside groups — and when races­ are not competitive, more people may decide to stay home," said Candice Nelson, who runs the Campaign Management Institute at American University. "There needs to be something that jolts the system. But I don't know what that is."
The House of Representatives isn't the only part of South Carolina's elections that are basically foreordained. Both Lindsey Graham, who is running for re-election, and Tim Scott, who is running in his own right to fill the remainder of Jim DeMint's term after his appointment in 2013, are expected to coast to easy victories over their re-election campaigns. Even in the one hard fought race, the race for Governor, it is clear that Nikki Haley will be re-elected by a wide margin.  The Palmetto State isn't the only state where this is likely to happen, either. Here in Virginia, all of the incumbent Members of Congress running for re-election will be elected easily, and while Virginia Republicans continue holding out hope that the race will narrow in the coming week, it seems quite apparent that Mark Warner will be re-elected to the Senate quite easily on November 4th. The only exceptions to that rule are the two open Congressional seats due to retirements, but even there it seems highly unlikely that we'll see a party flip in either seat. One seat, the 8th District, mostly encompasses the heavily Democratic areas of Arlington County and the City of Alexandria and it's pretty much guaranteed that retiring Democratic Congressman Jim Moran will be replaced by former Virginia Lt. Governor, and Democrat, Don Beyer. The other open seat is the 10th District, which is being vacated by long time Republican Congressman Frank Wolf. While Democrats in Virginia hold out hope of picking up that seat by relying on votes in the Northern Virginia suburbs that President Obama won in 2012 and Governor McAuliffe narrowly won in 2013, it appears that the GOP will hold onto the seat with their candidate State Delegate Barbara Comstock. Right now, the 10th District is listed as Leans Republican by Charlie Cook,  Stuart Rothenberg and Larry Sabato, and the fact that national Democrats have pulled out of the District is a strong indication that VA-10 will remain Republican. So, that's at least two states where incumbents are not in danger and there's little chance of any given seat changing from one part to another and given the small numbers of House (5% of seats considered toss ups), Senate (26% of contested seats considered toss-ups), and Governor's (27% of contested seats considered toss-ups) seats that are considered to be in play this year, there are likely several more that fall into that category.
The reasons for this phenomenon are ones that we've gone over before and don't really need to be restated here in detail. Incumbents in both the House and the Senate get re-elected by overwhelming margins even in years where there is a "wave" election, and notwithstanding the fact that public opinion polls show that general approval of Congress itself languishes in the low double, or even single, digits. Historically, the re-election rates for incumbent Governor's tends to be slightly below that for Congress but still high enough that most Governors running for re-election have little to worry about, the only difference is that turnover in Governor's mansions is higher due to the existence of term limits. That last point, of course, is another argument in favor of the idea of term limits on the Congressional and Senate level, but that would require a Constitutional Amendment that seems unlikely to make it past the Congressional phase of the ratification process any time soon. This is one reason why, for example, the idea of the Congressional "swing district" is largely a thing of the past. Clearly, there's a decided value in incumbency that is hard for any challenger to overcome regardless of any other factors that may be in play. In addition to incumbency, though, we've also got the added factor of political redistricting that, in the end, often ends up protecting incumbents of both parties. That's exactly what happened here in Virginia, for example, although that redistricting plan is now in doubt because of the extent which the legislature went to protect Congressman Bobby Scott's seat in the majority-minority 3rd Congressional District. As long as redistricting is a political matter, and it seems likely to be for the foreseeable future, results like this are going to be inevitable and we're going to see more states like South Carolina and Virginia where, even when there is an opponent on the ballot, there isn't really much of a race.