Jeff Sessions Airs Obsequious Pro-Trump Ad
Jeff Sessions demonstrates just how obsequious he's willing to be to get his Senate seat back.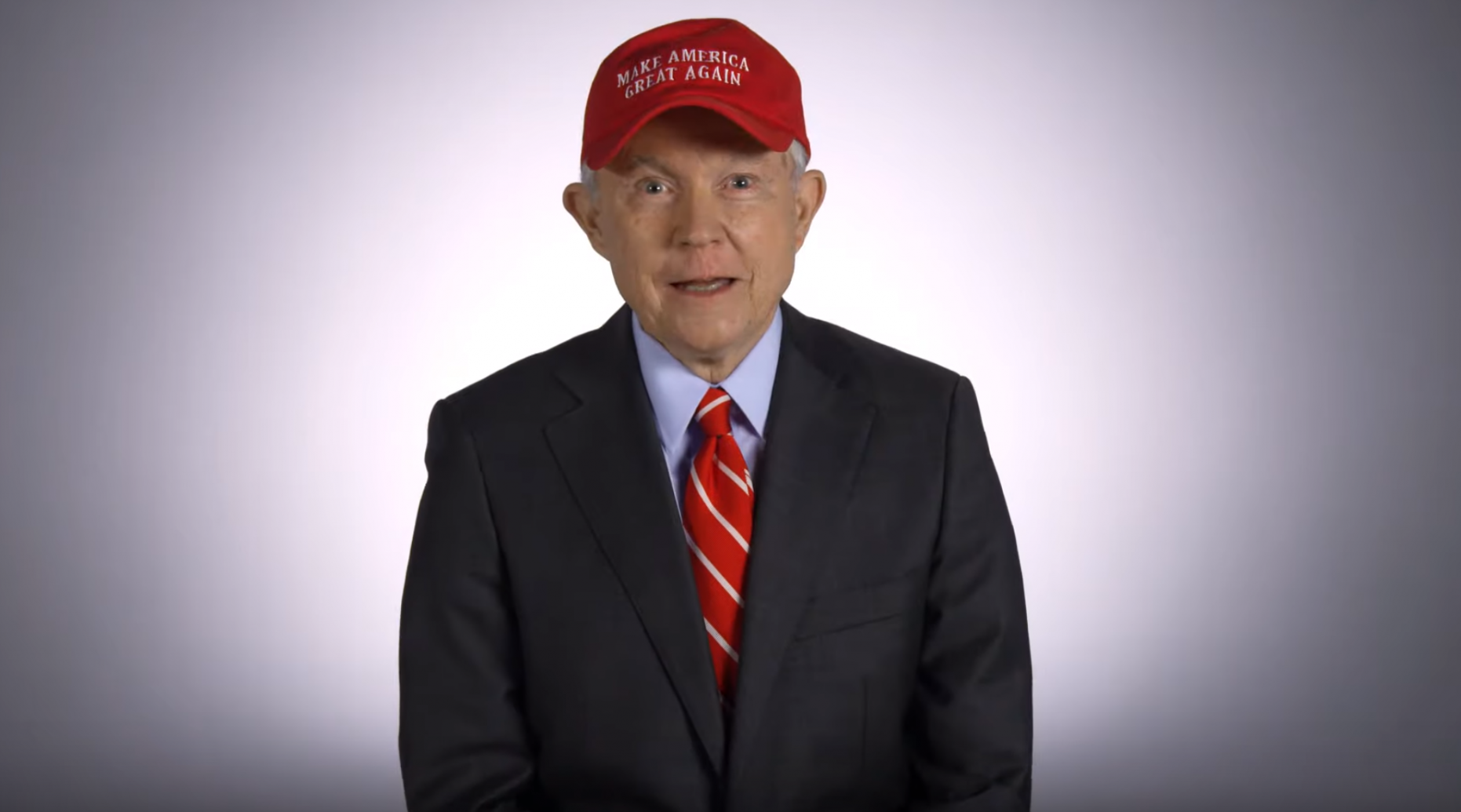 Former Alabama Senator and Attorney General Jeff Sessions is out with his first ad, and it's yet another obsequious paean to the man who spent the better part of two years insulting and demeaning him:
Former Attorney General Jeff Sessions – working to repair his relationship with President Trump as he ramps up his campaign for the U.S. Senate in Alabama – puts a "Make America Great Again" hat back on his head in a new campaign ad.

A campaign senior adviser told Fox News the ad will run statewide in every market for about 10 days.

The ad, called "First to Endorse," highlights Sessions' early support for Trump. Sessions in February 2016 was the first senator to endorse Trump's candidacy, wearing one of the trademark Trump campaign hats at the time. The ad was released as Sessions appeared for an interview Thursday on Fox News' "America's Newsroom."

"You know, out of the 100 United States senators, I was they very first one to stand with Donald Trump," Sessions says in the ad. "While others were hiding under their desks I went to work. I knew he was the one to make America great, and I'll keep fighting for President Trump and his agenda."

Since entering the race last week to reclaim his past Senate seat, Sessions has singularly focused on emphasizing his support for Trump, despite their past rocky history. Sessions – who resigned from the Justice Department a year ago amid public attacks from the president – was one of Trump's most loyal and trusted advisers before their relationship soured over his recusal from the Russia investigation.

He served in the Senate from 1997 to 2017 until he joined the Trump administration as attorney general.

A major question hanging over Sessions' entrance into the race is whether Trump – who has remained popular in Alabama – would take steps to thwart his bid. So far Trump has not publicly attacked Sessions' candidacy.
Here's the ad:
Allahpundit at Hot Air comments:
It's only mildly queasy until the end, when he felt compelled for God knows what reason to re-create the moment at that 2016 Trump rally when he donned the MAGA hat. To genuflect that way now after he spent so many months being flogged by Trump for recusing himself from Russiagate is one of the most pitiful groveling panders we'll ever see from a politician.

Does it even help his Senate chances? I can't imagine that it does much to endear him to Trumpers. Watching Sessions shine Trump's shoes with his tears must be more amusing to them than ingratiating. Look at the vanquished villain, whimpering for the president's favor! It's especially un-Trumpy in how servile it is. Trump's obsession with showing "strength" by never apologizing, never letting a slight go unanswered, etc, is the polar opposite of this Sessions vomit. Why would someone who admires that quality in Trump not feel contempt for Sessions for lacking it so starkly?

Sessions' obsequiousness toward the President is notable given the fact that the respect that he appears to be showing the President is obviously not mutual and that the President seems unlikely to return the favor. Even while he was still serving as Attorney General, Trump's contempt for the person who was one of his earliest and most powerful supporters in Congress was an open secret in Washington. To a large part, Trump's disdain for Sessions was rooted in the fact that he had recused himself from the Russia investigation due to his involvement with the Trump campaign, but there also seemed to be a truly vindictive personal nature to the attacks. It was widely reported, for example, that the President mocked Sessions' southern accent and called him "Mr. Magoo" behind his back. Trump continued these attacks on Sessions long after he had left office as Attorney General, and all but claimed that Sessions himself was part of the alleged "Deep State" conspiracy that the President claims was arrayed against him.
Like any other man subjected to such attacks, one would expect that Jeff Sessions would hold a grudge against the President not just for firing him, but also for the public and private personal abuse that he suffered. This abuse came not just from the President, but also from supporters like Steve Bannon, who once suggested that having graduated from the University of Alabama shows that Sessions was too stupid to get into a "real" school like Georgetown or the University of Pennsylvania, the alma maters of Bannon and Trump respectively.
Instead of giving any indication of holding such a grudge, though, Sessions looked as obsequious as Lindsey Graham and Rand Paul in his video and Fox News Channel appearance last night. It is understandable, I suppose. Sessions wants to win the nomination for the Senate in Alabama, after all, and while he has his own record as a Senator to fall back on it's clear that any candidate in the Republican Party that indicates that there is even the slightest bit of daylight between them and the President is going to receive the wrath of Trump supporters. This is especially true in a solidly red state like Alabama, where the President won by 600,000 votes in 2016. As with so many other signs, this is yet further confirmation that, as James Joyner and myself have said in the past that the Republican Party is Trump's party now, and that even a man who endured two years of personal insults and attacks at the hands of the President is willing to bow down to him to get back to the Senate. It's really quite pathetic.