Justice Thomas Quashes Retirement Rumors
Justice Clarence Thomas is seemingly putting to rest any reports that he's considering retiring in the near future.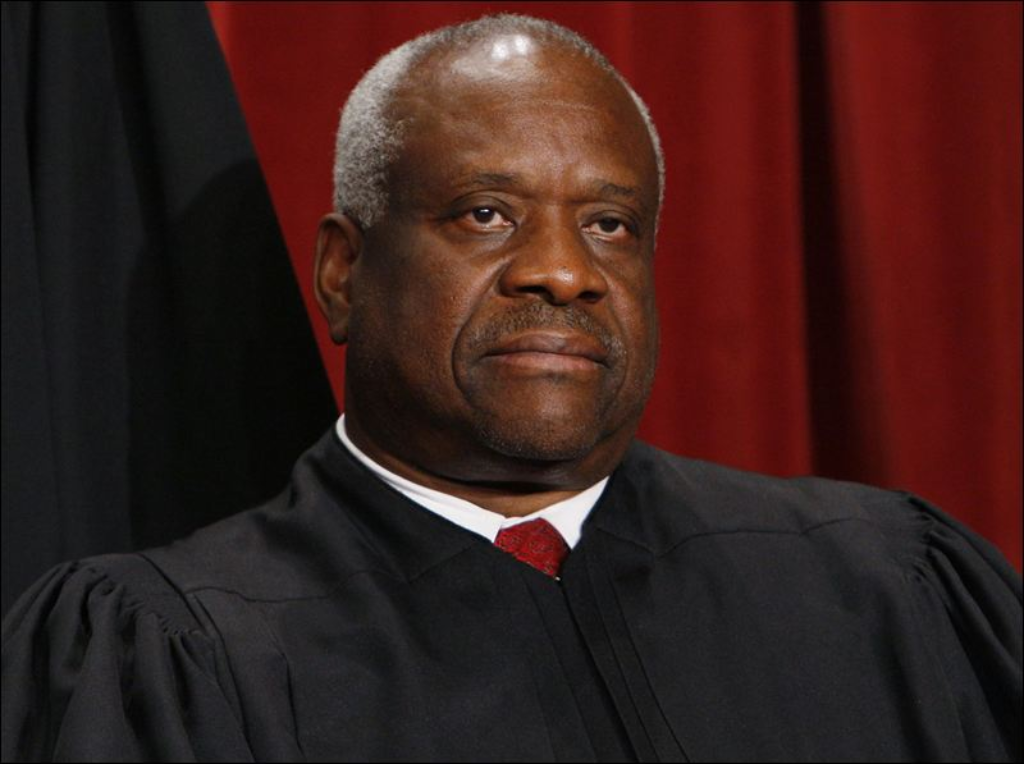 At the end of the Supreme Court's last term, Justice Anthony Kennedy announced that he was retiring, thus setting up the fight that eventually led to the confirmation of Justice Brett Kavanaugh. Kennedy's retirement was the first since Justice John Paul Stevens, who replaced by Justice Elena Kagan, announced his retirement eight years earlier. Since then, the only other vacancy on the Court was, of course, the one created by the death of Justice Anontin Scalia in 2016. Eventually, of course, Scalia was replaced by Justice Neil Gorsuch, who was confirmed in April 2017. In the eight years between Stevens' retirement and Kennedy's, though, there were no other voluntary retirements on the nation's highest court
With two years left in President Trump's first term, there has been some speculation about whether we might see one more retirement before the 2020 election. For obvious reasons, it is unlikely that the two oldest members of the Court's liberal wing would step aside while Republicans control both the White House and the Senate, so that leaves Justice Clarence Thomas. When Kennedy departed, Thomas became the longest-serving Justice on the Court, a status that, among other things, gives him the power to assign opinions in cases where the Chief Justice is not in the majority. Despite that status, there has been speculation over the past year that Thomas, who will turn 71 years old at the end of June, might decide to take this opportunity to step down while he can be assured that he'll be replaced by a conservative Justice. Based on recent comments attributed to the Justice, though, it doesn't appear as if he's planning on going anywhere:
WASHINGTON — In rare public remarks, Justice Clarence Thomas on Monday dismissed what he called "this rumor that I was retiring."


"I have no idea where this stuff comes from," he said.


Justice Thomas, in a relaxed and reflective mood, was interviewed by David Rubenstein, a financier and philanthropist, in the Supreme Court's courtroom as part of a series of lectures sponsored by the Supreme Court Historical Society.


"I really don't have a lot of stress," Justice Thomas said cheerfully. "I cause stress."


Justice Thomas, 70, joined the court in 1991 and is now its longest-serving current member. Political scientists say he is the most conservative justice in the Supreme Court's modern history.


He often writes concurring and dissenting opinions that are joined by no other justice. So far this term, he has called for the court to reconsider New York Times v. Sullivan, the landmark libel ruling, and argued that the fight for abortion rights shares roots with the eugenics movement.



Washington Post Supreme Court reporter Robert Barnes has more:
Justice Clarence Thomas said Monday that he has "no idea" where rumors started that he was going to retire from the Supreme Court this summer.


Thomas, 70, did not actually say during a conversation before the Supreme Court Historical Society that he was staying on the court. But he made it sound as though rumors of his departure were groundless.


"I have no idea where this stuff comes from," he told David Rubenstein, the financier and philanthropist who interviewed him.


Rubenstein asked Thomas whether it was "enemies putting that out or your friends putting that out because they wanted you to rest more."


"I think people just wanted to know what I was going to do," Thomas said with a laugh, "since I couldn't figure it out myself."


He said he first heard the rumors from his wife, Ginni, "who gets these alerts."

"She says, 'What is it I don't know?' " Thomas recalled. "I said, 'What are you talking about?' She said, 'You're going to retire.' I said, 'Wow — good to know that.' I mean, you have to know every day what's on your schedule."


Thomas, the longest-serving justice and the anchor of the court's conservative wing, has said before that he did not have plans to retire.


"I think one of the things you have to get used to, in this business, in here, is that people can say things about you, and for you, that have nothing to do with you," Thomas said.


Justices are often the subject of retirement rumors, often instigated by those who want a justice to leave when a like-minded president can nominate a younger successor. Justices Ruth Bader Ginsburg and Stephen G. Breyer were on the receiving end of such speculation when President Barack Obama was in office.
In some sense, the speculation that has swirled around a possible retirement on Thomas's part is similar to that which swirled around Ginsburg's final term in office. As I've noted in the past, it did make a certain amount of sense in that Thomas would likely prefer being replaced by a fellow conservative Justice rather than one chosen by a Democratic President. Given that he is presented with a Republican Senate and a Republican-controlled Senate and that this is not an election year, many people assumed that, if Thomas was looking to retire it would be more likely to happen in 2019 than in 2020. This interview appears to foreclose that possibility and, indeed, make it seem unlikely that Thomas would consider retiring next year absent a significant change in circumstances.
Part of the speculation was also built on the idea that some people assumed that Thomas was ready to leave after his closest ally Justice Scalia passed away. Based on this interview, though, Thomas seems to be happy on the court, he seems to be healthy as well. Moreover, it is likely that the fact that the Supreme Court seems likely to have a working majority that tilts to the right for some time to come arguably may cause him to be eager to stick around to be a part of that. Finally, if Justices Breyer and Ginsburg are guides, he could choose to stay on the court for another decade or more if he chooses. What all this means, of course, is that it is unlikely that we'll see a voluntary vacancy on the Supreme Court until after the Presidential election.