Brett Kavanaugh Confirmed As 114th Justice Of The U.S. Supreme Court
After a long and contentious battle, Brett Kavanaugh has been confirmed to become the 114th Supreme Court Justice.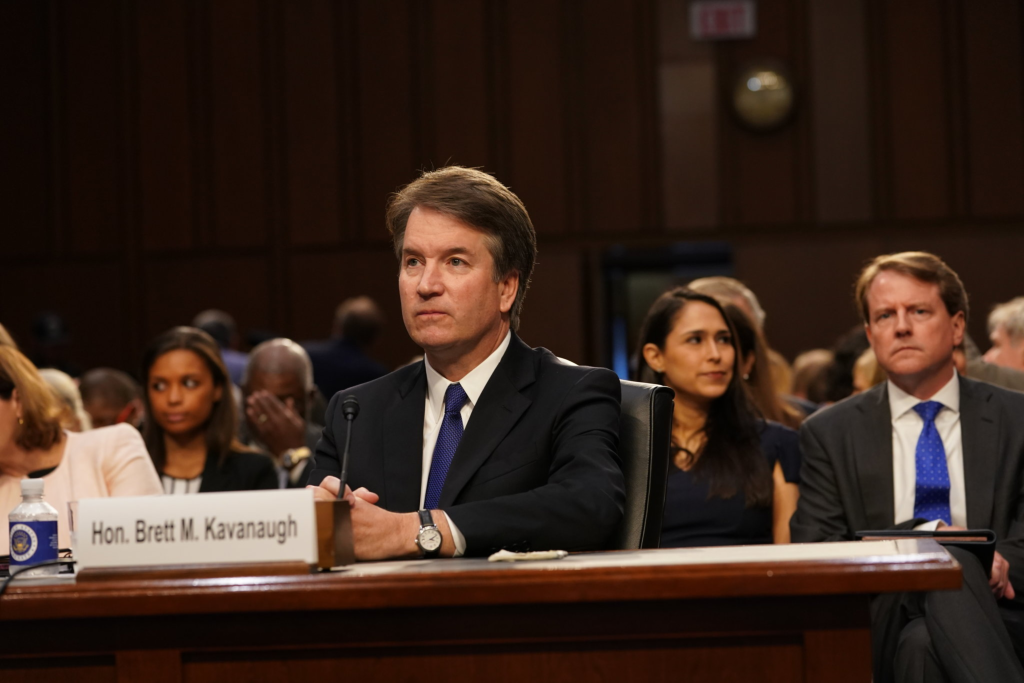 As expected, Judge Brett Kavanaugh has been confirmed to become the 114th Justice of the Supreme Court after one of the most contentious and divisive nomination fights in American history:
WASHINGTON — A deeply divided Senate voted on Saturday to confirm Judge Brett M. Kavanaugh to the Supreme Court, delivering a victory to President Trump and ending a rancorous Washington battle that began as a debate over ideology and jurisprudence and concluded with questions of sexual misconduct.

Mr. Trump said Judge Kavanaugh would be quickly sworn in. "I applaud and congratulate the U.S. Senate for confirming our GREAT NOMINEE, Judge Brett Kavanaugh, to the United States Supreme Court," he wrote on Twitter. "Later today, I will sign his Commission of Appointment, and he will be officially sworn in. Very exciting!"

The Senate vote was 50 to 48, almost entirely along party lines. It did not go smoothly — protesters repeatedly interrupted the proceedings, with the Capitol Police dragging screaming demonstrators out of the gallery as the senators sat somberly at their wooden desks in the chamber below. "This is a stain on American history!" one woman cried, as the vote wrapped up. "Do you understand?"

The final result was expected; all senators had announced their intentions by Friday. Senator Lisa Murkowski of Alaska — the lone Republican to break with her party — was recorded as "present" instead of "no" as a gesture to a colleague, Senator Steve Daines of Montana, who was attending his daughter's wedding and would have voted "yes." By voting present, she maintained the two-vote margin that had pushed the nomination past a crucial procedural hurdle on Friday. Senator Joe Manchin III of West Virginia was the lone Democrat to support Judge Kavanaugh.

But while the brawl over Judge Kavanaugh's confirmation may be over, people on both sides of the debate agree that it will have lasting ramifications on the Senate, the Supreme Court and the nation.

As the senators entered their final hours of debate on Saturday, hundreds of Kavanaugh opponents were massed on the steps of the Supreme Court. They later rushed the barricades around the Capitol and sat on its steps, chanting "No means no!" as Capitol Police officers began arresting them. Women and sexual assault survivors around the country were furious, feeling as though their voices had not been heard.

Inside the chamber, protests erupted as Senator John Cornyn, Republican of Texas, delivered a speech deploring "mob rule" — a reference to the activists and sexual assault survivors who have roamed the Capitol in recent weeks, confronting Republican senators. "I stand with survivors!" one shouted. "This process is corrupt!"

Even some of Judge Kavanaugh's future colleagues sounded unsettled. On Friday, on the eve of the vote, two of them — Justices Elena Kagan and Sonia Sotomayor — expressed concern that the partisan rancor around his nomination would injure the court's reputation.

"Part of the court's strength and part of the court's legitimacy depends on people not seeing the court in the way that people see the rest of the governing structures of this country now," Justice Kagan said in an appearance at Princeton University. "In other words, people thinking of the court as not politically divided in the same way, as not an extension of politics, but instead somehow above the fray, even if not always in every case."

Once confirmed, Judge Kavanaugh will shift the ideological balance of the court to the right, giving it a solid conservative majority. He will replace the retired Justice Anthony M. Kennedy, a moderate conservative who was its longtime swing vote, and at 53 he is young enough to serve for decades, shaping American jurisprudence for a generation, if not more.
More from The Washington Post:
The Senate voted to confirm Judge Brett M. Kavanaugh as the Supreme Court's 114th justice on Saturday by one of the narrowest margins in the institution's history, as police stood guard and protesters' shouts of "shame, shame" echoed through the Senate chamber.

The 50-t0-48 vote capped a brutal confirmation fight that underscored how deeply polarized the nation has become under President Trump, who has now successfully placed two justices on the nation's highest court, cementing a conservative majority.

With Vice President Pence presiding, senators sat in their chairs and rose to cast their votes, repeatedly interrupted by protesters in the visitors' gallery who yelled out and were removed by Capitol Police. The Supreme Court announced Kavanaugh would be sworn in later Saturday.

Trump nominated Kavanaugh in July to succeed retired justice Anthony M. Kennedy, a move that triggered an intense partisan battle over the court's future well before allegations of decades-old sexual misconduct against Kavanaugh surfaced, delaying a confirmation vote by a week to allow for a limited FBI investigation.

Senate Majority Leader Mitch McConnell (R-Ky.), in an interview with The Washington Post before the vote, expressed his confidence in Kavanaugh's denials of allegations of sexual assaults and decried the "mob" of protesters who had descended on the Senate.

"I never thought Judge Kavanaugh would withdraw," McConnell said. "When your integrity is attacked like his was, a withdrawal was certainly no solution to that, so we were in the fight to the finish."

Before the vote, Senate Minority Leader Charles E. Schumer (D-N.Y.) warned that his colleagues were "about to elevate a nominee who doesn't belong on the nation's highest bench."

Schumer suggested several reasons, including Kavanaugh's temperament at a high-profile hearing last week at which faced off with his initial accuser, Christine Blasey Ford, and exchanged sharp words with several Democrats on the Judiciary Committee.

"To Americans, to so many millions who are outraged by what happened here, there's one answer: Vote," Schumer said.

The acrimonious battle over Kavanaugh's confirmation is certain to influence next month's midterms, pitting energized female voters angered by the treatment of Kavanaugh's accusers against conservatives who see him as a man wrongly accused.
Not surprisingly, President Trump, who is on his way to Kansas for a political rally, celebrated the win:
I applaud and congratulate the U.S. Senate for confirming our GREAT NOMINEE, Judge Brett Kavanaugh, to the United States Supreme Court. Later today, I will sign his Commission of Appointment, and he will be officially sworn in. Very exciting!

— Donald J. Trump (@realDonaldTrump) October 6, 2018
The crowd in front of the U.S. Supreme Court is tiny, looks like about 200 people (& most are onlookers) – that wouldn't even fill the first couple of rows of our Kansas Rally, or any of our Rallies for that matter! The Fake News Media tries to make it look sooo big, & it's not!

— Donald J. Trump (@realDonaldTrump) October 6, 2018
The final vote on the nomination — 50 "Yes," 48 "No," and one vote "Present" — became inevitable yesterday afternoon when Senators Susan Collins and Joe Manchin announced their support for the nomination, joining Senator Jeff Flake who had also been a holdout until early yesterday. The lone vote against Kavanaugh was cast by Lisa Murkowski, who voted against the Motion to Proceed yesterday but announced late yesterday that she would vote "present" as a courtesy to Senator Steve Daines, a Montana Republican who is back home participating in his daughter's wedding. Additionally, Murkowski voting present means that no one person can be said to have been the person who put Kavanaugh over the top, although I doubt that is going to matter to the people who are angry with Senators Collins and Manchin for their decision to support the nomination. In Manchin's case, of course, there's little that Democrats can do at this point and the national leadership is going to cut him slack because it is more important to them to hold onto his seat than exact revenge for this vote. Additionally. Manchin is far enough ahead of his Republican opponent in a mostly red state that this vote is likely to help him more than it hurts him. For Collins, things are more complicated since she is up for re-election and there's already talk of a challenge against her based on this vote.
There really isn't very much else that can be said about this nomination. It's been a long process since President Trump first nominated him back on July 9th, at which point it appeared on paper that he was both qualified for the position and, when compared to some of the other names on the President's short list, about the best that people opposed to the President could hope for under the circumstances. After the conclusion of the first round of his confirmation hearings, , which I covered here, here and here, it seemed fairly clear that other than Kavanaugh's fairly standard conservative positions there really wasn't a reason for rejecting his nomination and that he was likely to sail through to confirmation. Sure, Democrats complained about the fact that they didn't have access to all of the documents that Kavanaugh had access to during his time at the Bush Administration, but given the fact that this amounted to hundreds of thousands of pages of documents it always struck me that this was an unreasonable request to begin with. As it was, the Judiciary Committee had been given access to more documents than it had seen for any previous nominee, and that seemed more than sufficient to evaluate Kavanaugh as a candidate for the nation's highest court. At that point, it seemed as though Kavanaugh would be set to sail through confirmation.
All of that changed, though, when women began coming forward to make allegations of misconduct in his past that had previously not come to light. The first, of course, was Dr. Christine Blasey Ford, who alleged that a 17-year-old Kavanaugh and his friend Mark Judge had attempted to rape her at a party in the summer of 1982 when she was 15 years old. Blasey Ford's allegations were quickly followed by similar allegations by Kavanaugh's Yale classmate Debbie Ramirez and by Julie Swetnick, a woman who says she traveled in the same social circles as Brett Kavanaugh and witnessed drunkenness and sexually aggressive behavior on the part of Kavanaugh and other men. Of all three, though, it was Blasey Ford's allegations that received the most attention and which are simultaneously the most serious and the most credible when it comes to judging the suitability of Brett Kavanaugh for elevation to a lifetime position on the highest court in the land.
It was, of course, the charges by Dr. Blasey Ford that brought us to the hearing that took place last Thursday. During the course of that hearing, we heard from both Dr.Blasey Ford, who put forward a credible albeit largely uncorroborated story about having been sexually assaulted by an inebriated Kavanaugh and his friend Mark Judge in an upstairs bedroom of a home in Suburban Maryland. Blasey Ford's story was a credible one notwithstanding the conscious efforts of Republicans, through their hired gun lawyer, to poke holes in the story. In that same hearing, Judge Kavanaugh began with a 45-minute opening statement in which, in a voice that was often just a few decibels below a yell, he decried the charges against him, forcefully denying the accusations and turning his ire on Democrats and "the left" for what he contended was a conspiracy to deny him a Supreme Court seat. At one point he claimed that the charges against him were part of a vendetta launched by supporters of former Secretary of State Hillary Clinton as "revenge" for the outcome of the election. At the time, many observers suggested that Kavanaugh was playing to an audience of one, Donald Trump, in response to reports that the President was not pleased with what he saw as a rather muted Kavanaugh during an interview with Fox News earlier last week.  It was also the kind of partisan attack that seemed more appropriate for conservative talk radio or Fox News Channel than a man who has spent the last 12 years as a Judge on the most important Circuit Court of Appeals in the country and who is seeking elevation to the Supreme Court, where he could serve for the next thirty years.
Less than twenty-four hours after that hearing ended, the Judiciary Committee went forward to vote on the Kavanaugh nomination, but a last minute change of heart by Senator Jeff Flake led to a one-week delay in the process to allow the F.B.I. to reopen the Judge's background investigation to include these newly revealed charges. That investigation was completed earlier this week, but there are serious concerns about just how complete it was that are likely to linger over the Senate and soon-to-be Justice Kavanaugh. Whatever comes of that, though, the process is now complete and Brett Kavanaugh will take his place on the bench early next week. Before that can happen, he will need to take two oaths, the first being a Judicial Oath administered to all Federal Judges and the second being the oath that all persons who work for the Federal Government take. There's no word on when this will happen, but it could happen as early as Monday even though that is Columbus Day and officially a Federal holiday. In any case, at that point, Justice Kavanaugh will be available to join his fellow Justices, who are currently in the middle of their first set of hearings for the month of October, which includes hearings on Tuesday and Wednesday of next week. What all of this means for the future of the Senate Judiciary Committee, the Senate, the Supreme Court, and the nation is something only time will tell.