Majority Disapproves Of President's Handling Of Oil Spill Crisis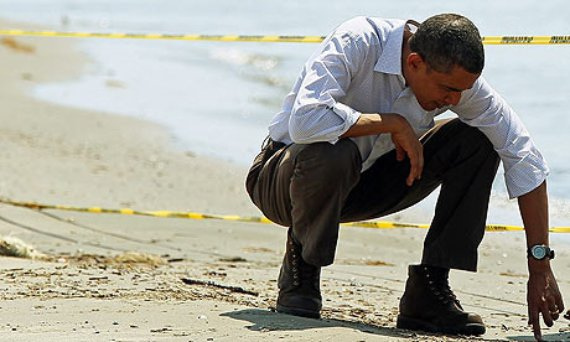 A new poll taken after the President's Tuesday address brings bad news for the White House:
Washington (CNN) – Six in ten Americans disapprove of how President Barack Obama's handling the oil spill in the Gulf of Mexico, a jump from last month, according to a new national poll.

A CNN/Opinion Research Corporation survey also indicates that vast majority of the public disapproves of how BP has handled the environmental disaster and two-thirds say making a profit rather than cleaning up the spill is oil giant's top priority.

Fifty-nine percent of people questioned say they disapprove of how the president is dealing with the spill, up eight points from May. Forty-one percent say they approve of how Obama's handling the crisis, down five points from last month.

While the president's numbers are dropping, he still fares better than the federal government. Only one in four give the federal government a thumbs up on how it's dealing with the oil spill, with 74 percent saying they disapprove.

The survey is the first national poll conducted entirely after the president's Tuesday night prime time television address on the oil spill to the American people. Obama's speech directly followed his fourth trip to the Gulf Coast since the environmental disaster began on April 20.

"Americans don't like how Obama has handled the situation in the Gulf, but that has not affected his overall approval rating," says CNN Polling Director Keating Holland. "Fifty percent say they approve of how he is handling his job as president – essentially unchanged from his overall approval rating for the last three months."
Not surprisingly, this is also having an impact on the President's overall job approval numbers: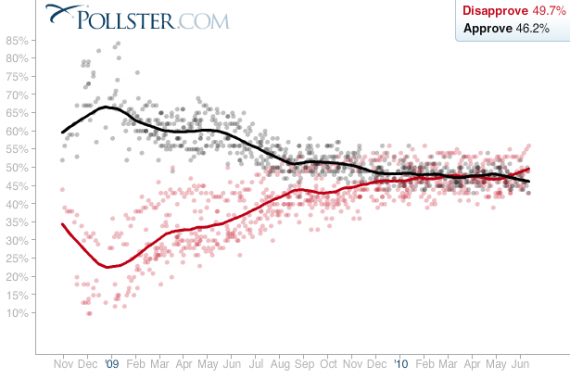 If nothing else, this poll would seem to confirm that the President's speech on Tuesday night was a failure in the sense that it did absolutely nothing to help the Administration politically, and may have actually made the situation worse. At this point, it's hard to see what the political upside is for Obama in this crisis. By some estimates, the oil leak itself may not be fully stopped until some point in August or September at the earliest, at which point the nation will be full-swing into the 2010 elections. While it's not clear what impact the spill itself will have on the elections, it is going to be politically difficult for the President to hit the campaign trail for House and Senate Democrats if oil is still pouring into the Gulf from the sea floor and the beaches and wildlife of Louisiana and Florida are continuing to be covered in oil. That fact alone could play a role in what Congress looks like after November 2nd.