Meanwhile, In Russia….
While the American media was paying attention to President travels and travails in Europe, there was another meeting taking place.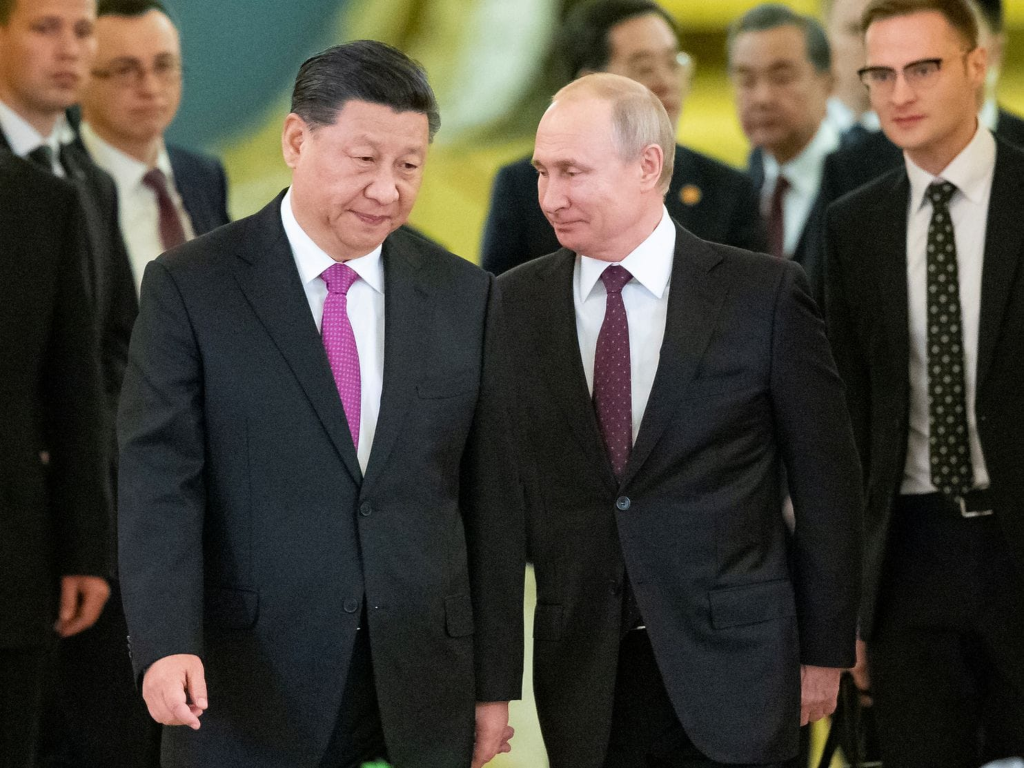 While President Trump has been in Europe enjoying a State Visit in the United Kingdom, golfing in Ireland, and marking the D-Day anniversary in France, there's been a little-noticed but important meeting taking place further east:
MOSCOW — President Xi Jinping of China arrived in Moscow on Wednesday at the start of a high-profile three-day state visit that will include some panda diplomacy and underscore the strengthening Beijing-Moscow axis at a time when relations for both with Washington continue to fray.


The Kremlin released figures showing that trade between Russia and

China grew almost 25 percent last year, reaching $108 billion — finally breaking the $100 billion milestone sought for years, even if partly based on higher oil prices.


After a day in Moscow, where Mr. Xi presented two pandas on loan to the Moscow Zoo, the Chinese president was scheduled to be the guest of honor at the St. Petersburg International Economic Forum, Russia's main annual event to attract international investors.


Russian officials pointed to the 1,000-strong delegation that Mr. Xi is bringing to the forum as a sign of healthy relations at a time when the United States is officially boycotting the event.


Maksim S. Oreshkin, the minister of economic development, noted in an interview that Mr. Xi's speech comes amid the United States-China trade war and will be his first significant appearance since the latest wave of tensions between Beijing and Washington over tariffs.

Trade relations between Moscow and China are booming, the minister noted.


"We see record-high volumes of trade with China, we see positive dynamics, joint projects and so on and so forth," Mr. Oreshkin said.


The American ambassador, Jon M. Huntsman Jr., is boycotting the St. Petersburg Forum over the detention of Michael Calvey, a Moscow-based American investment banker who was arrested in February. That sent a chill through Western investors.


Mr. Calvey was involved in a business dispute with a Russian banker, who, not unusually for Russia, seems to have persuaded an ally in the security services to intervene. Another American, Paul Whelan, a tourist, has been held since late December on vague espionage charges. The sour mood is widespread — Mr. Oreshkin's office barred an American reporter from the interview, saying that only Russian citizens were welcome.

Relations with China have improved markedly since 2014, when President Vladimir V. Putin declared that Russia would pivot toward Asia in the wake of Western economic sanctions and other efforts to isolate Russia prompted by its annexation of Crimea and destabilization of Ukraine.

In addition to trade ties, China and Russia support each other on a wide variety of foreign policy issues, including the Venezuela crisis, North Korea's nuclear program and the Iran nuclear deal. Both tend to veto United Nations Security Council resolutions designed to pressure President Bashar al-Assad of Syria in the war there.

President Xi, who mentioned to the Russian news media that this will be his seventh visit to Russia, said the two countries were gradually expanding cooperation in energy, transportation, aviation, agriculture and space, among other fields.


"Economic cooperation and trade, as a key pillar of our relations, is crucial to the common development and revitalization of China and Russia," Mr. Xi said.


An estimated 70 percent of Russian exports to China involve energy. The bulk of Chinese exports are machinery, especially oil field equipment denied to Russia by the West under sanctions.
The Washington Post has more, including noting that both nations seem to be united by the idea of presenting a united front against the United States:
MOSCOW — Chinese President Xi Jinping met Vladi­mir Putin on Wednesday in Russia, where the two leaders heaped praise on the relationship between their countries amid growing tensions with the United States.


"I have had closer interactions with President Putin than with any other foreign colleagues. He is my best and bosom friend," Xi told Russian state news agency Tass ahead of his three-day trip to Russia. After meeting with Putin on Wednesday, Xi will attend a glitzy economic forum in St. Petersburg, Russia's answer to Davos.


Both countries are locked in economic battles with the United States. For China, a trade war with Washington continues to rage, and neither President Trump's administration nor Beijing is showing any signs of letting up.


Russia's economy has been affected by several rounds of sanctions, imposed by the United States and Europe over a range of issues, from election meddling to the war in Syria to the alleged poisoning of a former Russian spy in Britain.


Ahead of their closed-door meeting in the Russian capital Wednesday, Putin said relations between the erstwhile Cold War foes had "without any exaggeration, reached an unprecedented level."


Putin and Xi, whose talks Wednesday marked the 29th time the two have met since 2013, will discuss a number of issues this week, according to the Kremlin, including relations with the United States, the situation in Venezuela, Iran and the Korean Peninsula in the wake of North Korean leader Kim Jong Un's first visit to Russia, which took place in April.
China and Russia have long had disputes that date back to the days of the Soviet Union when, for a time, the two nations engaged in a seven-month-long war in 1969 that related to border disputes. Additionally, even when both nations were at least nominally communist there was some competition between the two nations, in no small part because the Soviets liked to consider themselves the senior partner in worldwide Communism. This was one of the things that led to the Sino-Soviet split that President Nixon was able to exploit in a move that led to his historic visit to China in 1972.
More recently, though, China has skyrocketed far ahead of Russia economically and in other respects. While Russia remains, as former President Obama once put it, a second-world economy with first-world nuclear weapons, the economic boom in China has vaulted it into being an economic equal to the United States, Japan, and Europe. This makes one wonder who the senior partner in this relationship actually is. Russia's only viable export is its energy supplies. China, on the other hand, has economic relationships that spread around the world. When it comes to power in this relationship, the advantage clearly lies with China.
The final piece of this puzzle is, of course, the United States. For both the Russians and the Chinese it seems clear that both nations mean meetings like this to send a message to Washington. For the Chinese currently locked in a trade war started by the President, Russia is an alternative market albeit one that obviously is not as big as the U.S. and a reminder that China can look elsewhere for trading partners. For Russia, meetings like this show that Putin is aware of the complications in Sino-U.S. relations and willing to take advantage of them. I wouldn't call it an alliance, but it's certainly an interesting relationship.