Mueller's Report: We Don't Know Much
Predictably, news that the investigation has ended has people on both sides cheering. It's unwarranted.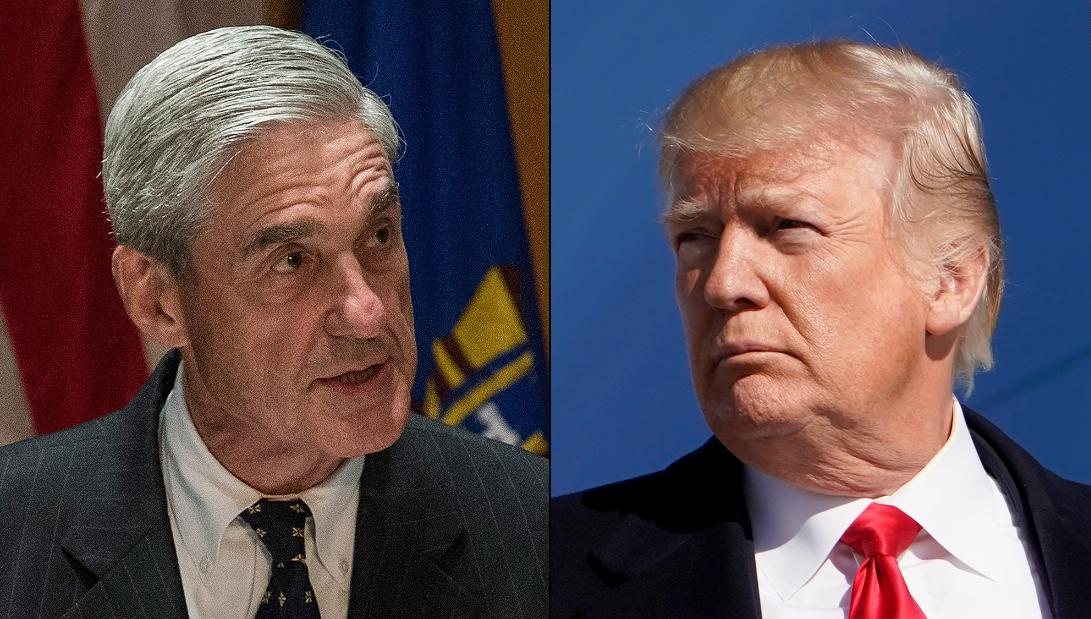 As of this writing, at 5:41 Eastern time Saturday morning, President Trump has not Tweeted about Friday afternoon's announcement that Robert Mueller has completed his investigation and submitted his report to Attorney General William Barr.
Some supporters of the President are already taking victory laps based on news that Mueller has issued no further indictments. Byron York's "Five things that didn't happen in the Mueller investigation" is an exemplar.
1. Mueller did not indict Donald Trump Jr., Jared Kushner, or other people whose purported legal jeopardy was the subject of intense media speculation in the last year.

2. Mueller did not charge anyone in the Trump campaign or circle with conspiring with Russia to fix the 2016 election, as was the subject of intense media speculation in the last year.

3. Mueller did not subpoena the president, as was the subject of intense media speculation in the last year.
The Bulwark's Jonathan Last counters with "Four Arguments About the Mueller Report You Should Ignore."
There is literally nothing that Robert Mueller could present that would cause most Republicans to turn on Trump or most Democrats to decide that he's innocent.

So what are you supposed to do if you're in the camp that's persuadable and wants to take the Mueller report seriously? There are three things: read the report; grapple with the facts; and try to come to reasonable conclusions—accepting right out of the gate that all stories this big will be messy and incomplete.

[…]

Understand this: There's never a smoking gun.

No matter what evidence you have, there's always some further piece of evidence that a committed partisan can demand in order to create some mythical sense of total, metaphysical certainty.

You have bank records showing a mob boss paying a hitman. Well, how do you know he was paying him for a hit job?

You have audio recordings of the mobster saying, "I want you to take care of Joey." Well, that could be anyone's voice. Where's the videotape?

You have video of their conversation. Okay. But haven't you heard of deepfakes and where's the smoking gun on tax evasion charges?

The entire idea of the "smoking gun" is really about establishing, and then moving, goalposts. In any investigation there will be multiple points where proof of something is established. For instance, throughout the 2016 campaign, Donald Trump insisted—over and over—that he had no business interests in Russia. We now know that this was a lie. You might say, in fact, that we have a "smoking gun" on this question.

Any investigative report will contain many, many issues of fact. Some of them will be established beyond a reasonable doubt via direct evidence. Some of them will be established to a lesser degree of certainty via circumstantial evidence.

When people try to dismiss the Mueller report because it doesn't contain a smoking gun—and I promise you, this is a thing that will happen—what they're really trying to do is play a game where they ignore some findings of fact in an effort to claim that any place without a solid finding of fact invalidates the whole.
Not surprisingly, the best commentary I've seen on this thus far is from Lawfare's Ben Wittes ("Very Quick Thoughts on the End of the Mueller Investigation").
We don't, at this stage, know anything about what information the Mueller Report contains. We don't know what form the document takes. We don't even know how many pages comprise it. We don't know when we will learn what Mueller has found. Speculating about these questions is not useful. A huge amount depends here on how Mueller imagines his role—and on how Barr imagines his.

[…]

We also know that Mueller is not going to indict more people. Though what precisely this means is unclear, it means at a minimum that we should not expect the major collusion indictment that ties together the earlier Russian hacking allegations and social media indictment with conduct by figures in the Trump campaign. It also means that whatever Mueller found on the obstruction prong of the investigation, it's not resulting in criminal charges either.

The president should wait before popping the champagne corks over this and tweeting in triumph. Yes, in the best-case scenario for the president, Mueller is not proceeding further because he lacks the evidence to do so. But even this possibility contains multitudes: everything from what the president calls "NO COLLUSION!" to evidence that falls just short of adequate to prove criminal conduct to a reasonable jury beyond a reasonable doubt—evidence that could still prove devastating if the conduct at issue becomes public.

There are other possibilities as well. It's possible, for example, that Mueller is not proceeding against certain defendants other than the president because he has referred them to other prosecutorial offices; some of these referrals are already public, and it's reasonable to expect there may be other referrals too. In this iteration, what is ending here is not the investigation, merely the portion of the investigation Mueller chose to retain for himself. It's possible also that Mueller is finished because he has determined that while the evidence would support a prosecution of the president, he is bound by the Justice Department's long-standing position that the president is not amenable to criminal process. On the obstruction front, he may well have concluded that, while the president acted to obstruct the investigation, he cannot prove beyond a reasonable doubt that the president's obstructive acts were not exercises of Trump's Article II powers. It's also possible that Mueller has strong prudential reasons for not proceeding with otherwise viable cases.

My gut instinct is that it is some combination of these factors that explains the end of the probe. Without knowing the reasons the investigation is finished, it is impossible to know how to assess its end—and nobody should try.
A paywalled WSJ report ("Mueller Report Concludes, But Other Investigations Loom") reminds us, "The conclusion of special counsel Robert Mueller's Russia investigation leaves in its wake about a dozen other probes into President Trump and his associates by an array of federal, state and congressional investigators." The Atlantic ("After Mueller: The Ongoing Investigations Surrounding Trump") breaks them down in some detail.
Two other commentaries merit attention.
Ken Starr, who held a job analogous to Mueller's for the myriad investigations surrounding President Bill Clinton, reminds us of the ground rules ("Mueller Cannot Seek an Indictment. And He Must Remain Silent.").
Under Department of Justice policy, a sitting president cannot be indicted. This prosecutor, unlike other prosecutors, cannot indict if he finds an indictable offense. And in contrast to the practices and policies that govern thousands of federal prosecutors around the country, this former FBI director—now a special counsel—has a specific reporting obligation. That solemn obligation is not to produce a public report. He cannot seek an indictment. And he must remain quiet.

[…]

Under the regulations that governed his appointment and now guide his final acts, Mueller is to provide a confidential report to one person only: the attorney general. The regulations, which were promulgated 20 years ago during the final months of the Clinton administration, do not contemplate any sort of report sent directly from the special counsel to Congress or the general public. To the contrary, the regulations call upon the attorney general, William Barr, to receive the confidential report and then do two things: First, to notify Congress of the investigation's completion and, second, to provide an explanation for certain specifically enumerated actions. There is no requirement for a Barr-edited version of the Mueller report.

In short, there may be no Mueller report at all, save for the confidential document that lands on Barr's desk. And these same regulations do not require the attorney general to simply pass along a "confidential" report that may very well contain unflattering information about one or more individuals. Including the president.
Finally, CNN's
Chris Cillizza
proclaims, correctly I think, "
This was the last week of the Trump presidency as we know it.
"
Donald Trump has been president for 792 days. Special counsel Robert Mueller has been on the job — investigating Russian interference in the 2016 election and the possibility of collusion between the Russians and members of Trump's campaign — for 675 days.

That all came to a head at 5 p.m. Eastern, when the Justice Department announced that Mueller had delivered his investigation to Attorney General William Barr. While we don't know what's in the report, we do know that this marks a major milestone: Mueller's investigation, which has occupied 85% of Trump's presidency, is now finished. We are likely to look back on Trump's presidency — no matter what the report actually says — as "before Mueller report" and "after the Mueller report."
[…]

This all began on May 17, 2017, when Mueller was appointed as special counsel by deputy Attorney General Rod Rosenstein. In the intervening 22 months (statistics courtesy of CNN Mueller probe expert Marshall Cohen):

Mueller brought criminal charges against 37 people and entities.

6 of them were associates of President Trump: Campaign chairman Paul Manafort, deputy campaign chairman Rick Gates, national security adviser Michael Flynn, foreign policy adviser George Papadopoulos, Trump ex-attorney Michael Cohen and political svengali Roger Stone

5 people have been sentenced to prison

Trump has referred to the investigation as a "witch hunt" more than 170 times.

Given the length of the Mueller probe, the number of charges it has produced and Trump's unrelenting negative attacks on Mueller and his team, it's normal to see the conclusion of the Mueller report as the beginning of the end of all of this.
While it's simply a guess at this point, I'd wager that:
Barr will release a comprehensive summary of the report, if not the entire unredacted report, to the public and Congress very soon—possibly this weekend. Doing otherwise would be seen as a cover-up and Barr will bend over backward to protect the reputation of the DOJ.
The fallout from the report will consume the remainder of Trump's presidency.
There will be strong evidence that supports the impeachment of the President but Democrats will follow Speaker Nancy Pelosi's lead and not actually pursue impeachment minus significant Republican defection, which won't be forthcoming.
Few minds will be changed regardless of the outcome. As Last noted, there's essentially no evidence that would persuade those who still back Trump at this point that their man did anything wrong. And the charges, convictions, and testimony thus far would satisfy Trump critics that he's guilty even if that turns out to be the extent of his misfeasance.