New National Poll Finds No Evidence That Attacks From Rubio & Cruz Have Hurt Trump
A new national poll suggests that the newly aggressive tone from Senators Rubio and Cruz has done nothing to stop Donald Trump's momentum.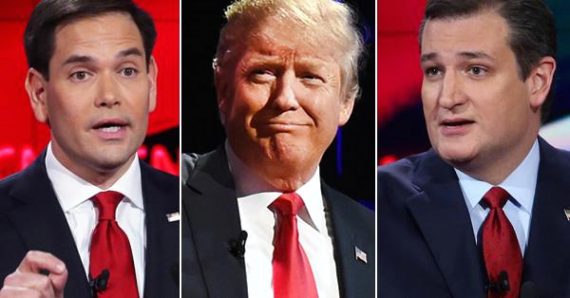 If the latest CNN/ORC National poll of the Republican race for President, the attacks on Donald Trump that began at last Thursday's debate have had no impact whatsoever on Trump's standing in the polls, and may have actually helped him increase his support:
On the Republican side, the new survey finds Trump's lead is dominant, and his support tops that of his four remaining opponents combined. The businessman tops his nearest competitor by more than 30 points: 49% back Trump, 16% Marco Rubio, 15% Ted Cruz, 10% Ben Carson and 6% John Kasich.

Trump's supporters are incredibly enthusiastic about the coming election, and largely committed in their support for him. Nearly 8 in 10 say that they are more enthusiastic about voting this year than in previous elections, among Republicans who are not supporting Trump, just 39% say they are more enthusiastic than in years past. Likewise, 78% of Trump's backers say they will definitely support him vs. 22% who say they could still change their minds. Among those backing other candidates, 57% say they are committed to their chosen candidate.

The survey asked those Republicans not currently backing Trump whether they would support him if he became the party's nominee, and just a quarter of Republicans overall say they probably or definitely wouldn't support him in November. That's about the same as the share saying they wouldn't back Rubio or Cruz.

Trump is widely viewed as the candidate in the field who would be most effective at solving the country's problems, 51% vs. 17% for Cruz, 13% for Rubio and 10% for Carson, and as being best able to handle the responsibilities of being commander-in-chief, 48% say so, compared with 17% for Cruz and 15% for Rubio. The billionaire is also seen as the one who best understands the problems facing people like you, 46% Trump vs. 18% Cruz and 15% Rubio.

As accusations of dishonesty have flown between Trump, Cruz and Rubio, voters say they are more apt to see Trump as honest and trustworthy. Asked who of the five candidates is most honest and trustworthy, 35% name Trump, 22% Carson — who has largely stayed out of the mudslinging – 14% Cruz and 13% Rubio.
Unlike the state-level polling of Super Tuesday states that I wrote about yesterday, this poll was conducted almost entirely after the most recent Republican debate on February 25th, at which both Senators Marco Rubio and Ted Cruz went after Trump aggressively for perhaps the first time in the campaign, so it arguably provides a more accurate reflection of the state of the race in light of these new attacks. The poll was also at least partly conducted after the endorsement that Trump received from Chris Christie on Friday afternoon at a rally in Texas, and endorsement that has been followed by others by sitting and former Governors and a sitting U.S. Senator. As the numbers plainly show, the attacks on Trump appear to not only have had no impact at all on his standing in the race, but it appears that Trump is actually stronger in the wake of both the winnowing of the field that has taken place this month and the change in tone in the race. Based on the last CNN/ORC poll conducted last month, Trump is up eight points while Cruz had dropped four points. Marco Rubio, meanwhile, saw his numbers almost double from the last CNN/ORC poll, but it's worth noting that he wa in single digits when that poll was taken and its at 16% now. John Kasich, who was a essentially a non-entity in the last poll saw his number increase five points to six percent nationally, which is likely a reflection of his success in New Hampshire earlier this month. Even Ben Carson is doing better in this poll as he went from six percent in the previous poll to ten percent now. Part of what we've seen here, obviously, is a redistribution of the support of the candidate who have dropped out of the race since the last poll, with Trump, Rubio, Kasich, and Carson all gaining support to some degree, while Ted Cruz actually lost support. If nothing else, this doesn't bode well for Cruz going forward.
Looking at the poll averages, Trump now has a lead of 15.8 points in the RealClearPolitics national average heading into Super Tuesday, with his 35.6% average putting him ahead of Ted Cruz, who stands at 19.8%. Marco Rubio sits in third place at 17.4%, followed by Ben Carson at 9.0% and John Kasich at 8.8%. Trump's lead is much larger in the broader Pollster average, but whichever number you look at what seems clear is that Trump remains well-positioned to run the table, or nearly so, tomorrow on Super Tuesday and to at least pick up the lion's share of the delegates at stake. If that happens, then he'll be one step closer on the path to becoming the GOP nominee. The one caveat to note here, of course, is that neither this polling nor the polls I discussed over the weekend reflect any potential reaction to controversy that erupted yesterday over Trump's response to an endorsement from KKK Grand Wizard David Duke, a response that the campaign has since clarified to make clear that the candidate does indeed disavow the endorsement from Duke and the group he's associated with. Whether this story will have any impact on how voters act tomorrow is something we'll just have to wait until Tuesday night to find out since there's unlikely to be much time to put together a sufficiently scientific poll before polls open in the morning. In any case, though, it does appear that the least we can say is that the newly aggressive tone taken by Senators Rubio and Cruz has done nothing to blunt Trump's momentum, but then did anyone really think it would?