New York Becomes 11th 'State' To Pass National Popular Vote Law
New York has joined nine other states and the District of Columbia to vote to for an Electoral College bypass.
New York has joined nine other states and the District of Columbia to vote to for an Electoral College bypass.
Daily News ("New York joins campaign to end Electoral College role in presidential elections"):
New York has joined the campaign to effectively end the Electoral College's role in determining winners of presidential elections.

Under the National Popular Vote Compact, which Gov. Cuomo signed off on Tuesday, the state has agreed to award its electoral college votes to whichever presidential candidate wins the national popular vote.

Currently New York's electoral colleges votes go to the winner of the state's popular vote.

The Senate and Assembly approved the legislation last month.

The compact only takes effect once enough states have signed on to give it the required 270 electoral college votes. With New York's participation, the movement has 165 votes.

"With the passage of this legislation, New York is taking a bold step to fundamentally increase the strength and fairness of our nation's presidential elections," Cuomo said.
Hendrik Hertzberg is excited:
As I've explained many times (fifty-one, to be exact), N.P.V. is a way to elect our Presidents the way we elect our governors, our mayors, our senators and representatives, our state legislators, and everybody else: by totting up the voters' votes—all of them—and awarding the job to whichever candidate gets the largest number. And it does this without changing a word of the Constitution.
Impossible, you say? No. Quite possible—even probable—and in time for 2020, if not for 2016.

Here's how it works: Suppose you could get a bunch of states to pledge that once there are enough of them to possess at least two hundred and seventy electoral votes—a majority of the Electoral College—they will thenceforth cast all their electoral votes for whatever candidate gets the most popular votes in the entire country. As soon as that happens, presto change-o: the next time you go to the polls, you'll be voting in a true national election. No more ten or so battleground states, no more forty or so spectator states, just the United States—all of them, and all of the voters who live in them.

Unless you've been following this pretty closely, it will surprise you to learn that, before this week, ten states (counting D.C.) had already signed on. Now it's eleven, and between them they have a hundred and sixty-five electoral votes—sixty-one per cent of the total needed to bring the compact into effect.
The evidence that enough additional states will sign off by 2020, much less 2016? Well, none. As AllahPundit notes,
All the states to have joined so far are very blue. Until some purple states and red states sign on, the compact has little in the way of territory to conquer…

Perhaps the compact can get Delaware, Connecticut and Maine to join, where Obama also won by 15 percentage points or more. But they account for only 14 total electoral votes (and Maine already has a unique way of apportioning electoral votes). Oregon and New Mexico also re-elected Obama by double-digit margins — and those two states have become increasingly off-limits to Republican presidential candidates — but have just 12 electoral votes between them.

After that, you get into states such as Michigan and Minnesota, which are blue-leaning but that receive plenty of attention from presidential campaigns. Their votes might not be quite as influential in the Electoral College as the campaigns presume — a Democrat who lost Minnesota would probably be in too much trouble elsewhere to cobble together a 270-vote majority. Still, they receive an influx of media dollars and political pandering every four years, and probably have little incentive to bite the hand that feeds them.

Soon after comes outright swing states, such as Ohio, New Hampshire and Colorado. These states, along with Florida, Virginia, Nevada, Iowa, Wisconsin and Pennsylvania, collectively had a 98.6 percent chance of determining the Electoral College winner in 2012, according to the FiveThirtyEight tipping-point index as it was calculated on election morning. In other words, these nine states are 70 times more powerful than the other 41 (which collectively had a 1.4 percent chance of determining the winner) combined. That's part of the reason so many Americans object to the Electoral College. But states whose voters have a disproportionate amount of influence may be in no mood to give it up.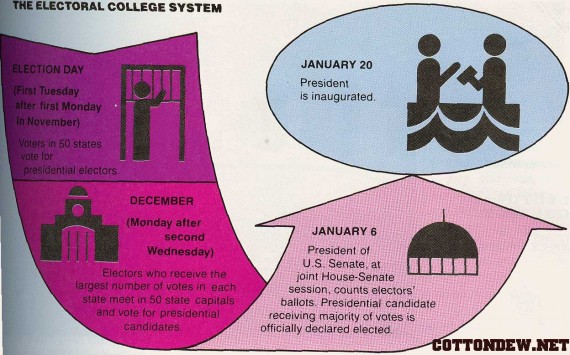 Still, while unsure whether electing presidents by popular vote will help or hurt Republicans—but suspecting the latter—AllahPundit supports the change:
In any given election, one party or the other can have an advantage based on the vagaries of the leanings of a few swing states. Republicans used to have an edge, but in recent elections, pundits like Nate Silver of 538 convincingly argue that Democrats have had an edge. The 2016 race, however, is anyone's guess. We know that there will be a distortion — but we don't know who it will help…

Nothing would be better for restoring Americans' faith in their elected officials if those officials made it clear that voters and their democracy come first. Our political leaders should be willing to allow fair completion and encourage high participation in exchange for earning the consent of the governed as intended by our Constitution.
While I'm sure the OTB gang combined falls short of Hertzberg's total of 56, we've written about it multiple times over the years going back to my piece from almost exactly seven years ago titled "Abolishing the Electoral College by Stealth." As I noted then,
Technically, there is nothing extra-constitutional about NPV. The Constitution gives state legislatures absolute authority to allocate their Electors as they wish. Indeed, in the earliest days, they simply appointed Electors with instructions to vote for a specific presidential and vice presidential candidate. It was decades before the westward expansion created a groundswell for elections.

What evolved was really a bastardization of the Electoral College. Rather than the state legislators appointing delegates, they simply rubber stamped the election results and handed the power over to a slate of delegates chosen by the winning political party. And Electors are free to vote for whomever they chose. As recently as the 2000 election, a faithless District of Columbia Elector denied her vote to Al Gore out of pique, rubbing additional salt into his wounds. Further, two states, Maine and Nebraska, have a hybrid system wherein two Electors (matching the Senate delegation) are awarded to the at-large winner in the state and the others are awarded to the winner in each of the congressional districts.

So, the NPV system is perfectly constitutional. Essentially, state legislators agree to award their Electors to the national popular vote winner once enough states have made the same agreement to provide 270 Electoral Votes. Until then, their current allocation method-or a substitute one of their own chosing-would remain in effect. There is simply no question that they have the right to do this.
In terms of the partisan impact:
It is not at all clear that shifting plans advantages one party or the other. For one thing, it takes an incredible confluence of events for a candidate to win the necessary 270 Electoral Votes and not also be the plurality winner in the national popular vote. Indeed, George W. Bush in 2000 is the only man to do so in the modern era. We came reasonably close a few other times, as shifts of a few thousand votes in a handful of states could have reversed the outcome in 1960, 1976, and 2004.

Sure, the proposed system would have handed Al Gore the presidency in 2000 but many of us thought that the opposite outcome, Bush winning the popular vote but Gore winning the Electoral vote, was quite possible. After all, the Democratic candidate currently is virtually assured of all of California's massive Electoral slate. On the other hand, the current system would have given Kerry the win had he won another few thousand votes in Ohio, even though Bush's national margin of victory was quite comfortable.

Changing demographics will also alter the game in ways there are not entirely clear. The massive influx of Hispanics changed California from a solid Republican to a solid Democrat state. Florida is becoming bluer by the day owing to both an increasing non-Cuban Hispanic population and the migration of retirees from Blue States. And even the Deep South, especially the Carolinas and Georgia, are unlikely to remain safe Republican for long. Then again, other factors could make states that are now safely Blue turn Red.
Since writing that, formerly solid red states Virginia and North Carolina have voted Democrat for two presidential cycles. Texas is turning bluer, too.
Regardless, the very notion that we should be thinking of presidential elections in terms of marginal changes at the state level strikes me as incredibly anachronistic. While we remain a federal system in very real ways, most of us think of ourselves as Americans first and residents of our states second, if at all.  So, I support electing presidents via a national popular vote.
Would I prefer abolishing the Electoral College outright via Constitutional amendment rather than bypassing it through stealth? Yes. But that's an awfully high, probably unachievable, hurdle. Not only do most Americans care too little one way or the other about the process to create a groundswell—if it didn't happen after the highly charged controversy after the 2000 election, it's not gonna happen—but there are strong incentives for swing states to prefer the current model. Given that this move is perfectly legal and no more of a bastardization of the intent of the Framers than the current system, I'm fine with the workaround.