Obama And The Debt Deal: A Failure Of Leadership?
Once again, the debt ceiling deal is raising questions about the President's leadership.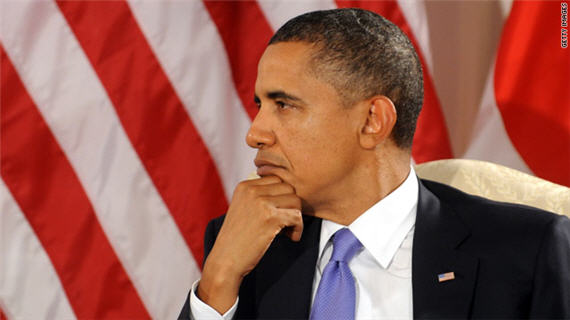 Once again, the outcome of the debt ceiling deal, which by all accounts seems to be a big GOP win, is raising question about the President's leadership and his ability to effectively advance his agenda in the face of strident opposition. Here's Ross Douthat's take on the entire affair, for example:
By rights, Barack Obama should be emerging as the big political winner in the debt ceiling debate. For months, he's positioned himself near the center of public opinion, leaving Republicans to occupy the rightward flank. Poll after poll suggests that Americans prefer the president's call for a mix of spending cuts and tax increases to the Republican Party's anti-tax approach. Poll after poll shows that House Republicans, not Obama, would take most of the blame if the debt ceiling weren't raised.

Yet the president's approval ratings have been sinking steadily for weeks, hitting a George W. Bush-esque low of 40 percent in a recent Gallup survey. The voters incline toward Obama on the issues, still like him personally and consider the Republican opposition too extreme. But they are increasingly judging his presidency a failure anyway.

The administration would no doubt blame this judgment on the steady stream of miserable economic news. But it should save some of the blame for its own political approach. Ever since the midterms, the White House's tactics have consistently maximized President Obama's short-term advantage while diminishing his overall authority. Call it the "too clever by half" presidency: the administration's maneuvering keeps working out as planned, but Obama's position keeps eroding.

(…)

The same pattern has played out in the debt ceiling debate. Instead of drawing clear lines and putting forward detailed proposals, the president has played Mr. Compromise — ceding ground to Republicans here, sermonizing about Tea Party intransigence and Washington gridlock there, and fleshing out his preferred approach reluctantly, if at all.

The White House no doubt figured that this negotiating strategy would either lead to a bipartisan grand bargain or else expose Republican extremism — or better still, do both. And again, the strategy is arguably working. Americans were given a glimpse of right-wing populism's reckless side last week, and the final deal will probably let the president burnish his centrist credentials just in time for 2012.

But winning a debate on points isn't a substitute for looking like a leader. It's one thing to bemoan politics-as-usual when you're running for the White House. It's quite another to publicly throw up your hands over our "dysfunctional government" when you're the man the voters put in charge of it.
Taylor Marsh is among those on the left bemoaning what seems to be yet another example of the President abandoning his progressive supporters and making a move to the right:
Waking up naked on Monday morning in front of the world is embarrassing. It's even worse when people looking at you are laughing.

It left Obama loyalists in disarray, grasping for a way to handle the onslaught of outrage. TPM had an interesting way to go at it, providing headlines with question marks, emails from outraged readers, while Obama fell off a pedestal he'd never earned in the first place.

But regurgitating puma-esque headlines? It was not just sad, but disgraceful.

Buyer's remorse?

Pres. Obama is our president and no matter your political party we all needed him to stand up to the Tea Party extortionists, who in the end proved the only principled people, however crazy their politics, in this mess. That they provided Mitch McConnell with the weapons he needed should go without saying at this point. That they unmasked progressives in Congress as not having half their courage does as well.

What was needed from the President's loyalists was someone to do political analysis that pointed the blame where it belongs: Pres. Barack Obama, who not only surrendered, but set up a situation where we all get to revisit his cowardice until 2012, while Republicans now know beyond a reason of a doubt he hasn't the character for his job.
Harsh words, indeed, but it's reminiscent of what we heard from the left just seven months ago in the wake of the President's deal with Republicans to extend the Bush tax cuts, a deal that largely gave the GOP everything they wanted while tossing Democrats the bone of an extension in unemployment benefits. This time, they didn't even get that. Instead, as Douthat notes, the conversation over the debt ceiling went from the "balanced approach" that the President called for last Monday to an all spending cuts approach in just a week. And it happened because the House of Representatives defined the agenda by pushing two bills — Cut, Cap, and Balance and then Boehner Bill — that, while they had no chance of becoming law as-is, nonetheless succeeded in pushing the final round of negotiations to the right. Even before the President had made his speech last Monday night, the issue of a "balanced approach," which was the subject of his speech, had already been taken off the table by Harry Reid, who proposed his own plan with no revenue increases. At that point, it just became an argument over how big the spending cuts would be.
Over at American Thinker, Steve McCann argues that the deal signals that Obama's Presidency is a failure:
He has abdicated all responsibility to the Congress, in particular the House of Representatives, which has little choice but to assume a role they are not structured to do: lead the country as best they can until November 2012.  The American people, suffering under the burden of high joblessness, eroding housing values, inflation and dramatically declining economic growth with no prospect of any immediate relief, are increasingly resigned to the fact that they must focus on surviving as best they can until the election.

Within the term of a president there comes a time and an issue or crisis that define his presidency.  Barack Obama has had his and failed.  The debt ceiling will be raised because the nation's obligations demand it.   This was never an issue of whether to raise the ceiling, but rather how and what brakes will be applied to the incessant growth of unsustainable spending, in order to sustain the nation's AAA rating and insure a future for succeeding generations.
It's a bit much, perhaps, to say that this is a failed Presidency but, as Stephen Green asks, is there really any doubt about what is likely to happen if Obama is re-elected in 2012 but the GOP manages to snatch control of the Senate from the Democrats?
If Obama couldn't stand up to a Congress half-controlled by the GOP, how will he fare against the next one, after the GOP takes the Senate, too?

"Not well at all," is the inescapable conclusion. And if you were asked how Obama has done in office overall, "not well at all," is the most generous thing you could say in response — other than "it's over," for an Administration not even three years old.

Don't get me wrong. If the GOP nominates one of its Unwinnables, Obama could very well take the election next year — but to what purpose?
Green's sentiments certainly seem accurate. Anyone who thinks that an Obama dealing with a completely Republican Congress is going to suddenly become a reincarnation of Bill Clinton (or Harry Truman) hasn't been paying attention for the past two and a half years. In fact, as a I noted back in June, Obama's leadership style makes it fairly easy to predict how he'd act in such a situation:
[Obama] lets events, and people, lead him, a tendency one can clearly see in the Administrations reaction to the unfolding Arab Spring and the events in Libya, Afghanistan, and Pakistan. None of it should be a surprise, however. Barack Obama did not come to the Presidency with extensive leadership experience. Instead, he started his political career as a back bench state legislator in Illinois, part of the Chicago machine in a body dominated by Democrats where compromise with the opposing party wasn't necessary. During his brief time in the United States Senate., he didn't really distinguish himself as a leader in the body (not that he really ever had an opportunity to). Nobody should be surprised that, when he became President, he failed to be a leader in the FDR/JFK/Reagan/Clinton mold.
Such a President is unlikely to triangulate in the manner of Clinton, or fight in the manner of Truman. Instead, they're likely to let Congress lead, and to strike out in areas where the President has more autonomy, like foreign policy. As far as domestic policy goes, though, a second Obama term with a Republican Congress is going to be pretty much like what we've seen since December. That's not likely to be a world his supporters are going to like very much.