Obama Gets A Post Bin Laden Bounce In New Poll
Americans are rallying around the President in the wake of the mission against bin Laden, but it's likely to be short-lived.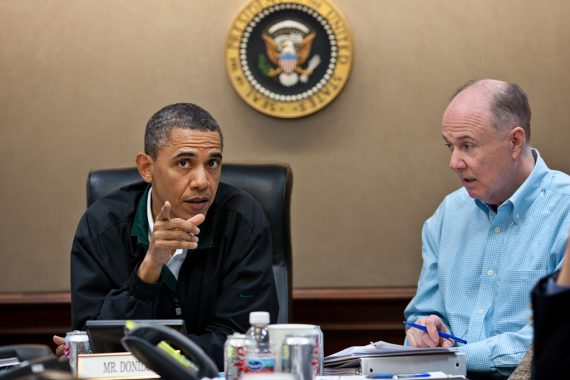 Not surprisingly, the first poll taken in the wake of the successful mission against Osama bin Laden shows President Obama's job approval jumping to its highest level in quite some time, but even this early poll shows danger signs for the White House:
Overall, 56 percent of those polled say they approve of the way Obama is handling his job as president, an increase of nine percentage points over April polls by Post-ABC News and Pew. That is the highest approval rating for the president in either poll since 2009.

There's also been a clear increase in public satisfaction with the way things are going in the United States, although by a margin of nearly 2-1, Americans are still dissatisfied with the direction of the country.

The president gets big bounces on dealing with Afghanistan, with his approval rating soaring to 60 percent, and on handling the threat of terrorism, where he recorded a career high of 69 percent.

More than three-quarters of all Americans say the president deserves credit for the killing of the bin Laden in Pakistan on Sunday. Among Republicans, 61 percent say Obama deserves at least some credit for the move. But just 17 percent of them say he deserves a "great deal" of credit for bringing bin Laden to justice after a nearly 10-year pursuit by U.S. intelligence and military forces.

Republicans are more apt to give former president George W. Bush acclaim for killing bin Laden, with 81 percent saying he deserves at least some of the credit for what happened Sunday. Only 35 percent of Democrats share that view, however, with a slender 4 percent giving the former president a lot of credit.

There is more bipartisan agreement that the U.S. military and intelligence deserve a great deal of credit for the killing.

For the president, the nine-point increase in his overall approval rating is on par with the six-point increase in Bush's numbers in the weeks following the capture of Saddam Hussein in Iraq in December 2003. Then, as now, political independents moved the most.

Compared with the mid-April Post-ABC poll, Obama's approval rating among independents is now 10 points higher, at 52 percent. Bush got an identical 10-point boost among independents in December 2003. For Bush, that lift proved short-lived, with the entire increase gone within six weeks.
The biggest caveat to this poll is the fact that there's been basically no movement on the President's job approval on areas outside of foreign policy and national security. Specifically, those surveyed disapproved of the President's handling of the economy by a 55% to 40% margin, virtually unchanged from an April poll that had the disapproval/approval numbers on the economy at 57%/42%. Additionally the poll shows 60% of respondents satisfied with the direction of the country and 32% satisfied, an improvement from April's 73/22 number, but still a fairly good indication that the issues that tend to dominate Presidential elections — jobs and the economy — are still making people uncertain, and that they aren't satisfied with the job the President has done in these areas.
Further evidence of that can be found in a recent (pre bin Laden death) Gallup poll that showed that a majority of  Americans believed the economy was still in a recession or depression:

In this kind of a climate, it's clear that the White House shouldn't plan on this rally `round the flag bump in the President's job approval numbers lasting for very long. In fact, given the nature of the news cycle in modern American politics, it's clear that the public's attention will be back on economic issues very soon, perhaps starting this Friday when the April unemployment figures are released.
Taking a slightly different position than he did yesterday, Nate Silver argues however that the success of the bin Laden mission will work in the President's favor:
Americans, contrary to the way they are sometimes characterized by pundits, can walk and chew gum and the same time — and they consider both foreign and domestic policy when they cast their ballots. The killing of Osama bin Laden is going to be perceived as unambiguously good news by almost all Americans. It makes it easier for Mr. Obama to make the case that the country has made progress since he took office.

Yes, Mr. Obama is still far from able to run commercials like those "Morning in America" ads Ronald Reagan used in 1984. Unless the economic indicators significantly outperform consensus expectations, the election is still liable to be fairly close, with Mr. Obama hardly assured of coming out on top.

But killing Osama bin Laden, the world's most wanted terrorist, is going to be a point in Mr. Obama's favor. I really don't know exactly what impact it will have, and the magnitude of the bounce that Mr. Obama receives in the polls over the next few days and weeks may not shed much light on that question. But to claim that it will have no impact at all is as daft as claiming that Mr. Obama is now a shoo-in for re-election.
I don't know that anyone is saying that this will have no impact at all on the President's re-election chances, clearly it will. However, if the economy doesn't continue to improve, or if the public doesn't think it's improving regardless of whether it is or not, then it's going to be very difficult for the President to argue that the country has made all that much progress in the four years since he took office. The successful mission against Osama bin Laden is a positive mark in the President's column, and one that hardly anyone can argue against. It also helps to mute the experience and leadership questions that some Republicans have continued to make against him ever since the campaign. However, unless the economy improves and people feel better about their own livelihoods, it's hardly going to be enough to get him re-elected.
Photo via White House Flickr Page