Obama Seen As Biggest Impediment To Middle East Peace
Israelis and Palestinians don't agree on much these days, but they do agree that Barack Obama hasn't helped the peace process at all since coming to office.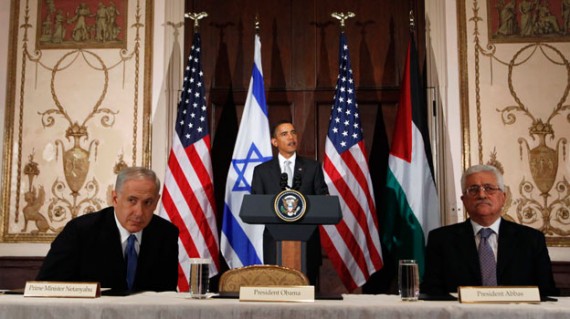 There isn't much that unites the leadership of Israel and The Palestinian Authority these days, but they do all seem to agree that the President of the United States has been more of a hindrance to peace than a help:
Vowing to change a region that has resisted the best efforts of presidents and prime ministers past, Barack Obama dove head first into the Middle East peace process on his second day in office.

He was supposed to be different. His personal identity, his momentum, his charisma and his promise of a fresh start would fundamentally alter America's relations with the Muslim world and settle one of its bitterest grievances.

Two years later, he has managed to forge surprising unanimity on at least one topic: Barack Obama. A visit here finds both Israelis and Palestinians blame him for the current stalemate — just as they blame one another.

Instead of becoming a heady triumph of his diplomatic skill and special insight, Obama's peace process is viewed almost universally in Israel as a mistake-riddled fantasy. And far from becoming the transcendent figure in a centuries-old drama, Obama has become just another frustrated player on a hardened Mideast landscape.
The attitude among Israeli leaders shouldn't be all that surprising. Ever since the Netenyahu government began his second tour as Prime Minister only a few months after Obama himself too office, there have been reports of tension and of an attitude among Israelis that Obama couldn't be trusted the way previous American Presidents could.  That situation has, it seems, only gotten worse:
The American president has been diminished, even in an era without active hostilities between Israelis and Palestinians. His demands on the parties appear to shrink each month, with the path to a grand peace settlement narrowing to the vanishing point. The lack of Israeli faith in him and his process has them using the talks to extract more tangible security assurances — the jets. And though America remains beloved, Obama is about as popular here as he is in Oklahoma. A Jerusalem Post poll in May found 9 percent of Israelis consider Obama "pro-Israel," while 48 percent say he's "pro-Palestinian."

Other polling in Israel shows a growing gap between aspirations for peace and the faith that it can happen. One survey last month found that 72 percent of Israelis favor negotiations, while only 33 percent think they can bear fruit. (Palestinians show a smaller gap, primarily because a smaller majority favors negotiations.)

Obama has resisted advisers' suggestions that he travel to Israel or speak directly to Israelis as he has to Muslims in Egypt, Turkey and Indonesia.

"Israelis really hate Obama's guts," said Shmuel Rosner, a columnist for two leading Israeli newspapers. "We used to trust Americans to act like Americans, and this guy is like a European leader."

Many senior Israeli leaders have concluded that Hillary Clinton and John McCain were right about Obama's naiveté and inexperience.

"The naive liberals who are at the heart of the administration really believe in all the misconceptions the Palestinians and all their friends all over the world are trying to place," said Yossi Kuperwasser, a former high-ranking military intelligence officer who is now deputy director general of the Ministry of Strategic Affairs.

Kuperwasser, like other Israelis, bridled at the suggestion that the country's dislike of Obama draws from the Muslim influences of his heritage — or even his name.

"It drives me crazy. Who cares that his middle name is Hussein? It's the last thing we care about. [To suggest that] is just anti-Semitism," he said. "There is one reason why we are hesitant about this guy: He doesn't understand us."
And the Palestinians don't have any more faith than the Israelis that the process that Obama has set them down holds any possibility of succeeding:
Palestinian leaders say they, too — for different reasons — are losing faith in the political talks.

"[Netanyahu] has a chance, and he's wasting it," said the chief Palestinian negotiator, Saeb Erakat. "Given the chance between settlements and peace, he's always chosen settlements."

The advocacy director of the American Task Force on Palestine, Ghaith al-Omari, said the frustration in Ramallah isn't only with Netanyahu.

Abbas and other Palestinian leaders are "personally fed up with the whole thing," he said, and "losing faith in the process, both with the Israeli willingness to deliver and the Americans' ability to deliver the Israelis."
And, it seems President Obama's insistence on focusing on the settlement issue is what has virtually guaranteed that his peace process will fail:
"If Obama wanted to be a transformational figure, he would never have led with the settlements," said Eyal Arad, the architect of Livni's campaign for prime minister. He argues – like most Israelis – that Obama inadvertently got talks hung up on a matter of irrelevant principle, rather than engaging the reality that some settlements can stay while others must go.

"The settlements were pushed by a bunch of left-wingers who were out of sync with the realities and were out of government too long," he said. "The irony is that Obama went directly back to the place where George Bush the father left off."
Jackson Diehl picks up on this point in today's Washington Post, arguing that Obama is spending far too much time trying to repeat the foreign policy mistakes of the past:
The Obama administration is devoting a big share of its diplomatic time and capital to curbing Israeli settlement construction in the West Bank – most recently, offering Israel's right-wing government $3 billion in warplanes in exchange for a 90-day moratorium. Meanwhile, it has committed much of its dwindling domestic political capital to pushing a new nuclear arms control treaty with Russia through a reluctant Senate.

(…)

The same might be said about Obama's preoccupation with stopping Israel's settlement expansion in the West Bank and Jerusalem – a campaign that even Palestinian and Arab leaders have watched with bafflement. True, almost everyone outside Israel regards the construction as counterproductive, and only a minority supports it inside Israel.

But that is just the point: The dream of a "greater Israel" died more than 15 years ago. Even the Israeli right now accepts that a Palestinian state will be created in the West Bank. The settlements have become a sideshow; the real issues concern how to create a Palestinian state in a Middle East where the greatest threat is not Israeli but Iranian expansionism. What to do about Hamas and Hezbollah and their Iranian-supplied weapons? How to ensure that the post-occupation West Bank does not become another Iranian base? Those issues did not exist in 1983 – and the Obama administration seems to have no strategy for them.
So instead of dealing with the issues that matter, not to mention the ones on which real progress could be made, the United States is trying to force the Israelis and Palestinians to reach a deal on an issue that has been on the table for twenty-seven years with no real sign that compromise is any closer now than it was when Ronald Reagan was President and Menchahem Begin,  Yitzhak Shamir, and Yassir Arafat were in charge. It's truly a puzzle as to why Obama would be going down this path when there are better avenues for real progress.
Jennifer Rubin at Commentary posits several explanations for Obama's current policy bent in the Middle East, all of which she ultimately find unsatisfying:
Obama's foreign policy is made all the more curious by the fact that sometimes he gets it right. Obama, however reluctantly, has followed the Bush approach in Iraq and attempted to duplicate it in Afghanistan. In these areas he's departed from the leftist playbook and to a large extent followed the advice of the one truly expert national security guru he has: Gen. David Petraeus. So go figure.

Perhaps it comes down to this: only when faced with the prospect of a massive loss of American credibility (e.g., a defeat in Afghanistan), a severe domestic backlash (American Jews' falling out with him), or resolute opposition (from Israel on Jerusalem) does Obama do what is smart and productive for American interests. In other words, only when exhausting all other opportunities and trying every which way to force his ideologically driven preferences does he stumble upon a reasonable outcome. This, if true, contains a powerful lesson for Israel, for Obama's domestic critics, and for our other allies: hang tough, be clear about the Obama administration's errors, and don't blink. Chances are, he will instead.
Not that Rubin's theory should be a comfort to anyone, of course. It describes a rudderless foreign policy being led by a man who, deep down, doesn't really care too much about the issues he's dealing with, perhaps because he prefers to concentrate on domestic and economic issues. That's foolish even in the best of times, and dangerous if and when things turn bad.