Obama's Populism At Odds With His Path To Re-Election
The partisan crowds like President Obama's populist rhetoric but it seems ill-suited for his re-election strategy.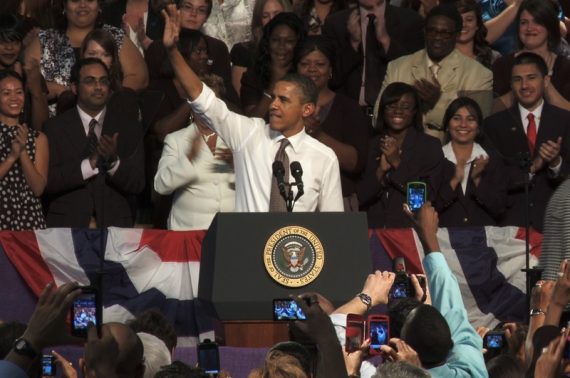 While many on the left are cheering President Obama's new found populism and his attacks on "the rich," National Journal's John Kraushaar argues that this rhetoric is placing the President's re-election strategy in jeopardy:
President Obama's reelection is in trouble because of the nation's troubled economy, but he's been exacerbating his problems by running a populist campaign at odds with the electoral strategy his advisers have laid out. Not only is his new rhetoric chastising the wealthy to pay their fair share at odds with the president's well-crafted image of being a post-partisan uniter, but it risks alienating the white-collar professionals that have become an increasingly important part of a winning Democratic coalition.

The president's team has been arguing that their path to reelection lies in winning battleground states like Colorado, Virginia, and North Carolina—diverse, more affluent white-collar states with growing numbers of independents. But the president's emphasis on pitting the affluent against the middle-class threatens to push away the very independents he's seeking to win back. It's the type of populist message that's better geared toward blue-collar voters in the Rust Belt, which the campaign sees as close to a lost cause.

(…)

Poring through the polling data, the answer isn't encouraging for Team Obama. If the president's path to reelection lies in the college-educated white electorate, he has a long way to go to win them back. Even after his jobs speech and campaign-style promotion, his numbers have been sagging.

Take Virginia, the linchpin to the president's reelection strategy. In a poll conducted last month, Quinnipiac found the president with a dismal 40 percent job-approval rating in the Old Dominion—lower than his approval ratings in the Rust Belt battlegrounds of Ohio and Pennsylvania.

Among independents, his job approval dropped to 29 percent—a remarkable fall from the 49 percent of the independent vote he won in Virginia. In prosperous Northern Virginia, where he won overwhelmingly with 64 percent in 2008, the poll found his approval had fallen to 40 percent.

Democratic pollster Stanley Greenberg found similar results last month surveying 60 of the leading Republican-held battleground House districts—many of which are in the affluent suburbs where Obama needs to do well. In these battlegrounds, Obama's job approval is at 41 percent, and he trailed both former Massachusetts Gov. Mitt Romney and Texas Gov. Rick Perry. Only 32 percent of independents in these districts approved of Obama's performance, with 60 percent disapproving. In 2008, Obama carried the districts with 52 percent of the vote.
Those independents are the voters that Obama needs to appeal to if he's going to win re-election. Instead, he seems to be engaged in some version of the 2004 Bush re-election strategy of appealing to the base of his party on the theory that increasing base turnout will be enough to put him over the top. While that may work really well in traditionally blue states, it's not necessarily the way to win in the "purple" states like Virginia and North Carolina:
Liberals have long argued that a message calling for the wealthy to pay their fair share is broadly popular—and indeed, most polls show voters support abstract proposals calling for higher taxes on the rich. But it's rarely worked in practice. If taxes were raised as part of a comprehensive economic plan raising revenues and cutting spending, that's one thing. As part of a political argument designed to mobilize the base for his reelection campaign, it's bound to be received less warmly. The fact that moderate congressional Democrats have been keeping the proposal at arm's length says more about the plan's popularity than polls testing different arguments, without context.

In the end, the political law of gravity usually wins out. In its latest survey of political ideology, Gallup found 41 percent of the electorate defining itself as conservative, 36 percent as moderate, and just 21 percent as liberal. Obama's tax-and-jobs plan has been embraced by the latter group, a sign of how the overall public will perceive it.

When Republicans run to the base, as George W. Bush did in 2004, they're appealing to a healthy plurality of the country's electorate. When Democrats do the same, they're appealing to a much smaller faction.
You don't need any better example of that than to compare the 1984 and 1988 campaigns of Walter Mondale and Michael Dukakis to the 1992 and 1996 campaigns of Bill Clinton and the 2008 Obama Campaign. In the first two examples, the candidate made an appeal to his party's left and ended up facing electoral disaster. In the other three examples, the candidates ran a campaign that appealed to the broad middle of the electorate and ended up winning significant support from Independents and, in Obama's case, winning states that Democrats had not won since 1964. If President Obama is going to win again next year, he's going to have to find a way to keep that 2008 coalition together, and that means getting back the independents who have, as the polls shown, turned against him: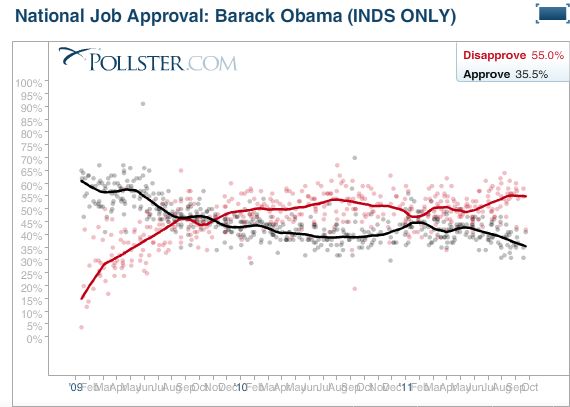 Instead of going after these voters, though, President Obama seems intent on engaging in rhetoric that appeals mostly only to the Democratic base and pushing a jobs bill that even the Democrats in the Senate are reluctant to put their names on. It may make for good rallies, but I'm not sure it's the way to win an election, especially this time around.