On Politicizing Tragedy
Once again, the usual suspects are exploiting tragedy for political purposes.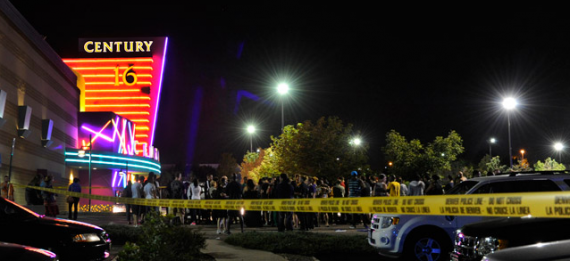 It's seemingly inevitable that every tragedy that occurs in modern America inevitably gets politicized by those wishing to advance a political partisan viewpoint or a specific issue. After the Gabrielle Giffords shooting in January 2011, there were those who sought to blame the actions of what turned out to be a deranged man who has been ruled mentally incapable of standing trial on Sarah Palin, or the Tea Party, or "heated political rhetoric." As I noted at the time, these were mostly silly and ridiculous argument, all the more so because they were being in opening hours of the tragedy when victims lives were still hanging in the balance. In the end, when the truth was finally learned about Jared Loughner, there were few apologies from those who had tried to bend a tragedy to push a political agenda. They just moved on to the next outrage of the day.
It's no different today in the wake of the tragedy in Aurora, Colorado.a
Within mere hours of the incident, while people's lives still hung in the balance in hospitals around Denver, people were already beginning to look for political motives behind the tragedy. More than one conservative I follow on Twitter jumped right to the Islamic Terrorism angle, of course. Shortly after the suspect's name had been released, ABC News reported Brian Ross, apparently using nothing more than a Google search, speculated as to whether the identified "James Holmes" was the same as a "Jim Holmes" listed on the website of the Colorado Tea Party (he isn't, and ABC apologized). Even while criticizing Ross and ABC News, the people at Breitbart were speculating if the shooter was the same person as registered Democrat with the same name from Durango, Colorado (he's not). Other's speculated over whether or not this shooter was affiliated with Occupy Wall Street even though there was absolutely no reason to believe that. New York Mayor Michael Bloomberg, as well as others such as CNN host Piers Morgan, used the opening hours of the tragedy to push a gun control agenda. Congressman Louie Gohmert, already known for saying nutty things, said that the fact that nobody took Holmes out before he killed more people is a sign of the decline of Christian values. Others have jumped in to blame the murders committed by Holmes on Rush Limbaugh. And, on the punditocracy side, The Washington Post's Chris Cillizza was up within hours with a "what it all means" political post even though we didn't have all the facts about what happened.
As I said, it's become a standard part of the American response to tragedies such as this. There does seem to be a line for such things, though. We largely didn't see the 9/11 attacks politicized in this manner, most likely because they were such a tragic and shocking event that they, temporarily at least, dragged us out of the hyperpartisan world we'd become used to. It didn't last long, though, and we were quickly back to our old ways, and The Plum Line's Jamelle Bouie argues that it's a mistake:
We don't have enough information to make a judgment about what happened, much less use it to argue any point. What's more, there's something disrespectful in the rush to debate; let's mourn for the victims before we begin to argue causes or consequences. It may well be the case that this shooting warrants a renewed national conversation over the wisdom of loose gun control. But it's important to recognize the extent to which stricter gun laws aren't a solution that will do away with mass shootings. If you are determined to kill a lot of people, you'll find a way to meet your goal; after all, illegal guns work just as well as legal ones.

Finally, I want to second tech writer Anil Dash when he suggests that we look at this from the perspective of our culture and not our politics. He writes, "We marginalize & neglect our sons when they feel vulnerable, stigmatize depression & schizophrenia, and treat violence as entertainment." Does the easy availability of firearms make mass shootings more likely than they otherwise would be? Probably. But Dash hits on a more important truth: Our treatment and understanding of mental illness is not a priority in our culture, especially when it comes to men, and it should be. What's more, even when it comes to mentally healthy men, there are few socially acceptable ways to express their fears, their pain, and their anxieties, and boys are still raised to reject emotional expression as somehow un-masculine. "Stop crying, be a man" is still a thing that parents say to their sons, and it's incredibly destructive.
I made a similar point in the wake of the Giffords shooting, after it had become clear that Jared Loughner was a deeply disturbed individual who had never gotten the help that he needed for his obvious mental illness. If it turns out that Holmes is similarly troubled, then I would agree that yes this would be another time for us to discuss the stigma that this society seems to have when it comes to mental health issues. We don't know if those kinds of illnesses played a role in today's events yet, though, so it's probably not even worthwhile to have that discussion yet. Instead, I would suggest that the best thing to do is for us to remember the victims and to be respectful enough toward their family that to not turn this event into a political football before they've even had a chance to begin the mourning process, especially given that as of the time I am writing this ten of the victims of Holmes's rampage remain inside the theater where they died while the police continue what is likely to be a long investigation.
Time's Michael Grunwald takes a different position, and argues that political activists have a duty to speak out:
If advocates or experts or even politicians think their policy ideas can prevent the next Aurora—by preventing potential killers from obtaining guns, by making sure potential victims can carry guns, or by some other method—then by all means, now is the time to spread the word. Pretty soon, the pundits will be back to "you people" and "you didn't build this" and whatever new verbal gaffe overwhelms the competition to lead the free world.

It's telling that the people who get paid to analyze politics recoil at the notion that its practitioners should connect it to real-life pain. They think they're covering a sport, an entertainment. But politics matters, because policies matter. "Obamacare" and "gay marriage" are not just issues that might play badly with swing voters or turn the tide in Virginia; they're issues that affect people's lives. Gun control and the Second Amendment are issues, too, and now seems like a pretty good time to talk about them.
It's inevitable, of course, that the Gun Control crowd would speak out after a tragedy like this, but I have to wonder what Grunwald thinks they can meaningfully say given the fact that we know absolutely nothing about what may have motivated Holmes, whether he was mentally ill, or how he obtained the weapons he used in this atrocious attack. All they'd be able to do is spout the same talking points that they would on any other day, and the NRA and other groups that support the Right To Keep And Bare Arms, would spout their talking points. Nothing would be accomplished except giving the cable news channels something to fill up their hours of obsessive coverage with. It won't accomplish anything, and, as David Weigel notes, the odds that this event would lead to significant changes in American gun laws are miminal:
If any shooting was going to inspire new regulations, it would have been the January 2011 massacre in Tucson that severely wounded Rep. Gabrielle Giffords and killed a federal judge. Rep. Carolyn McCarthy, a New York Democrat, quickly proposed legislation that would have banned the extended magazines allegedly used by Jared Loughner. It went nowhere in the Republican-led House. "I maintain, as Americans have believed since the American founding, that firearms in the hands of law-abiding citizens make communities safer, not less safe," Rep. Mike Pence, told me then. "I think, particularly in Washington, D.C., the desire is to move immediately off and find something else to blame, and find some public policy that's wanting." Crying "politicization," in that case, helped tamp down talk of a gun bill that was never going to pass anyway.
This being an election year, the odds that anyone is going to propose legislation that has any chance at all of passing are somewhere between slim and none. So, the gun debate will likely be revived, and there are legitimate questions that probably should be discussed such as how this guy was able to obtain or construct what some are calling "tear gas" devices, although the chemical composition of the devices is rather unclear at this point and most likely didn't consist of military-grade or even police-grade chemical weapons. However, to the extent Grunweld thinks that this tragedy can be exploited to advance the agenda of The Brady Campaign, he's delusional.
Perhaps there are political issues implicated by the tragic events in Colorado early this morning, but it strikes me that we should at least wait until we have a better idea of what happened, and why, before we all jump on our partisan bandwagons and start waiving the bloody shirt. Its a measure of respect to the victims, and it might actually allow the proper degree of reflection that will allow people to see things as they really are rather than through the eyes of partisanship.