One to watch: Alleged Voter Fraud in North Carolina
Voter ID supporters are pointing to a report from the North Carolina Board of Elections as proof of ongoing Voter Fraud. But, while long on facts, the report has yet to reach any such conclusions.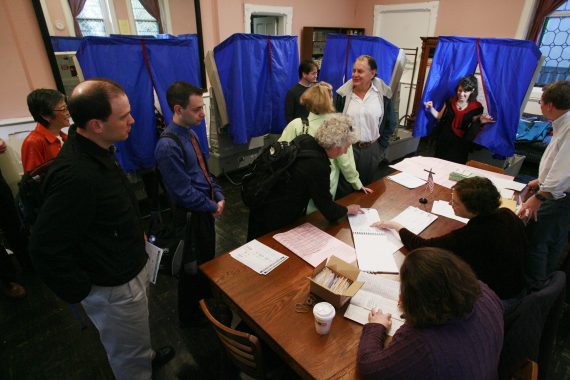 This past Wednesday, the North Carolina Board of Elections released a report to the State Assembly detailing potential voter fraud cases during the 2012 election. In particular, the report, based on a cross-checking of voter records among 28 states, found the following three major irregularities:
765 voters whose first and last names, dates of birth and last four digits of their Social Security numbers exactly matched a voter registered in another state and who voted in both states.
35,750 voters with matching names and dates of birth who voted in North Carolina and another state that year.
Approximately 50 instances of votes attributed to dead people.
The report has been seized upon by numerous right wing media outlets as definitive proof of the voter fraud and the need for Voter ID systems. For example, PJ Media's headline proclaims: Massive Voter Fraud Discovered in North Carolina's 2012 Election.
However, digging into the facts, such conclusions seem rather premature. In fact, the North Carolina Board of Elections is the first to stress that they don't yet know whether or not this is fraud:
"Whether or not this data is actually indicative of fraud, that is subject of an ongoing investigation," said Joshua Lawson, State Board of Elections spokesman. "There are really kind of two options: one, it's voter fraud and an individual is voting in two states, which they're not permitted to do," he said. "Or there's a clerical error being made at the polling station in one or both of the states." (source: Report Shows Voters In Different States, But Is It Fraud?)
Keeping that caution in mind, there are a number of other points to consider. The 35,750 people sharing the same first and last names and DOB seems massive at first glance. However, as MSNBC's Zachary Roth points out, research suggests that this is more common that one might expect:
The political scientist Michael McDonald and election law scholar Justin Levitt have shown in a detailed statistical study that the number of people who share a name and birthdate is much higher than it might at first appear. (Just for fun, take the RNC's Spicer. Though his name is less common than many, online records show 20 different Sean Spicers who were born on September 23rd, his birthday.) That statistical reality, McDonald and Levitt conclude, has big implications for how to treat potential cases of illegal voting.
And, writing at ThinkProgress, Josh Israel also notes:
North Carolina used a default date of birth of 01/01/1900 for voters whose date of birth could not be ascertained — Joshua Lawson, a spokesman for the North Carolina Board of Elections, confirmed to ThinkProgress that one of the 35,750 voters had the same name as an Arkansas voter who was listed with that default date in both states. And, of course, sometimes multiple people with the same first and last name are born on the same date. A quick ThinkProgress public records search found both a John M. Smith in Mississippi and a John J. Smith in South Carolina were born on May 15, 1979. Since the database does not compare middle initials, North Carolina would likely flag these John Smiths as one possible double-voter. Indeed two John D. Smiths were apparently born on August 14, 1974 in opposite parts of Illinois.
Turning to the issue of zombie voters, the Board of Election notes that it is entirely possible that beyond clerical error, some of the cases may be attribute to individuals who died after they mailed in their absentee ballots (more on absentee ballots in a moment).
That leaves us with the 765 voters who shared the same first and last name AND the last four digits of a social security number of someone who voted in another state. Again, clerical error and coincidence may apply here.
They key take-away, for the moment, is that a significant amount of digging needs to be done before declaring the scope and size of voter fraud.
Even if every one of these cases was to be eventually proven as voter fraud, the implications for Voter ID are still somewhat unclear. For example, it is most likely the case that some of such fraud would have been committed through absentee balloting — something that most Voter ID systems do not address. Likewise, even advocates of State-based Voter ID admit that such systems offer little protection against inter-state voting.
One also should ask if the potential negative ramifications of Voter ID systems are worth the protections that they offer. The 765 voters with same names and social security numbers represented .017% of the approximately 4.5 million votes were cast in North Carolina in 2012 (see second update below for more on this point). It will be interesting to see how that compares against the number of NC voters who will be turned away from the polls or have to cast provisional ballots due when the state's new Voter ID law takes effect in 2016.
Regardless of one's feelings on Voter ID, the investigation in North Carolina will be very important to watch. For the moment however, for all the noise, there is very little in the way of actual conclusions to be drawn from this case.
Update 1:  I'm pleased to see that my OTB colleague Dave Schuler had much the same reaction to this news. As always, his opinion is worth reading.
Update 2 [4.5.2014]: It's worth noting that one 2014 Congressional Race in North Carolina could have been potentially swayed by less than 765 votes. In the 7th Congressional district, Democrat M. McIntyre defeated Republican D. Rouzer by only 533 votes. I suspect that a lot of attention will be on this district during the investigation that follows.
(Hat tip to regular commenter John425 for bringing this story to my attention).