One Year Later, There's New Evidence Against Brett Kavanaugh
A new look at the allegations against Justice Brett Kavanaugh uncovers some new evidence.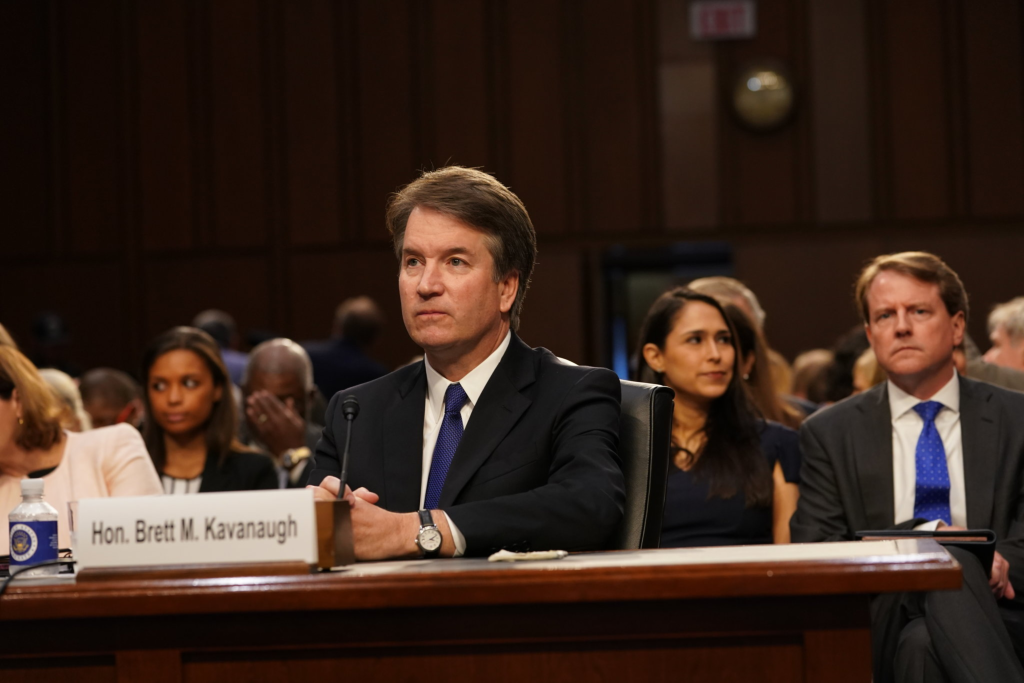 New York Times reporters Robin Pogrebin and Kate Kelly are out with a new book titled The Education of Brett Kavanaugh which, obviously, concentrates primarily on the sexual assault allegations against Supreme Court Justice Brett Kavanaugh and the hearings that gripped Washington and the nation last year at about this time. In today's Times, part of that book is excerpted and it discusses new allegations or at least new details about one of the allegations that was made against Kavanaugh but which was not brought up during the hearings.
Specifically, I am referring to allegations made by Deborah Ramirez that were first brought to light by a piece in The New Yorker by Ronan Farrow and Jane Meyer just prior to the start of the hearings that focused on the allegations made by Dr. Christine Blasey Ford regarding an incident that allegedly took place while Kavanaugh and Blasey Ford were in High School. The Ramirez incident, by contrast, allegedly took place more than a year later when the two attended Yale University. Those allegations were not discussed at the Kavanaugh hearings and were not fully investigated by the F.B.I.
Now, Pogrebin and Kelly say they've uncovered additional allegations about events at Yale that tend to corroborate Ramirez's allegations:
But while we found Dr. Ford's allegations credible during a 10-month investigation, Ms. Ramirez's story could be more fully corroborated. During his Senate testimony, Mr. Kavanaugh said that if the incident Ms. Ramirez described had occurred, it would have been "the talk of campus." Our reporting suggests that it was.

At least seven people, including Ms. Ramirez's mother, heard about the Yale incident long before Mr. Kavanaugh was a federal judge. Two of those people were classmates who learned of it just days after the party occurred, suggesting that it was discussed among students at the time.

We also uncovered a previously unreported story about Mr. Kavanaugh in his freshman year that echoes Ms. Ramirez's allegation. A classmate, Max Stier, saw Mr. Kavanaugh with his pants down at a different drunken dorm party, where friends pushed his penis into the hand of a female student. Mr. Stier, who runs a nonprofit organization in Washington, notified senators and the F.B.I. about this account, but the F.B.I. did not investigate and Mr. Stier has declined to discuss it publicly. (We corroborated the story with two officials who have communicated with Mr. Stier.)

Mr. Kavanaugh did not speak to us because we could not agree on terms for an interview. But he has denied Dr. Ford's and Ms. Ramirez's allegations, and declined to answer our questions about Mr. Stier's account.

(…)

Ms. Ramirez's legal team gave the F.B.I. a list of at least 25 individuals who may have had corroborating evidence. But the bureau — in its supplemental background investigation — interviewed none of them, though we learned many of these potential witnesses tried in vain to reach the F.B.I. on their own.

Two F.B.I. agents interviewed Ms. Ramirez, telling her that they found her "credible." But the Republican-controlled Senate had imposed strict limits on the investigation. "'We have to wait to get authorization to do anything else,'" Bill Pittard, one of Ms. Ramirez's lawyers, recalled the agents saying. "It was almost a little apologetic."

Senator Sheldon Whitehouse, Democrat of Rhode Island and member of the Judiciary Committee, later said, "I would view the Ramirez allegations as not having been even remotely investigated." Other Democrats agreed.

Ultimately, Senator Charles E. Grassley, Republican of Iowa and chairman of the Judiciary Committee, concluded, "There is no corroboration of the allegations made by Dr. Ford or Ms. Ramirez." Mr. Kavanaugh was confirmed on Oct. 6, 2018, by a vote of 50-48, the closest vote for a Supreme Court justice in more than 130 years
There's much more in the piece at the TImes, far more than can be fairly excerpted here, so I recommend taking a look at it if you're at all interested. In the end, though, this is all pretty much academic. Fairly or not, the F.B.I's hands were tied during the course of their follow-up allegation to the point where they were not authorized to look any further into the Ramirez allegations than they did, and that appears to have been by design. This was Obviously, Republicans on the Senate Judiciary Committee did not want to dig too far into the details of either the Blasey Ford allegations or any of the other allegations against Kavanaugh. This is why, for example, the committee specifically refused to even consider hearing from any of the other potential witnesses to the Blasey Ford incident or to even consider allowing Ramirez or anyone else to testify regarding other allegations.
At this point, of course, all of this is rather academic. Justice Kavanaugh is on the court essentially for the rest of his life if he so chooses. At the same time, though, it seems clear that the investigation that took place after the initial allegations against him became place was at best cursory and certainly didn't go into the detail that it should have under the circumstances. This makes it somewhat ironic, then, that the F.B.I. is honoring the team that conducted that investigation, the same team that was operating with its hands tied behind its back.
This news comes out just about two months after a competing book about the Kavanaugh confirmation is also being released. This book, Justice On Trial: The Kavanaugh Confirmation and the Future of the Supreme Court was written by Mollie Hemingway, a writer and editor at The Federalist and Carrie Severino, who works for a conservative organization called the Judicial Crisis Network. Obviously Hemingway and Severino come at the hearing from a conservative point of view and are largely sympathetic to Justice Kavanaugh and dismissive of the allegations against him. Most recently, the two published a piece at The Federalist claiming that Blasey Ford's father supported Justice Kavanaugh's confirmation notwithstanding the charges his daughter made against him. Whatever relevance that might have to all of this.
In any case, how you evaluate all of this will depend on your view of the Kavanaugh confirmation and the allegations made against him. As I stated at the time, prior to the time that the allegations came out, I was willing to let him slide into confirmation. Trump had won the Presidency and the Republicans controlled the Senate. They were entitled to get their Justice confirmed. What changed my mind wasn't so much the allegations by any of these women, which were not fully substantiated due to the confined nature of the investigations, but the manner in which Kavanaugh responded to them, which I found to be something not suited to the kind of temperament that made a good Justice. All that being said, though, Kavanaugh was confirmed and, so far at least, has been a fairly conventional conservative on the Court. Whether the allegations will continue to follow him will depend on how history handles them.
Update: Two things worth noting about the New York Times report that started all this and which was the subject of my post yesterday:
1. In its initial report, the Times neglected to mention that Max Stier, who claims to have witnessed Kavanaugh engage in behavior similar to that Ramirez alleged at a different Yale party during the same year, was a member of Bill Clinton's defense team during the Lewinsky impeachment scandal. Kavanaugh, of course, worked for Ken Starr, at the time. While this doesn't mean Stier made up the story it is relevant in evaluating his veracity; and,
2. The woman alleged to have been the victim in the second event at Yale declined to speak to the Times and friends of hers told the reporters who wrote the story that neither she nor they had any recollection of such an event happening.
The Times story has been updated to add at least the second point but both are relevant to determining the veracity of the new claims.
Update #2: Here's the Times correction:
Editors' Note: Sept. 15, 2019

An earlier version of this article, which was adapted from a forthcoming book, did not include one element of the book's account regarding an assertion by a Yale classmate that friends of Brett Kavanaugh pushed his penis into the hand of a female student at a drunken dorm party. The book reports that the female student declined to be interviewed and friends say that she does not recall the incident. That information has been added to the article.